Abstract: What does a modern quad core processor with dual videocards and a lot of hard drives add up to? A killer gaming PC, and a huge headache for the power supply!


80% Rating:

Home > Reviews > Power Supply > Enermax Galaxy EGX850EWL
What does a modern quad core processor with dual videocards and a lot of hard drives add up to? A killer gaming PC, and a huge headache for the power supply! Adequately powering a high end computer system is important unless you like instantaneous reboots or frozen screens. A power supply which is not sufficient will lead to a whole host of problems.
Picking out the right power supply can be challenging, particularly if you want to ensure good power efficiency. As yet manufacturers do not openly advertise power consumption values, which is a shame. It basically comes down to making an educated guess on what your PC system needs, given the number of videocards or hard drives, and hope the PSU is up to the challenge. It's a good thing power supply manufacturers have stepped up to the plate and high wattage models are increasingly more affordable.
The general rule of thumb for Crossfire or SLU videocard gaming PC's is a power supply with at least two PCI Express power connectors and a rating of 700W or higher nVIDIA and AMD's new videocards suck down a lot of power (rumors of 200W+ for high end models) and this will only increase with Quad SLI or Quad CrossFire.
Enermax is no doubt a name we're all familiar with, it's power supplies dot the shelves of every computer store in our neighborhood. Enermax's Galaxy modular power supply line suggests it can power anything you can throw at it, but it's especially suited for multiple videocards. The Enermax EGX850EWL-DXX weighs in at 850W, supporting the PCI Express 2.0 power connector for super duper performance videocards, and has an all-modular cable set up. A rating of 850W is nice, but how does four 12V rails with a maximum power output of 816W sound to you? Good.
The Enermax Galaxy EGX850EWL-DXX has the makings of a very high end model and with a retail price $247 CDN ($264 USD, £126 GBP) it commands a high price.

Enermax Galaxy 850W (EGX850EWL) Power Supply

Includes:

User's Manual, Power Cord, Screws, Modular Cables
The Enermax Galaxy EGX850EWL is a beefy power supply, measuring 220 x 149 x 85mm in size. This power supply will definitely have a hard time in those small cramped cases, so stick to full towers. The Galaxy EGX850EWL also weighs a ton, so I hope your case has some sort of rail system to help support the PSU.
Luckly, big doesn't mean loud. At the bottom of the Galaxy EGX850EWL is a 135mm fan which draws air from the computer into the power supply. An 80mm fan on the back pushes the hot air out of the power supply and system, during operation the two fans run quite quietly and you probably wouldn't even notice it. Both are covered by faux gold-plated wire fan grills. All wires are wrapped in matching black and gold nylon loom too. The box has a nice glossy black paint job, which a silver "Galaxy" embossed across one side; if you're case has a window in the side, this is a very smart looking power supply to gaze upon.
The Enermax Galaxy EGX850EWL is an ATX 2.2 compatible power supply. It is a modular power supply with six main connections for hard drives, and two set aside just for videocards. The main power connectors for the motherboard, and a basic collection of hard drive power plugs are attached. Enermax does not bundle a 24 to 20 pin converter, so those of you with older motherboards may be out of luck.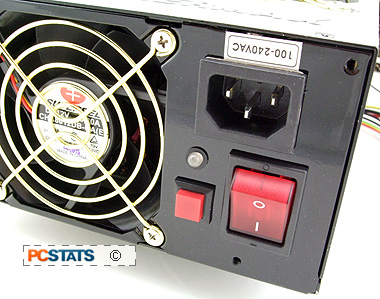 According to the label on the Galaxy EGX850EWL power supply, the +3.3V and +5V rail can deliver 30 amps each for a combined output of 200W. There are four +12V rails, the first two can output 24 amps for a combined output of 800W of power. The Galaxy EGX850EWL supports Active Power Factor Correction (A-PFC).
That improves efficiency, reduces heat and uses less power. A-PFC circuitry works with a wider voltage range (115VAC of North America to 230VAC of Europe), so there is no voltage switch on the power supply either. At the back of the power supply is a PowerGuard status LED, PowerGuard alarm, main power switch and socket.
Other than the modular drive cables, the Galaxy has the following non-removable cables attached by default: 1x Main ATX 24 pin connector, 1x ESP12V (8 pin) connector, 1x ATX12V 8 pin connector, 2x PCI-E 2.0 (8 pin), 1x PCI-E 1.0 (6 pin) connector, One cable with 3x Serial ATA power connectors, one cable with 3x molex connectors and a three pin fan RPM sensor cable for the motherboard.
The modular jacks on the back of the Galaxy are separated into two groups, six black ones for drives, two red ones for graphics cards. All the modular cables are wrapped to keep clutter down. Inserting the black modular cables into the Galaxy EGX850EWL was quite difficult, I can only imagine it would be even more difficult once the power supply is installed in the PC case. The Galaxy EGX850EWL looses points here, there is no reason why the user should need to wiggle the connector around and apply force to get the pins aligned properly so the modular cable will engage in the socket. For whatever reason, the two red modular cables on the other hand inserted easily.
Next up, PCSTATS takes a look at the Galaxy EGX850EWL's exterior attributes in more detail...