Overclocking Results:
OCZ has a good reputation in overclocking, so we're quite excited to see how far the 4GB ReaperX HPC Enhanced Bandwidth memory can be pushed.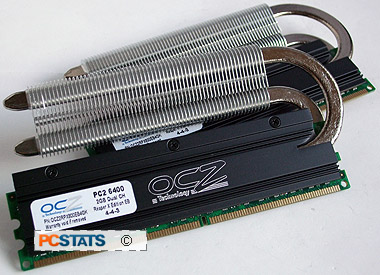 The memory will be tested in the MSI P6N Diamond motherboard along with the Intel Core 2 Duo E6750 processor. For early testing, memory timings were set to default which is 4-4-3-15 and the memory frequency was increased in 20 MHz increments.
With 2.1V the 4GB ReaperX HPC EB memory easily cracked 1000 MHz. However to hit 1100 MHz the memory needed a slight voltage increase to 2.2V. With stock timings the memory reached a maximum speed of 1140 MHz, anything higher and the memory would cause the system to be unstable.
Loosening the memory timings to 5-5-5-15, we're quite interested to see how high the 4GB OCZ memory kit would go. With a bit more voltage the highest we could get the OCZ ReaperX HPC Enhanced Bandwidth memory kit to run was 1240 MHz, anything higher and the system would start to show instability when running benchmarks. For a 4GB memory kit though, it's definitely a good show.

Prelude to Benchmarks
The details of how the 4GB ReaperX HPC Enhanced Bandwidth DD2-800 memory test system was configured for benchmarking, including the specific hardware, software drivers, operating system and benchmark versions are indicated below. In the second column are the general specs for the reference platforms this pair of PC2-6400 DDR-2 memory is to be compared against. Please take a moment to look over PCSTATS test system configurations before moving on to the individual benchmark results.

PCSTATS Test System Configurations