With most of the attention focused on quad core processors and DDR3, you might be surprised to hear memory manufacturers are really tightening things up with the good old DDR2 memory standard. In fact, DDR2 memory with timings of 4-4-4 has until recently been considered "low latency". Believe it or not, DDR2 memory timings are getting even tighter...
If there's one thing that you can take from PCSTATS, it's that we're fans of low latency memory. Sure it may not garner as much attention as the "high speed" sticks of memory, but any experienced performance enthusiast will take low latency memory over high speed DIMMs any day. The reasoning is simple, sometimes it's not possible to run the high speed memory at adequate speeds, and if you don't performance suffers. With low latency memory, you don't need to push the memory as fast, yet you still get decent performance.
It's something we discussed back in 2004 with our Memory Bandwidth vs Latency Timings article. While the tests back then were done with DDR memory, the same rule applies to both DDR2 and DDR3 memory standards. Finding low latency memory can makes picking out RAM for desktop enthusiast grade computers a bit more difficult, but if you do your homework finding high performance low latency memory is not too difficult.

OCZ PC2-6400 ReaperX HPC EB DDR2 Memory
RAM Memory Type: DDR2-800 / PC2-6400
Individual Module Capacity: 2048MB
Native Speed & Latency: 800 MHz @ CAS 4-4-3-15
Enhanced Performance Profiles (EPP): Yes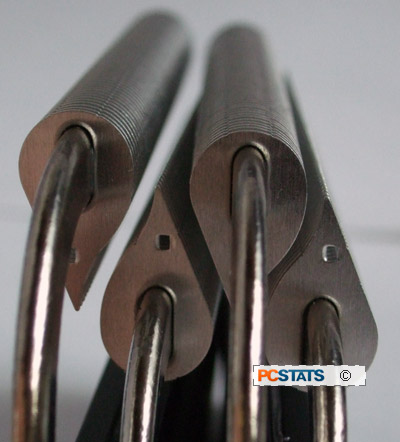 With a lot of talk on Microsoft Windows Vista revolving around how bloated the operating system is, most hardware analysts are recommending PCs with a minimum 2GB RAM. If your computer rig is geared for DDR2, now is an excellent time as memory prices have never been lower.
OCZ has put together a very interesting 4GB DDR2 memory kit, namely because these modules feature heatpipes and a large aluminum fin heatsink. The ReaperX HPC heatsink system draws heat way from the DDR2 BGA DRAM Modules, allowing system airflow to do all the work silently.
The OCZ PC2-6400 ReaperX HPC Enhanced Bandwidth dual channel memory kit is 4GB in capacity, and it retails for a competitive $139 CDN ($139 USD, £69 GBP) . This 4GB kit of PC2-6400 memory kit operates at DDR2-800 speeds with timings of 4-4-3-15.
To get the 4GB OCZ PC2-6400 ReaperX HPC Enhanced Bandwidth memory kit to run at 800 MHz with 4-4-3-15 timings, you'll need to increase the voltage to 2.1V (1.8V is DDR2 stock). OCZ definitely has the "overclocker" spirit.
 The company provides two guides on how to tweak its memory on the Intel P35 Express and nVIDIA nForce 680i SLI platforms. If you're using an Intel X38 Express or nVIDIA's new nForce 780i SLI chipset the same general rules apply.
 The custom ReaperX heatsink looks like a pretty good cooler at first glance. The heatpipe makes direct contact with all the BGA DRAM modules, and it conducts the heat to a larger section of aluminum fins located just above the memory module.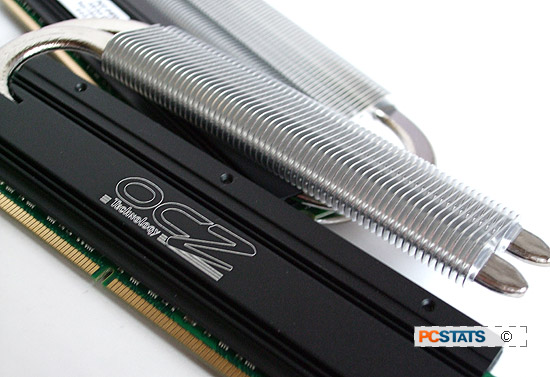 The heatpipe is held in position by a large black heatspreader which runs across the length of the memory module.
The cooling setup OCZ employs with its ReaperX HPC Enhanced Bandwidth memory kit definitely works, and even at stock speeds you can feel the heat from the finned heatsink above the memory.
Please note that the OCZ PC2-6400 ReaperX memory modules are quite wide, so you cannot install them side-by-side in adjacent memory slots. Good thing motherboard manufacturers get you to install DDR2 DIMMs in alternating slots.
Test Methodology
On Intel Socket 775 Core 2 Duo test systems, we're only interested in seeing how high we can go with the DDR-2 memory running 1:1, as running with other dividers puts the overclocking bottleneck elsewhere and not with the system memory.
The DDR-2 RAM latency must run at its lowest possible setting, as quick access is more important to the CPU design. Just for arguments sake, we will also be conducting overclocking tests to see how high the memory will go with lax timings (5-5-5-15), although we will only benchmark the system with the tight memory timings mentioned above.