The Asus PM17TU's on screen display controls offer the usual collection of manual visual display controls, albeit in a slightly awkward format. The icons aren't particularly informative, and navigating with the control panel is not very intuitive via the control keys.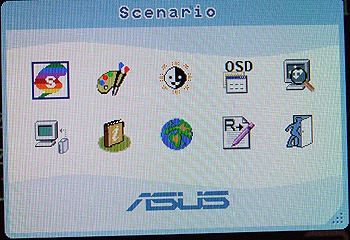 For its 17" display size, the Asus PM17TU is a satisfactory display for movie watching on the computer. A wider screen would obviously be more desirable if you spend much of your time in front of your personal home cinema. To its credit, the PM17TU's glossy screen does appear to melt away and provide a nice picture.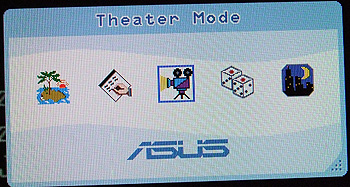 The 600:1 contrast rating and high panel brightness make colours pop, without illuminating black areas of the screen which should remain dark. There wasn't any noticeable light bleed through from the sides of the screen in very dark scenes. Ghosting artifacts were not visible in our tests while watching fast moving flick on the Asus PM17TU monitor like the Bourne Ultimatum.
b In general, we are very satisfied with the movie picture quality the Asus PM17TU provides in this respect.
On many LCD displays there is a visible stepping effect when a colour transitions from one shade, to a very slightly lighter or darker shade. This is due to an inherent limitation of LCD technology, as it can display 16.7million colours. This undesirable effect was somewhat noticeable on the Asus PM17TU.
Within the Windows desktop while using standard work applications the extra brightness of the Asus PM17TU monitor can be problematic if it's not correctly adjusted. We noticed subtle grays were washed out at the default monitor settings, so we bumped the contrast & brightness down to 60%. Colour was generally well reproduced, but text at times appeared over-sharp.
LCD Screen Evaluation Notes
Test parameters: Mode - Standard, resolution 1280x1024 32 bit, 60Hz, 6500K, DVI connection.
For the evaluation of the Asus PM17TU's display quality, PCSTATS uses a standard Monitor Test application which displays several test patterns, solid colours, and different grey scale patterns for subjectively analyzing visual aspects. These include contrast, colour luminance, brightness and Moire. Ghosting is subjectively tested in a gaming environment and with moving test patterns.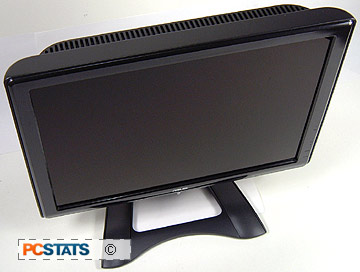 Brightness and Contrast: The Asus PM17TU has a 600:1 contrast ratio so the 100% white test bar was nice and bright while the surrounding screen remained jet black. However, there was very little differentiation in the 1%-5% white test bars, and some grey scale patterns appeared slightly yellow.
Colour Vibrancy: The white screen was nice and bright. The Red appeared slightly orange, while the Green and Blue were vibrant and uniform. Colour saturation on the whole was good. There were no visible dull or broken pixels.
Colour Shading: In this test there's a bit of banding due to LCD monitors being limited to displaying 16.7 million colours. Otherwise the Asus PM17TU performed slightly lower than expected.
Non-native Resolution: The native resolution of the Asus PM17TU is 1280x1024. We tested several non-native resolutions and found the displays image dithering to be satisfactory. Text remained legible and undistorted, but a little fuzzy.
Moire: There were no noticeable background noise in the moire test pattern when using a DVI signal.
Gaming Tests: A few rounds of Quake 4 proved to use that the Asus PM17TU has very good pixel refresh times. The colours in the game were bright and vibrant, the black areas nice and dark as they should be. Visual artifacts like ghosting were not evident thanks to the Asus PM17TU's 3ms G-to-G rating.
Where does that leave the Asus PM17TU in our books...?