The Asus PM17TU is an economical 17" LCD monitor designed for gamers. Its prime attribute is a fast screen which boasts a ghost-busting 3ms G-to-G pixel response time.


70% Rating:

Home > Reviews > Monitors > ASUS PM17TU
Conclusions on the Asus PM17TU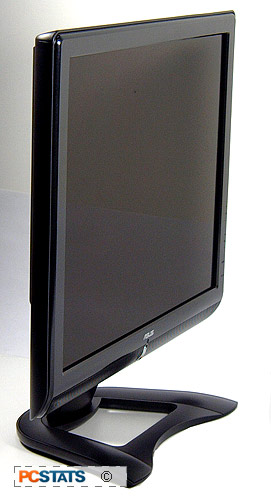 As 17" LCD displays go, the Asus PM17TU is well suited to the task of quickly displaying game screens or playing back a fast paced film. The screen's glossy coating seems to melt away in scenes which are primarily black, and light bleedthrough wasn't detected.
A contrast ratio of 600:1 and brightness rating of 500 nits ensures luminous colour saturated pictures that anyone looking at the Asus PM17TU from head can admire.
However, the default brightness setting on the Asus PM17TU is too bright for our taste, and we found this affected the appearance of applications in Windows negatively. This was particularly the case for gray shades which appeared washed out or yellowish at times.
With a sticker price of $250 CDN ($250 USD / £125 GBP), the 17" Asus PM17TU LCD monitor is affordable for its intended audience. I wouldn't recommend this display for a office monitor, or for a graphic artist as the colour and luminance can be overstated and lead to misinterpretations.
Aside from that, the Asus PM17TU offers a generally good experience when correctly configured. The 17" screen has very shallow viewing angles that we personally found limiting (140/130), yet it does have a great contrast ratio of 600:1, and brightness value of 500cd/m2.
Viewing angles are often closely tied to price, so the limitation here can be understood. The tight pixel pitch and native resolution of 1280x1024 pixels allow the 3ms pixel response time to do away with visible ghosting.
The Asus PM17TU's controls are poorly thought out, and we found them cumbersome to use. This component of the PM17TU was rather disappointing.
With such a mixed bag of impressions left after our time working with the 17" ASUS PM17TU LCD display, we're reticent to recommend it. To be fair, the Asus PM17TU is perfectly suited for fast paced gaming, but without proper calibration it really falls short in the desktop application experience. I suppose if you can get a hand of the poorly implemented control panel and adjust the picture properly for Windows, you'll be satisfied with a generally nice picture from head on.
Find out about this and many other reviews by joining the Weekly PCstats.com Newsletter today! Catch all of PCSTATS latest reviews right here.
Related Articles
Here are a few other articles that you might enjoy as well...
- Samsung Syncmaster 275T 27-inch LCD Display Review
- Samsung Syncmaster 971P 19inch LCD Display Review
- Samsung Syncmaster 940UX 19inch LCD Display Review
- Samsung SyncMaster 243T 24-inch LCD Display Review
- Matrox DualHead2Go Analog Edition Review
- Matrox DualHead2Go Notebook Multi-display Breakout Box
- Samsung Syncmaster 173P+ 17inch LCD Display Review
- Samsung SyncMaster 930MP 19-inch LCD Monitor Review
- Samsung SyncMaster 730B LCD Monitor Review