Startup repair works automatically without user intervention. The only feedback you get is a report of changes when it has finished.
Startup repair runs automatically when you enter the Windows Vista recovery environment and choose the Vista installation that you wish to repair.
Depending on the problems with the computer, this may take a while.
Now that the repair process has finished, you can click 'view diagnostic and repair details' to see a log of the results. If the repair wizard has indicated it was not able to fix problems with your computer, click the 'view advanced options for system recovery and support' option to proceed to the main Vista recovery environment menu. There are some other options to try.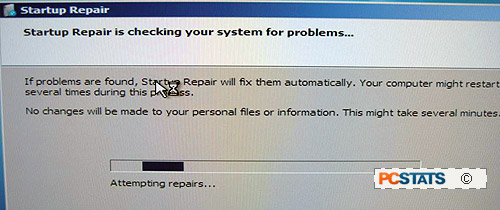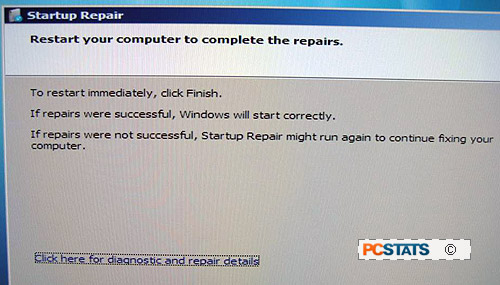 Otherwise click 'finish' to reboot your computer and attempt to start Windows Vista normally.
Other Windows Vista repair options
If the startup repair process has failed to make your Windows Vista installation bootable, there are some other options in the Vista recovery environment. These are available via the 'system recovery options' menu that appears when you choose advanced options after running the repair wizard or if you press 'cancel' at the operating system selection screen.