Like the MemTest program we mentioned above, this is a tool for testing your computer's memory (RAM) for hardware errors.
If you were not able or did not want to download Memtest, you can use this tool to test your memory instead.
Both applications do a fine job. If you've already tested your memory, there's no point in doing it again.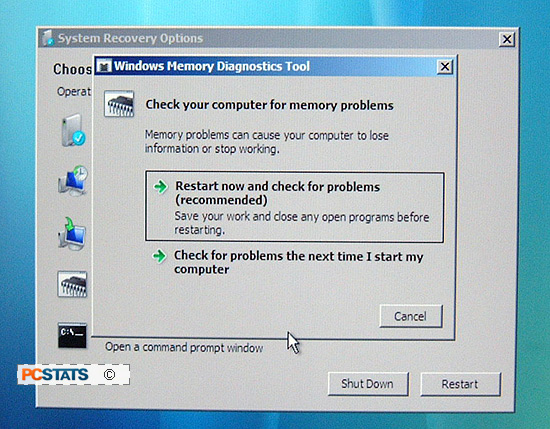 Command Prompt
The equivalent of Windows XP's repair console. There are a lot of commands and options new to Vista, most of which deal with recovering your Vista installation from drive and partition errors. If the repair wizard failed to help you, the command prompt may be your savior. See the section below for details.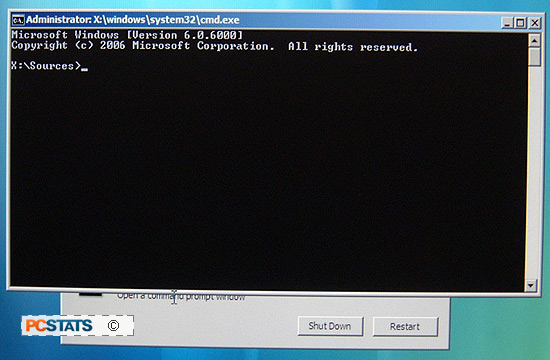 What if the Vista repair process does not work or does not recognize my Windows Vista install?
If the Vista recovery environment does not seem to detect that you have Windows Vista installed, or if the repair wizard failed to fix your problem, there are some other commands you can try.
If you have a computer virus, partitioning problem or lose the hard drive on which the Vista boot loader is installed, you may not be able to use the Vista repair process because it fails to 'see' the Vista installation and thus cannot repair it. Another very common cause of this problem is when a hard disk drive fails or is removed from a system that is dual-booting Windows Vista with another operating system, especially Windows XP.
Lots and lots of computer users currently dual-boot their systems with Windows Vista and the more familiar and compatible Windows XP. Generally speaking, these systems will have had XP installed first and Vista added later. Because of the way the Windows Vista boot loader works, it's fairly easy to remove either of the two operating systems at a later date without destroying the remaining installation. You can resort to a program like EasyBCD for help with this process, as it's more a question of cosmetic fixes than anything else.
There is one exception though. If you have a dual-boot system with Windows XP and Windows Vista on separate physical hard disk drives, you may run into a huge problem. If the drive with Windows XP is the one that the computer consider the 'primary' hard drive (IE the first SATA device, or the Primary Master IDE device), then the Vista boot loader will be installed onto that disk, even if you install Windows Vista itself onto a completely separate hard drive. If you later remove or erase the primary drive, you will no longer be able to access your Windows Vista installation, even though it is still present and intact on its own hard drive.
Fortunately, there are some steps you can take to rectify this problem using the recovery command prompts 'bootrec' set of commands.