There were something like 370 different variations of the Intel P45 motherboard introduced at Computex 2008 this year when Intel unveiled its 4-series chipset family. That's a lot of motherboard to choose from, but such is the popularity of mainstream-performance PC gear. With a good dozen variations on the P45 framework available from each motherboard maker right now, picking through boards is.... well... tough. Hopefully PCSTATS can help point you in the right direction, because today an ECS Black Series P45T-A motherboard is sitting on the test bench. The Black Series is the name given to ECS' semi-professional motherboards, they are supposed to come from a better pedigree than its regular lineup, yet still hold onto that competitive price point ECS is known for.
Really inexpensive computers are easy to build, particularly as Intel chipsets generally perform the same at stock on a $300 high end motherboard as they do on a $120 budget platform. If you're not interested in paying extra for overclocking headroom you'll never use, the ECS P45T-A motherboard is a great board to consider. Let's look over it's specs.
Built with the Intel P45 Express and Intel ICH10R chipsets, the ECS P45T-A motherboard supports all Socket 775 Intel processors running with a Front Side Bus of 800/1066/1333 MHz. That includes the new generation of 45nm 'Yorkfield' and 'Wolfdale' Core 2 Duo processors. There are four DDR2 memory slots on the P45T-A board, so it can handle 8GB of DDR2-667/800 memory in dual channel configuration. For Windows Vista we'd recommend starting off with at least 2GB.
Gamers who plan on running a pair of CrossfireX enabled videocards in tandem (say, a pair of Radeon HD4850's for example), will find two PCI Express 2.0 compliant PCIe x16 slots at their disposal. The user manual skips over the fine print here, so we ought to mention that one ATI or nVidia videocard will run in PCIe x16 mode, while two ATI videocards operating in CrossfireX get 8 PCIe lanes each (x8/x8). The second PCI Express x16 slot is disabled unless it's being used for Crossfire, but both slots are PCI Express 2.0 compliant.

ECS P45T-A Motherboard
(Model No.: Ver 1.0)



Includes:
Driver CD, User's Manual, IDE Cable, 6x Serial ATA Cables, 6x Molex to Serial ATA Power Cables, SP/DIF Bracket, MOSFET Heatsink, I/O Shield
In most other respects the ECS P45T-A is a pretty standard Intel P45 Express motherboard; six 3GB/s SATA-II ports for data storage(RAID 0, 1, 5, 10 care of Intel's ICH10R southbridge and Matrix Storage software), one eSATA port for external hard drives (care of JMB361 chipset), a Gigabit network jack (Athos L1 PCIe Gigalan), 7.1 channel High Definition audio (Realtek ALC883) and twelve USB2.0 ports (6 rear IO/6 via header). There is one IDE header for legacy optical drives, two PCI Express x1 and two PCI slots for expansion.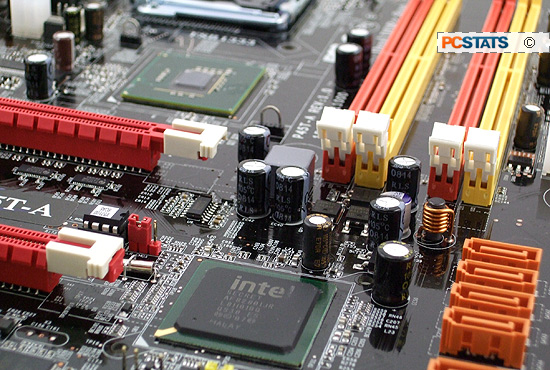 The ECS P45T-A motherboard retails for an affordable $120USD ($120CDN / £60GBP), and comes with one of the slimmest bundles we've seen in a long time; four SATA cables, one IDE and an I/O shield. That's it. No brackets, not even one lousy USB bracket!
Platform Power Consumption
Of late there has been a lot of focus on motherboard level power saving features. In our experience it's mixed bag. Sometimes the power savings feature doesn't have much impact, so the value is greatly diminished. ECS has made efforts to be a "green" company, but mostly from a manufacturing and supply standpoint.
As long as the BIOS is configured correctly, the board will do its best to decrease heat and power draw, and that will keep fan noises down.
For the sake of comparison, PCSTATS measured the total power draw from a ECS P45T-A system with an Extech 380803 Power Analyzer. The computer was stressed with Prime 95 software, resulting in a total system power draw of 196W under load. At idle the average power draw was 146W. By comparison Biostar's TPower I45 board posted results of 183.3W and 126W respectively. The hardware configuration is outlined later in this article.
What you may not know about the P45T-A motherboard is up next.... and I think this will surprise everyone.