Since there is no way to move a PC system back to Windows XP while keeping the Windows Vista file system intact, you'll have to migrate all of your personal files and data as well. There are several ways of doing this. Pay attention!
The easiest method, especially if you don't have a lot of crucial data, is to backup all your files onto removable media such as DVD-R or USB flash drives. If you're not sure how to do this, see this handy PCSTATS guide here.
Keep in mind that you cannot back up installed programs; they will have to be re-installed once the computer is back working with Windows XP once again. It's only the data (such as your Documents/Desktop/Favorites folders, photos or other files stored on the hard drive, music, etc.) that we are concerned about here.
If you're fortunate enough to have more than one partition set up on the computer (which appears in my computer as a D:\, E:\ or even F:\ drive letter), you can copy all your vital data to another drive partition. It can reside there safely until you've made the big bad Windows Vista man go away. If your data is critical, it pays to make an extra backup of it onto removable media, just in case.
VERY IMPORTANT
The next few steps in this Beginners Guide involve completely removing every trace of Windows Vista and all data stored on the main OS partition of your hard drive from the computer (usually C:\). All files, data, emails, music, etc. that you wish to save must be backed up onto a different hard drive partition, a physically separate hard drive or removeable media (DVD-R, USB, etc.). The hard drive partition will be completely erased and not recoverable. To be safe, PCSTATS recommends that you back up all your personal data and files into two different locations (ie. a separate hard drive and a stack of DVD-R's), and check to make sure the data is there, that it is complete, and that it is not corrupted before proceeding.
Locating Windows XP Drivers for your Hardware
In order to (re) install Windows XP, you'll need drivers for the computer's specific hardware components. Drivers are small programs that allow Windows to correctly use the hardware in your computer, such as sound, network adaptors, etc.
If you bought your computer from a small computer store, or ordered it from a 'boutique' custom computer assembler finding drivers should be easy. The reason for this is that such stores generally use individually purchased retail computer hardware components (motherboards, videocards, hard drives, etc.) to build the PC.
This means that each component in the computer will have it's own manufacturer and part number, and will almost certainly be accompanied by Windows XP drivers on the manufacturer's website. You may even have XP drivers already if the store supplied the original CDs of installation software.
Laptop computers that originally shipped with Windows XP generally come with either a 'restore disk' (which contains the operating system and drivers) or a small partition on the hard disk used for restoring the operating system. Consult your laptop's documentation for further instructions, or better yet go to the support section of the manufacturer's website, and search for drivers for your notebook type and model.
If you have a desktop computer and the computer store did not provide you with a manifest of the parts in the system, or the boxes and accessories from those parts, you can open up the computer itself and make a note of the part numbers. If you find your self doing this, the essential component information to locate are the motherboard, videocard (if any), and any peripheral expansion cards.
Motherboard Drivers: The motherboard manufacturer and model number will lead you to a host of peripheral drivers that will be necessary for installation of the system. Look at the motherboard for this information, in the example below we have a Foxconn A7DA-S motherboard.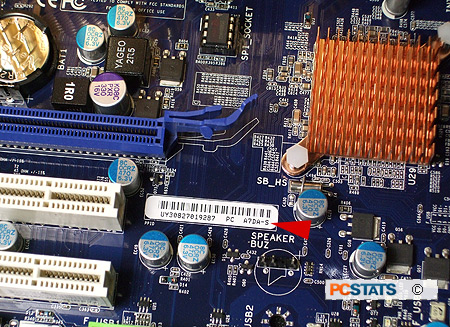 Most modern motherboards contain several hardware items that require drivers. Once you have the manufacturer's name (usually silk screened on the board itself) and the model name for the motherboard (on a sticker, or silk screened on the board), look for these items:
Chipset drivers (may also be listed under '.INF update utility' or something similar.
Sound card drivers
Network (LAN) drivers
Video drivers (only if the motherboard features integrated video, and your PC does not use a separate add-on videocard, see below)
RAID drivers
Every computer needs a full set of drivers to properly install, let's quickly go over the last set you can't afford to be without...