At nearly two feet tall and weighing in at just under 30 pounds, the Cooler Master HAF 932 High Air Flow Chassis is an imposing full tower ATX case, marketed towards gamers and overclockers with an array of fans, cooling options, and lots of space for large components.
Every possible surface that could be covered with a fan has a grating on it, and you'll find three 230mm fans installed in the front, top and side panel as defaults, along with a spare 140mm in the back to boot. You can even stick more fans on the bottom of the case. Along with the built-in air cooling options, there's also a lot of configurations for watercooling, with adjustable backplates, extra bays, reservoir mounts and filling inlets all supported out of the box.
The Hummer-inspired case is built on a foundation of roughened matte black plastic and steel chassis with a large red LED-illuminated fan right up front. This beast has more grills, grates and vents than a Beaumark barbecue. It's got an electro galvanized frame with rounded edges that are easy on the fingers. The Cooler Master HAF 932 feels appropriately sturdy given its macho exterior, though we haven't try running a truck over it...yet.
Like many performance towers geared towards comfortably accommodating dual or even quad videocard rigs, this case does not come with a power supply. This gives buyers freedom to choose a PSU to meet their needs, be they 750W, 1000W, 1500W or "other". Cooler Master's HAF 932 even has enough space in its cavernous interior to accommodate high-power users who want to install a second PSU! That's right, if you're crazy with power, it will meet the needs of your quad-SLI/CrossFire setup (like the Radeon HD 4870X2 PCSTATS recently tested).
Built like a pit bull (without the lipstick), the case is suitably large to hold all plenty of extra power for up to five hard drives, six optical drives, and enough fans to ensure the "high airflow" name holds true. External dimension sit at 230 x 545 x 575mm (9 x 21.5 x 22.7 inches), and empty the HAF 932 chassis weighs a moderately heavy 13.2 kg (29.1 lbs). Fill it full of hardware and you'll be glad Cooler Master tossed in a set of wheels. The case accomodates Micro-ATX (obviously), ATX and E-ATX motherboards form factors.

Cooler Master HAF 932 Full Tower Case

Includes

User's Manual, Assorted Mounting Accessories, Screws, WheelsConverting Mounting Grate, 8-pin power extender, Cable ties, Internal speaker
While the array of options and sheer size of the HAF 932 case are likely overkill for the casual user, I think the enthusiast crowd will certainly find it solves a few of problems for their way of computing... but we'll get to that in a moment. The Cooler Master HAF 932 high air flow chassis (model RC-932-KKN1-GP) retails for around $160 CDN ($150USD / 80GBP) without a power supply. Other variations on the same chassis will include anywhere from 520W to 1000W power supplies out of the box.
The exterior of the HAF 932 has everything you'd expect from a premium full-tower case. Starting from the top down let's go in for a closer look at the HAF 932, first up are the controls, which are hidden. Go figure.
Up top along the front edge is a recessed power switch and a tiny reset button, along with a handy rubberized tray for storing excess screws, Redbull, Caffeine pills and bowls Ramen Noodle Soup. The removable rubberized bottom in the tray gives way to access a space for a water cooling reservoir (ideally one of Cooler Master's liquid cooling systems I suspect).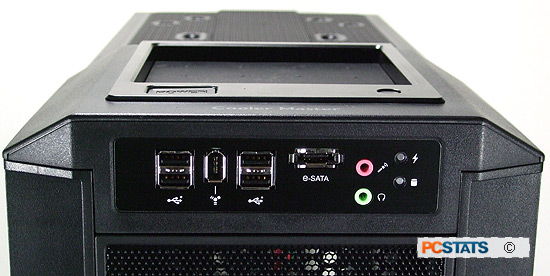 On the front panel there are four USB ports, one firewire & eSATA jack, and microphone and audio connections for easy access. The last thing anyone at a LAN party want to see is your butt crack as you reach around in the dark fiddling with audio cables prior to the big game... right!? The headers have suitably long jumper cables to reach the motherboard front panel headers. Cooler Master place the front panel is right at the top of the HAf 932 case, and it's built into the top panel so as not to take up any of the 5.25" bays. When the chassis is sitting on a desk, the height of the front panel connections can make it a little difficult to access as the power switches and audio jacks will be well above eye level.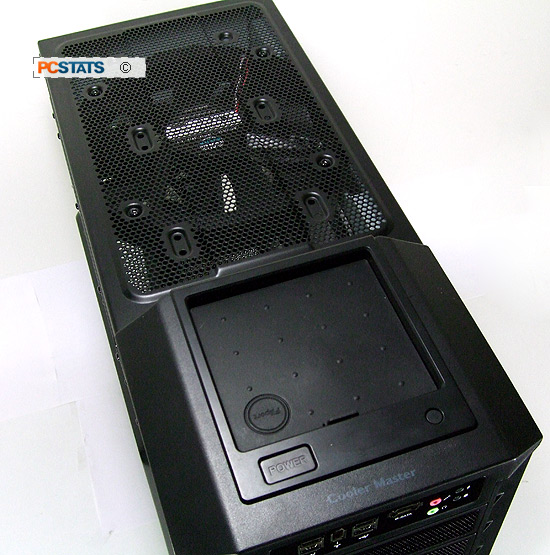 Underneath the top tray you'll find an inlet for watercooling.
A bunch of front panel connectors are available, and they're clearly labeled for easy motherboard installation. Every cable is long enough to reach the bottom of the HAF 932 case, although things can get a little tight if you're intent on running wires under the motherboard tray. I know a lot of enthusiasts are careful with cable management, particularly in cases with side windows.
It's nice to see manufacturers accommodating both HD audio and the AC'97 sound options, although there are still only 3.5mm stereo jacks on the front - including 6.3mm jacks would be great for owners of high-end headphones.
Below the front panel are a half dozen 5.25" bays with meshed bay covers (air is the Hallmark word of the day recall). The front grates for the individual bays can be popped out using tabs on the side, without any difficulty. The entire front of the case is made up of grating, so that any unfilled bays can function as an intake or an exhaust depending on your fan configuration. Cooler Master provide one extra bay cover for 3.5" devices, like a media card reader for example.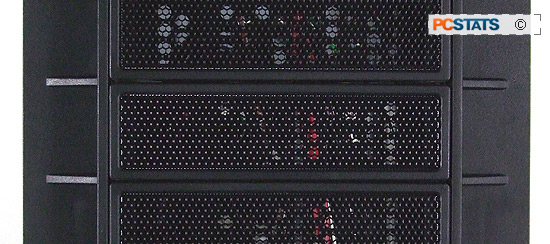 Below the 5.25" bays is yet more grating, this time covering the front 230mm fan. Cooler Master has also thrown in their logo for good measure, and the entire thing is lit up red when the fan is turned on. The plastic grill over top of it gives the case a bit of shape, but looks horribly busy when combined with the spinning, glowing red fan. For easy cleaning, or fan swap outs, the front grill pops out without the need for tools. There is enough space behind the grill for a slab of air filter, which may be a good idea if your house is particularly dusty.
Things get ugly in the next page, the HAF 932 goes to pieces and PCSTATS gets down to business...