Gigabyte's GA-X48-DS5 motherboard has a wealth of features to salivate over - 32 lanes of PCI Express 2.0 connectivity, dual storage controllers that support RAID 0/1/5/10 as well as on-board IEEE 1394 and eSATA. The board retails for around $275CDN ($225 USD, 150 GBP), a price point that is the other defining feature of the upper-end enthusiast motherboard market.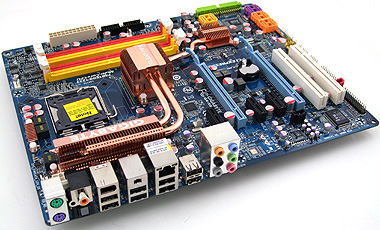 Gigabyte's take on the Intel X48 chipset achieved good overclocking speeds on the PCSTATS test bed. An overclocked speed of 525MHz isn't bad though, and the array of tweaking variables and fine tuning for overclockers will certainly let users squeeze every last drop of performance out of their hardware.
The performance of the GA-X48-DS5 motherboard was also above-average, particularly in terms of hard drive and processor performance. What's even more impressive is that this motherboard is still using inexpensive DDR2 memory, which means that it's relatively easy to max out the 8GB memory limit without breaking the bank (in a 64-bit OS).
One of the more unique technologies at play here is Gigabyte's Dynamic Energy Saver (DES) Advance. When activated, it yields a modicum of power thriftiness to lessen your electrical footprint, and over the course of an entire year lower power bills. Motherboards with power saving features should be standard. If every computer on the planet had an energy efficient A-PFC power supply, motherboard and low power processor, the impact of computers would certainly be reduced.
As it stands, in PCSTATS tests the Gigabyte GA-X48-DS5 motherboard and its DES technology was good for shaving off 3W of power use under heavy processor load, 9W while idle. Still, technologies like Gigabyte's DES, and ASUS' EPU are a step in the right direction and PCSTATS actively encourages all motherboard makers to develop this further.
Gigabyte's GA-X48-DS5 has emerged as a worth competitor to the MSI X48 Platinum, as well as establishing itself as a notable improvement to the P45 Express chipset. The extra PCI Express bandwidth give it a lot more headroom for future upgrades, which add to this motherboard's long-term value. For those who are looking to own one of the most fully-featured and fastest socket 775 motherboards, the Gigabyte GA-X48-DS5 is certainly a contender you should consider.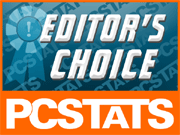 Find out about this and many other reviews by joining the Weekly PCstats.com Newsletter today! Catch all of PCSTATS latest reviews right here.
Related Articles
Here are a few other articles that you might enjoy as well...
- Asus P5Q-EM Intel G45 Express Motherboard Review
- Biostar TPower N750 nForce 750a Motherboard Review
- Gigabyte GA-EP45-DQ6 Intel P45 Express Motherboard Review
- ECS A780GM-A AMD 780G Motherboard Review
- Biostar TF8200 A2+ GeForce 8200 Motherboard Review
- Foxconn A7DA-S AMD 790GX Motherboard Review
- MSI X48 Platinum Intel X48 Express Motherboard Review
- MSI P35 Platinum Combo Intel P35 Express Motherboard Review