Overclocking Results:
Intel's X48 Express is designed for heavy-duty tweaking and overclocking but PCSTATS has definitely seen quite a few surprise winners and losers so far - so we're still quite excited to see how the Gigabyte GA-X48-DS5 motherboard stacks up in this respect.
As usual, PCSTATS dropped in a 45nm 1333MHz FSB Intel Core 2 Duo E8400 processor and a 2GB set of Corsair's DOMINATOR Twin2X2048-8888C4DF memory, then powered the board up. The Core 2 Duo E8400 CPU replaces the Intel Core 2 Duo E6750 for our overclocking tests because the E6750 won't go past 475MHz any longer.
Let's begin, first we changed CPU clock multiplier from 8x to 6x, and set the memory to run at the lowest possible divider (DDR2-800). Starting at 333 MHz FSB the speed was increased in 15 MHz jumps.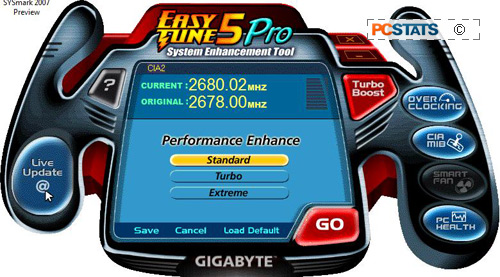 The Gigabyte GA-X48-DS5 motherboard was overclocked from 333MHz up to 400MHz as an initial clockspeed boost. After the system was checked for stability, the processor was pushed to 450, 475, 485, 495 then 525MHz. As the clock speed approached 540MHz the system would crash either at POST or as it entered Windows.
Upping the memory voltage proved little help, so these settings were set back to normal. The system was brought back down to 525MHz, and proved stable enough to run Windows Vista and complete benchmarks. The GA-X48-DS5 does allow for quite a bit of additional tweaking, which could well eke out even more performance out of this motherboard.
Gigabyte also provides their own garishly ugly tweaking software, seen here on the right. It allows for basic overclocking functionality within windows, but most serious enthusiasts will want to stick to the BIOS for the purposes of overclocking their CPU and memory.
BIOS Tweaking Tools:
The BIOS controls how the motherboard communicates with all the peripherals connected to it, and is a crucial component for any good well rounded motherboard. PCSTATS is only going to highlight the tweaking features so you'll know what to expect.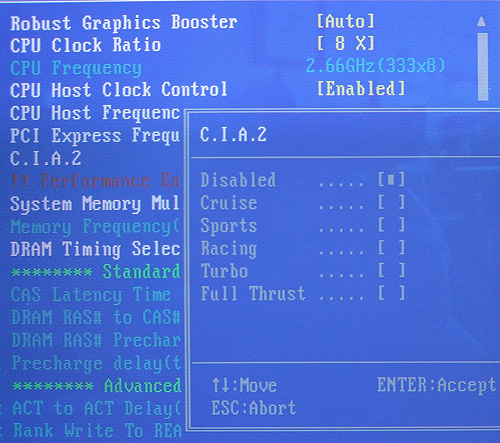 There are lots of pre-configured overclocking options that allows for small speed adjustment. The names are cute, but can be a little unclear. How much faster is 'racing' compared to 'sports'?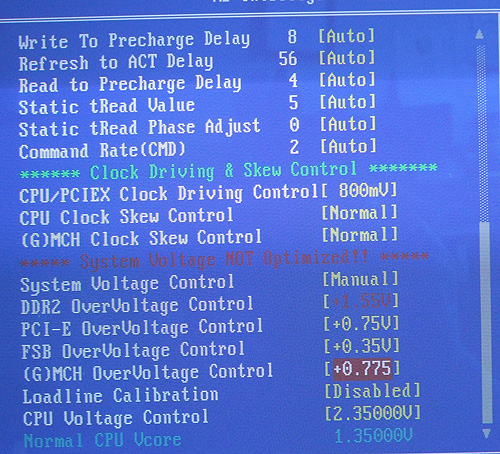 Here are the maximum voltages for the Gigabyte GA-X48-DS5, the system displays warning messages if you're overvolting components.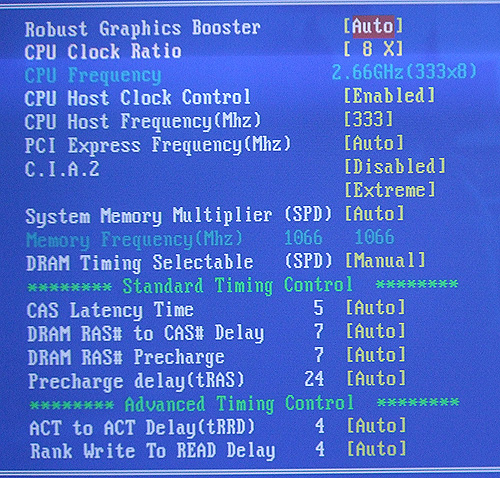 Here are the basic memory timing options, which give the most common memory tweaking options. It's possible to fine-tune other memory settings in the advanced memory options window.
Prelude to Benchmarks
The details of how the Gigabyte GA-X48-DS5 motherboard test system was configured for benchmarking, including the specific hardware, software drivers, operating system and benchmark versions are indicated below. In the second column are the general specs for the reference platforms this Intel X48 Express based system is to be compared against. Please take a moment to look over PCSTATS test system configurations before moving on to the individual benchmark results.