At the time of AMD's introduction of the ATI RV770 graphics processor and Radeon HD 4870 videocard back in mid-2008, it was also secretly working on plans to transition the same graphics processor technology into a stripped down mid-range part. The subsequent Radeon HD 4850 and the Radeon HD 4830 videocards born of that effort, each offered competitive mid-range performance and outstanding value. Today PCSTATS is testing ATI's latest entry-level videocard for budget PC builders and home theatre enthusiasts; the leaner, lighter, and less expensive RV710 GPU at the heart of the Radeon HD 4550 video card.
The ASUS EAH4550 is a half-height entry level videocard suitable for small form-factor, book size and home theatre PCs users that desperately want a dedicated HDMI jack on the cheap. To be frank, the only reason PCSTATS is devoting pixels to this $50 dollar, PCI Express videocard is because it offers very affordable HDMI video and audio which is fully HDCP compliant. That's something a DVI-to-HDMI adaptor will not do. Not everyone can afford $600 monster videocards after all.
The RV710 GPU that powers the ASUS EAH4550 has a 600MHz core clock speed and is paired with 512MB of GDDR3 memory running at 800MHz. While this videocard has inherited some of the Radeon HD 4870's graphical processing technique and is built on the same 55nm manufacturing process, the Radeon HD 4550 has just 80 stream processors and a 64-bit memory interface, so this videocard clearly isn't meant for serious 3D gaming.
Much like the Radeon HD 3650 that came before it, the ASUS EAH4550 gives more functionality and power than an integrated graphics processor might not provide. With an estimated price of $70 CDN ($50 USD, £35 GBP) (model: ASUS EAH4550/DI/512MD3/A), this half-height videocard is both small enough and affordable enough to fit into any home theatre PC, but how well does it perform versus videocards from a year or two ago? Does its HDMI output measure up to what we've seen from the latest integrated motherboards?

ASUS EAH4550 GDDR3 512MB Videocard

Includes:

User's Manual, Driver CD, Utilities CD, low-profile I/O shield
As an entry-level video card, the ASUS EAH4550 videocard doesn't come with a whole lot of extras - aside from a pair of CDs with the driver and some utilities on them, the only items left in the box are a thin manual and a half-height metal PCI bracket. The half-height riser allows you to swap out the default full size I/O shield so the videocard can be installed into a slim line PC where a full height videocard just wouldn't fit.

At the back of the EAH 4550 we find Analog VGA, HDMI and DVI video outputs. Each of the outputs can be used independently, while Analog VGA and DVI can be used for dual displays. The card has two independent display controllers so that either HDMI or VGA can be used in conjunction with the DVI output for dual displays, but it won't support VGA and HDMI output at the same time. The DVI is dual-linked, so it's capable of resolutions of 2560x1600, as can the HDMI output. The HDMI is HDCP compliant, and can carry both audio and video from your PC out to any HDMI-compatible HD TV. I know a lot of people will think they can just get a $8 DVI-to-HDMI adaptor, and you can if you don't need audio. Most videocards made before 2008 lack the ability to pass the HDMI audio signal through the graphics card if a DVI-to-HDMI adaptor is used - forcing you to run a separate coaxial audio cable to the HDTV which is rather cumbersome.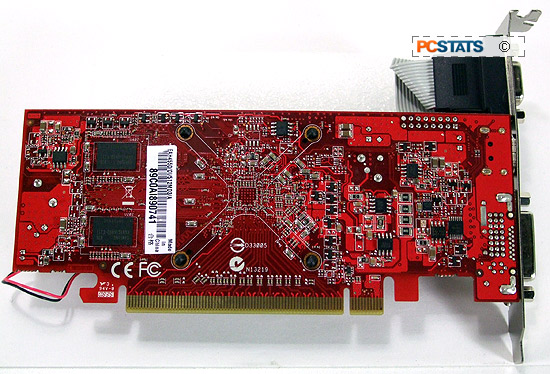 Half-Height HDMI
How does a full size videocard fit into a book-size PC chassis? The answer is simple, it doesn't unless you have a half-height videocard.
ASUS have thoughtfully supplied a half-height metal I/O bracket along with the EAH 4550 videocard so you can swap out the brackets yourself. The analog VGA port is mounted via flexible cable to the videocard PCB, and the half-height bracket is two-slots wide to accommodate it.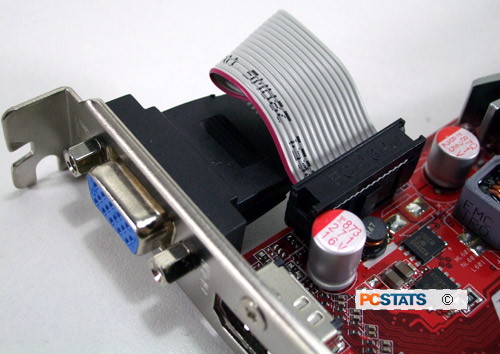 The Analog VGA connector is attached to the videocard with flexible cable because it will be repositioned above the HDMI jack when the half-height I/O bracket is used. In most computers there should be sufficient space, but you might want to double check that there is an additional slot free next the PCI Express x16.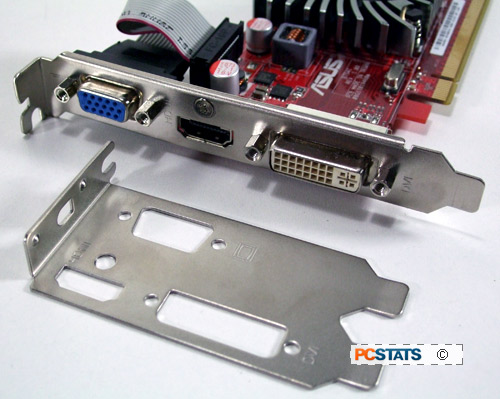 The downside to this approach is clearly that you loose an entire slot in the computer, which is a lot given that most slim line PCs usually only have three or four expansion slots at the most.
This videocard should have quite a bit of potential headroom for overclocking, so let's see how the ASUS EAH4550 fares when we start cranking up its core values. Overclocking is next!