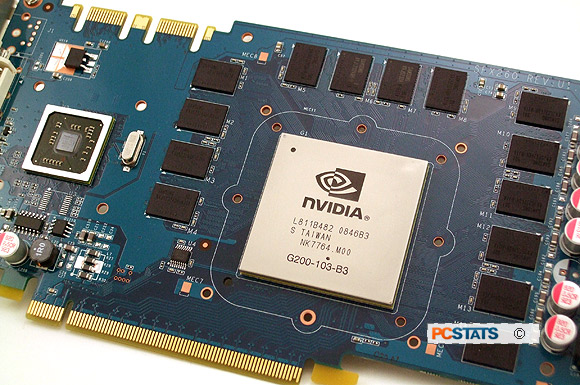 When it comes down to it, nVidia's GT200 GPU at the heart of the Sparkle GTX260 Core 216 videocard proves itself a worthy competitor to ATI's RV770-series of GPUs that power the Radeon HD 4890, 4870 and 4850 videocards.
Unlike multi-GPU videocards like the Radeon HD 4870 X2, or SLI solutions like the Geforce GTS 250, performance from the single-GPU Sparkle GTX260 Core 216 videocard was consistent in pretty much all the benchmarks PCSTATS threw at the PCI Express videocard.
The GT200 is also a decent overclocker, which is likely a result of its 55nm die-shrink. The default core clockspeed of the videocard is 576 MHz, with its 896MB of GDDR3 memory clocked at 999MHz.
A few quick minutes spent in nVidia nTune brought about a respectable overclock to 682MHz core and 1221MHz memory. Overall heat and noise levels were acceptable for a videocard of this class. At $210 CDN ($183 USD £116 GBP), the Sparkle GTX260 Core 216 represents a good value for a fast single-GPU videocard - that much is clear no matter how you look at it.
Given the results PCSTATS has witnessed in recent ATI videocard reviews, I think it's safe to say that nVidia has a ways to go before it can match value quotient. Still, those kinds of questions generate a different response from every gamer....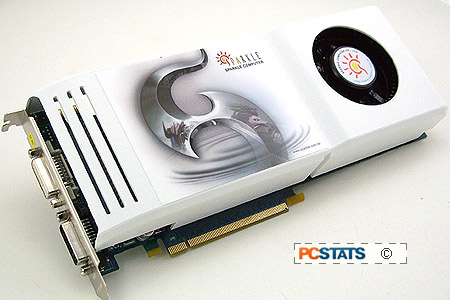 In terms of power consumption the Sparkle GTX260 Core 216 isn't horrendous, but it's still a generation behind AMD's new 40nm lower-mainstream GPUs (it's not a head to head comparison). AMD's move to 40nm production will only make this competition more difficult for nVidia in this respect.
For those PCs equipped with a decent power supply, running a single Sparkle GTX260 Core 216 is a good single-GPU alternative to AMD's Radeon HD 4890, 4870 and 4850 videocards.
Most importantly, the new 216-shader endowed Sparkle GTX260 videocards have enough power to play recent video games like Far Cry 2 and STALKER at high resolutions, with pretty much every eyecandy option dialed up. In the end, what more could you really ask for?
With the requirements of PC games slacking off a little from the break-neck pace of just a few years ago, nVidia's GT200 GPU and the Sparkle GTX260 Core 216 videocard offer up decent staying power. Now that the price has come down to $210 CDN, this videocard ought to be on your short list if a graphics card upgrade is in the cards for you, particularly if you have an SLI-friendly motherboard already.
Find out about this and many other reviews by joining the Weekly PCstats.com Newsletter today! Catch all of PCSTATS latest reviews right here.
Related Articles
Here are a few other articles that you might enjoy as well...
- Gigabyte GV-R477D5-512H-B Radeon HD 4770 Videocard Review
- ASUS EAH4770 HTDI/512MD5/A Radeon HD 4770 Videocard Review
- ASUS ENGTS250 DK Geforce GTS 250 Videocard Review
- ASUS EAH4890 HTDI/1GD5/A Radeon HD 4890 Videocard Review
- Gigabyte GV-N96TSL-1GI Geforce 9600GT Rev.B Videocard Review
- ASUS EAH4550 Radeon HD 4550 Half-Height Videocard Review
- MSI R4830-T2D512-OC Radeon HD 4830 Videocard Review
- Asus EAH4850 HTDI/512M/A Radeon HD 4850 Videocard Review
- ASUS EAH3870 X2 Top/G/3DHTI/1G/A Radeon HD 3870 X2 Videocard