Abstract: The Geforce GX 260 core on Sparkle's videocard is clocked at the default speed of 576MHz, the shaders hum away at 1242MHz, while the GDDR3 memory runs at an even 999MHz.


81% Rating:

Home > Reviews > Video Cards > Sparkle GTX260 Core 216
Overclocking a Geforce GTX260 with nVidia nTune

Overclocking Results:
The Sparkle GTX260 Core 216 videocard comes from the factory with its nVidia GT200 GPU clocked at 576 MHz and 896MB of GDDR3 memory running at a cool 999 MHz. PCSTATS has generally had great luck overclocking nVidia videocards, so we were moderately excited about pushing Sparkle's Geforce GTX260 to infinity and beyond.
Overclocking was done through nVidia's nTune utility which unlocks GPU and memory clock speed. PCSTATS started with the GPU first, pausing to test the results with a quick 3D benchmark before continuing.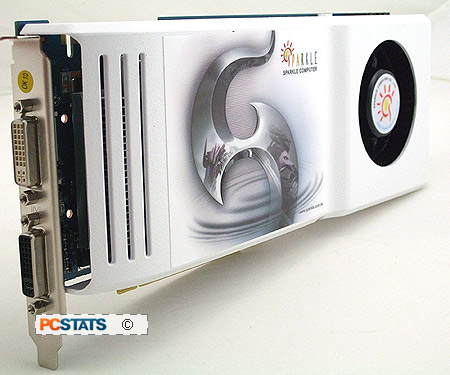 Starting with the GeForce GTX260 GPU the clock speed was increased in 25MHz increments from 575MHz, in no time at all it hit 607MHz, then 629... 667... 697... and finally 749MHz which caused the system to lock up and crash. After dialing the GPU clock speed back a few degrees the Sparkle GTX260 eventually found it's feet at 682MHz GPU.
Next came the 896MB of GDDR3 memory which was clocked by default at 1000 MHz. The memory was overclocked in 50 MHz increments from 112MHz to 1156... 1167... 1188.. 1210... to 1254MHz. Unfortunately while the card would run, tearing was visible in 3DMark06 so we had to dial back the memory speed to 1221MHz. A nice overclock of 221MHz, but far from a world record.
Together the nVidia GTX260 GPU and GDDR3 memory ran comfortably overclocked at 682MHz GPU / 1221MHz memory without crashing or any obvious signs of artifacts in the 3D benchmarks.
Prelude to Benchmarks:
The details of how the Sparkle GTX260 Core 216 videocard (model: SXX260896D35-VP) test system was configured for benchmarking; the specific hardware, software drivers, operating system and benchmark versions are indicated below. In the second column are the general specs for the reference platforms this nVidia GeForce GTX260 896MB based videocard is to be compared against. Please take a moment to look over PCSTATS test system configurations before moving on to the individual benchmark results on the next page.

PCSTATS Test System Configurations
Benchmark results are organized by GPU manufacturer first (AMD/ATI or nVidia), then by GPU generation, and then by GPU class (high end, mainstream, value). This approach provides a clearer view of how performance can differ from generation to generation, and class to previous generation. The product being tested is marked with the red colour bar.