Waterfield's piggyback gear pouch is bigger at the bottom than the top, and zips up closed to keep small cables from falling out. The pouch clips onto the D-rings of the vertical notebook sleeve, and when not needed can be removed.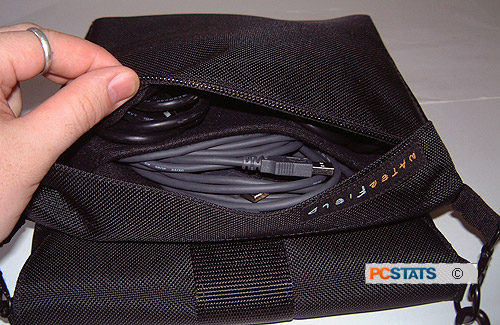 Partitions inside the piggyback pouch make sorting big and small cables not too problematic.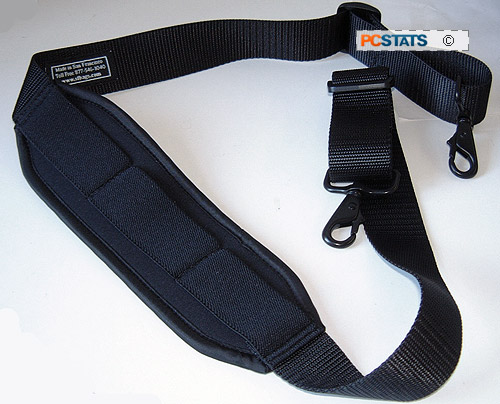 The carry strap for the vertical SleeveCase is padded, and when not needed it is easily removed. The metal hardware is pretty standard on this item, all of it is poweder coated black.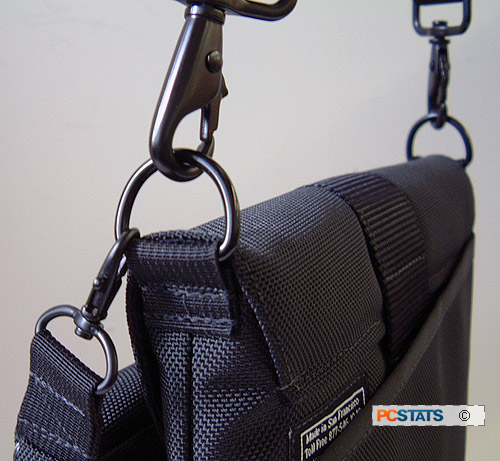 Not aerospace grade hardware here, but good quality metal D-rings and clips.
Notebook sleeves are really handy when you don't want to use a designated laptop bag. With a sleeved notebook you can use an old messenger bag, a knapsack, whatever fits. The padded sleeve ensures the notebook itself stays reasonably protected.
What makes a good sleeve case?
The notebook sleeve is a mobile computing accessory I wouldn't be without, particularly during long haul commutes to far off tech trade shows. The vertical sleeve case is an interesting alternative option for those who work on a campus, or must attend multiple meetings each day in a large office and find the need to carry a few more things along.
Both types of notebook sleeve from Waterfield protect the laptop from nicks and scratches along the way, but the real the value comes when the computer is packed away into your laptop bag along with everything else. The designer materials, creative look and bullet-proof ruggedness of Waterfield Designs products means they cost a little more than comparable cases. However, the old adage about buy a good tool, not the cheapest seems to fit here. From the few years experience we've had with Waterfield's bags, I can attest to how durable they are.
For more information, you can check out Waterfield Designs at www.sfbags.com
Find out about this and many other reviews by joining the Weekly PCstats.com Newsletter today! Catch all of PCSTATS latest reviews right here.
Related Articles
Here are a few other articles that you might enjoy as well...
- Enermax Aurora KB007US Aluminum Keyboard Review
- Tom Bihn Smart Alec and Monolith Computer Bags Review
- Matrix Orbital MX212 PC-Bay Insert Review
- Waterfield Designs Gear Bags and Notebook Sleeves
- Zippy Electroluminescent EL-610 Mini-Keyboard
- Belkin 8-in-1 USB Media Reader Review
- Keyboard Roundup - Internet Style
- Vantec EZ-Swap Removable HDD Racks
- FireWire vs. USB; Apple and Intel Play Hardball
- Belkin USB 2.0 Hub Review
- Belkin USB 2.0 Hi-Speed PCI Card Review
- USB 2.0 External MAP-K51U Media Bay Review