Waterfield Designs is a small San Francisco based company founded by an ex-bike courier by the name of Gary. The company has steadily gained acclaim for designing IT industry friendly bags, gear pouches and sleeves for notebooks and mobile electronic devices which are functional and good looking.
Part of the success of Waterfield Designs is the companies intuitive design approach and ingenuitive use of materials. Durable synthetic fabrics like ballistic Nylon, Neoprene and industrial coverings like Indium wear well and stand up to the rigors of a mobile work life extremely well, while leather adds a touch of comfort. Add to that aerospace-grade hardware like commercial aircraft seat buckles that can be opened behind the back with one hand, and I think you'll agree Waterfield makes fashionable items with substance.
To date, the signature Cargo Bag that I picked up in 2001, has logged enough air miles to go around world several times and outlasted two laptops altogether. Aside from a few scratches on the anodized aluminum buckle, that bag has held up without any torn fabric, squeaks, busted seams or dead zippers. Quite remarkable given the number of time zones this bag has been to in nearly 9 years of lugging it around.
Today PCSTATS is looking at three other types of Waterfield Design bags; a piggyback case for hauling gear, a neoprene-padded horizontal notebook sleeve and a vertical notebook SleeveCase with a shoulder strap - especially good for airports.

Waterfield Design Sleeve Case
IT Editor's Trick to Laptop Lifespan Extension - the Notebook Sleeve
A notebook sleeve is best described as an outer covering to protect the laptop from wear and tear while it's inside another bag. Notebooks are inherently fragile things, even with the adoption of magnesium alloys, carbon fiber, and titanium chassis. By their nature, portability puts notebooks in the path of a fair bit of rough handling where the forces of friction usually end up winning on fancy surfaces.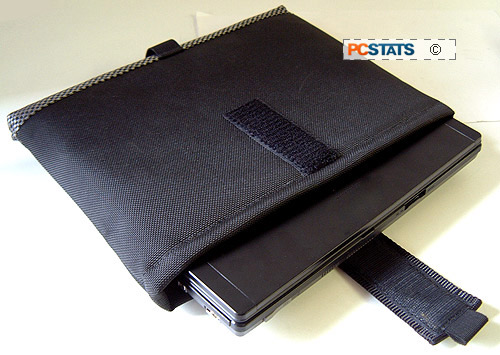 The horizontal notebook sleeve from Waterfield Designs runs about $40 depending on the size of laptop, is made from ballistic nylon and neoprene padding and features a Velcro loop to stops the computer sliding out.
At its simplest a notebook sleeve need be nothing more than a soft cloth covering. This is enough to prevent most errant paper clips, staples, grit, and metal pen clips in a bag from scratching the outer surface of a laptop to death. In my travels to and from tech trade shows around the world, going through the mandatory security checks and luggage carousels has reaffirmed my belief in the usefulness of a notebook sleeve.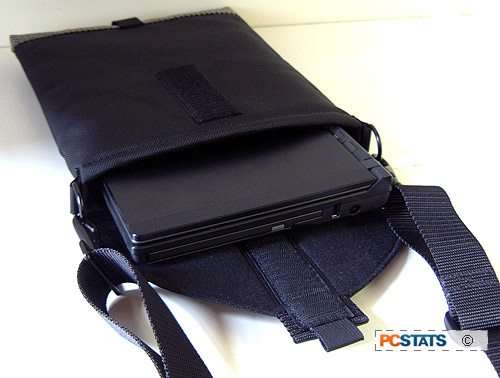 The vertical SleeveCase from Waterfield Designs runs about $70 as pictured (depending on the size of laptop). It features a large padded velcro flap to fully cover the computer and adjustable shoulder strap.
With airport X-Ray screening, laptops have to be removed from bags and placed naked in those grey RubberMaid bins. A neoprene padded sleeve provides a nice line of defense against careless airport security screeners and a bit of anonymity when you need it. A shiny laptop is a prime target for thieves of opportunity at busy security screening gates, whereas a laptop concealed in a notebook sleeve is not nearly as conspicuous if you get held up putting your shoes back on.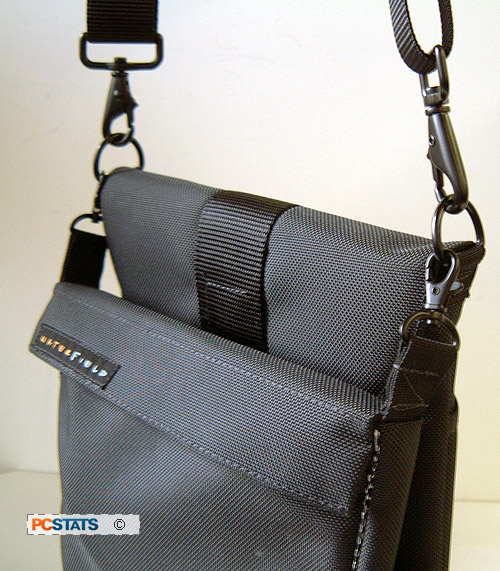 A piggyback gear pouch can be quickly attached to the vertical SleeveCase for about $22 to create space for cables and peripherals. The Metal hardware is powder coated black.
Sleeves can also be good intermediaries when attending meetings in the office, and are certainly a lot lighter than lugging around a whole laptop bag.
A good padded notebook sleeve allows you to use any bag to carry your notebook, or like the Waterfield vertical SleeveCase we're about to see, a carry strap can be quickly clipped on so you can pull out a laptop with on hand. Let's go in for a closer look, first up the horizontal notebook sleeve.