When it comes to power supplies, power efficiency and silent operation are increasingly becoming the name of the game - provided of course the 12v rail has Amps to spare and there are plenty of PCI Express VGA power connectors to go around. The days of the meaningless race to, and past 1000 Watts are long gone; nowadays we expect good stable power delivery and long term reliability. Power supplies and power issues are the number one cause of dead PC's, so trust us when we say it pays not to skimp on quality.
In this review PCSTATS will be testing out a 750W power supply from Seasonic's flagship modular gaming "X" series. The Seasonic SS-750KM is an Active Power Factor Correction (A-PFC F3) class unit which boasts the exceedingly hard to come by 80 Plus Gold rating. A 650W model (SS-650KM) is also available.
Seasonic's X-750 features the convenient modular cable format, but looking beyond the spiffy matt-black steel case with honeycomb vents (good EMI and low air resistance), the X-750 reveals some clever internal choices; a quiet Sanyo Denki 120mm fan operates at near inaudible levels, the strategic use of solid state aluminum polymer capacitors, the modular cable board being a DC-to-DC converter rather than just a bundle of wires extending to jacks, and most strikingly... a nearly cable-less interior. In short, the Seasonic X-750 is not just another energy efficient power supply, it's got the build quality and higher tolerance electrical components to go with it. Not to mention four PCI Express power connectors for multi-videocard blessed PCs.
What is the 80 Plus rating? It's an industry certification for specific levels of power efficiency, and 80 Plus Gold is the highest attainable. There are currently 109 power supplies on the market certified for 80 Plus Gold, which means the PSU is at least 87% power efficiency at 20%, 50% and 100% power load and has a power factor over 0.9. The Seasonic X-750 achieves a power factor of 0.99. Consequently, the Seasonic X-750 ought to generates less heat from wasted electricity, run quieter, and most importantly deliver stable power to core components of a modern gaming PC - power hungry videocards.

Seasonic X-750 Power Supply

Includes:

(1) mainboard connector 20/24 pin power connector (2)8-pin CPU connectors (1) 4-pin CPU connector (3) SATA power cables, (3) molex power cables, (2) PCI Express eight pin (6+2) power cables, molex to FDD power adapter, DC power cable, cable bag, instruction manual
The modular cabling of the Seasonic X-750 makes it easy to access components, letting you build a cleaner PC that's less cluttered so airflow is improved all around. As a modular power supply, Seasonic's X-750 is loaded with all the cables necessary to hook it up a multi-videocard equipped system. It ships with four PCI Express power connectors, all of which are convertible (6 +2) pin cables. There are also eight molex connectors (4-pin), and eight SATA connectors for hard drives and newer optical drives. Rounding out the package is a set of 8-pin EPS12V cables, a 4-pin ATX12V auxiliary, a pair of floppy connectors and 24/20 pin convertible ATX main power cable. I'm not sure why Seasonic bothered to make the main power connector modular, it's the one cable all PCs have to use!
Seasonic's X-750 power supply is compatible with ATX 2.2 spec standard and supports the 24 pin ATX power connector by default. Seasonic rates the the +3.3V and +5V rails at 25 Amps each, for a total combined output of 125W. There is a single +12V rail that can output 62 Amps/744W.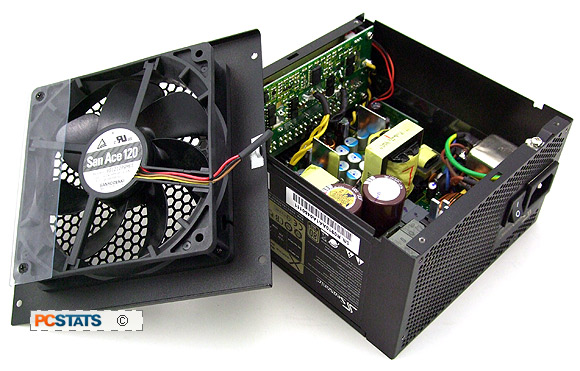 PCSTATS is often asked what 80 Plus certification means in the real sense. Quite simply, a power supply draws a certain amount of overhead itself to convert 120V AC to a certain amount of DC power. As an example, for a 120W load the Seasonic X-750 should theoretically be 87% efficient and thus draw no more than about 138W in total to get the job done. In other words, an 87% efficient power supply will waste 18W to supply 120W, so the total power draw is thus 18W + 120W = 138W.
By comparison a 60% efficient PSU would theoretically draw 200W to supply a 120W load, with a whopping 80W wasted as heat energy. Both the heat and excess power consumption can add up quickly!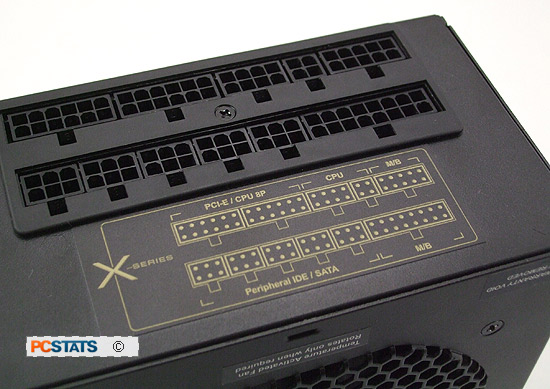 To put all this into perspective, consider the 50% load efficiency rating for the 80 Plus gold, Silver, Bronze and regular 80 Plus standards. They are respectively; 90% for Gold, 88% for Silver, 85% for Bronze and 80% for standard - not a whole lot of difference between gold and silver, but getting there requires higher quality parts and components.
Seasonic's X-750 power supply costs about $210CDN ($200 USD, £110 GBP). A fair amount of money for a 750W power supply, but competitive for an 80Plus Gold rated 750W power supply. Seasonic backs up the X-750 with a five-year warranty, as opposed to the 1-3 year warranties offered by most other PSU manufacturers.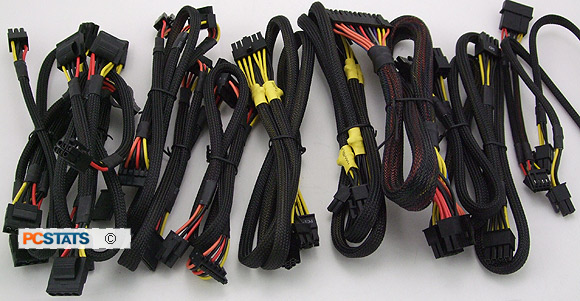 The Seasonic X-750 is 160 x 150 x 86mm in size so it will fit into any ATX desktop case. The X-750 come in an easy to grip matte black finish with gold accents, so it will look pretty sharp if your computer tower has a window. The unit is also impressively hefty, a testament to Seasonic's build quality and choice of high-quality materials. This unit is equipped with a 120mm Sanyo Denki PWM fan that operates in near silence. Let's quickly get familiar with the outside of the Seasonic X-750...