STALKER: Call of Pripyat - DX11

Source: GSC
Stalker: Call of Pripyat benchmark is based on one of the ingame locations. The testing process includes four stages, those utilizing various weather and time of the day settings (day, night, rain, bright sun). In order to test your system thoroughly the benchmark is provided with a number of presets and options including different versions of DirectX (9.0, 10.0, 11), screen resolutions, antialiasing etc, all at your disposal.
STALKER Call of Pripyat - Ultra / DX11 / 4xMSAA/HDAO
Sun Shafts Test 1600x1200
Points
Ranking
Gigabyte GV-R567OC-1GI
10.056
Sun Shafts Test 1900x1200
Points
Ranking
Gigabyte GV-R567OC-1GI
8.47
Stalker: Call of Pripyat is one of the first DirectX 11 benchmarks, and it proves to be a punisher for the GV-567OC-1GI. This test is designed for high-end flagship videocards, so pitting it against a $100 mainstream videocard isn't entirely fair.
Now let's wrap all of this up, conclusions are next!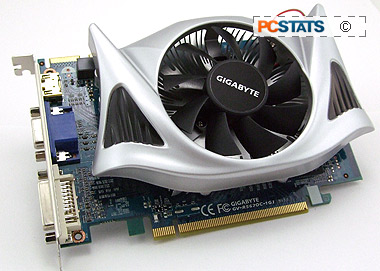 Conclusion: Just Missing the Sweet Spot?
ATI's Radeon HD 5670 brings DirectX 11 technology into the mainstream. In just a few months the "Evergreen" RV8xx architecture has moved from the ultra-high-end all the way to mainstream computer users.
Technically this videocard can do everything the big boys can do: the Gigabyte GV-567OC-1GI's 'Redwood" RV810 GPU is capable of DirectX 11 tricks like tessellation and compute shading, which will start making major appearances later on in 2010. Tessellation especially will become an important eyecandy feature that allows much more detailed character models and environments in videogames; think of it as bump-mapping's more sophisticated, more attractive older sister.
However while the Gigabyte GV-567OC-1GI videocard and its 1GB of GDDR5 memory certainly has the theoretical capability of running next-generation DirectX 11 graphic effects, in real-world usage it's simply not fast enough for today's games.
The RV810 'Redwood' GPU has fewer stream processors, texture units and raster operators than last generation mainstream and mid-range videocards like the Radeon HD 4770 and Radeon HD 4850, which can also be found for around the $99 USD ($110 CDN / £65GBP) you'd pay for Gigabyte's Radeon HD 5670 GV-567OC-1GI videocard.

Even with a 785MHz clock speed (Gigabyte overclocks the GPU core clock speed an extra 10MHz, the default clock speed is 775MHz), and 1GB of GDDR5 memory operating at an effective 4000MHz, the GV-567OC-1GI videocard can't keep up with its peers from the Radeon 4000-series.
Most of the more intensive games on the PCSTATS benchmarking suite had to have graphical settings, resolution and anti-aliasing turned down substantially in order to achieve playable frame rates.
All of this put together makes the GV-567OC-1GI difficult to recommend. If you're looking for a modestly priced videocard for lightweight gaming, you're better served getting Gigabyte's own Radeon HD 4770 or a Radeon HD 4850. If you just need a videocard for HDMI video output you can grab a Radeon HD 4350 for around $50. Finally, if you really want to see DirectX 11 effects in your videogames, it's best to invest a bit more cash into a Radeon HD 5770 or 5850 graphics card so you can play games at acceptable frame rates.
Discuss this videocard in the PCSTATS Forums. Find out about this and many other reviews by joining the Weekly PCstats.com Newsletter today! Catch all of PCSTATS latest reviews right here.
Related Articles
Here are a few other articles that you might enjoy as well...
- Gigabyte GV-N26SO-896I Geforce GTX 260 Videocard Review
- Gigabyte GV-N285OC-2GI Geforce GTX 285 2GB Videocard Review
- ASUS EAH4890 TOP HTDI/1GD5/A Radeon HD 4890 Rev. B Videocard Review
- ASUS EAH4770 FML/DI/512MD5/A Radeon HD 4770 Videocard Review
- Gigabyte GV-N26OC896H-GA Geforce GTX260 Core 216 Videocard Review
- ASUS EN9400GT-1GB Geforce 9400GT Half-Height Videocard Review
- Gigabyte GV-R435OC-512I Radeon HD 4350 Half-Height Videocard Review
- ASUS EN9600GT DI/512MD3/A Geforce 9600GT Rev.B Videocard Review
- Sparkle GTX260 Core 216 GeForce GTX 260 Videocard Review