DirectX 11 and the Radeon 5000 series have finally hit the mainstream market in the form of the Radeon HD 5670 graphics card. Priced at a mainstream $99 USD ($110 CDN / £65GBP), it's the most affordable way to experience DirectX11 hardware features like hardware tessellation and compute shaders.
Gigabyte has designed a slightly overclocked (+10MHz) version of the Radeon HD 5670 videocard called the GV-567OC-1GI. ATI has produced several 'sweet spot' videocards over the past year like the Radeon HD 4870, 4850 and 4770, and through aggressive pricing and new manufacturing techniques ATI has managed to get all of these videocards into that $100-$150 'sweet spot' that net excellent gaming performance at a cut-rate price. Will the GV-567OC-1GI be worthy to join such hallowed company?
Let's start off with the heart of the Gigabyte GV-567OC-1GI PCI Express 2.0 x16 videocard, the Radeon HD 5670 GPU. Code-named "Redwood", it's based on the same "Evergreen" architecture that powers the rest of the Radeon 5000-series graphics cards, including the flagship Radeon 5870. Gigabyte's GV-567OC-1GI videocard is thus blessed with 40 stream processors and a core clock of 785MHz (the default speed is 775MHz, but Gigabyte kicks it up a tiny bit).
This CrossFire capable videocard packs 1GB of GDDR5 memory with a fightin' 1000MHz clock, although due to GDDR5 quad-pumping the effective speed is actually 4000MHz. The GPU communicates with this memory using a 128-bit wide interface. No PCI Express power connector is required for this videocard, and thanks to the march of time HDMI output is standard along with DVI and Analog VGA.

Gigabyte GV-567OC-1GI GDDR5 1GB Videocard

Includes:

User's Manual, Driver CD, Utilities CD
Gigabyte's GV-567OC-1GI videocard operates over a PCI Express 2.0 x16 link, although it also has natural backwards compatibility with PCI Express 1.0 and PCI Express 2.1. With a TDP of just 61W, the Radeon HD 5670 GV-567OC-1GI videocard doesn't require a separate PCI Express power adapter, and can be run solely off the PCI Express bus' power.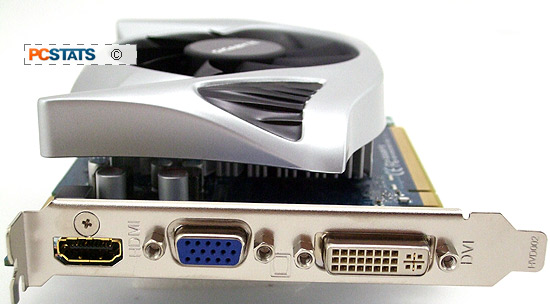 Gigabyte equips the GV-567OC-1GI with HDMI, VGA and DVI outputs. Since the Radeon HD 3000 series, ATI videocards have supported HDMI audio output as well, which makes them ideal home theatre companions. This videocard is no different, supporting 1080p HDMI output with audio, as well as 2560x1600 video output over DVI and 2048x1536 using VGA.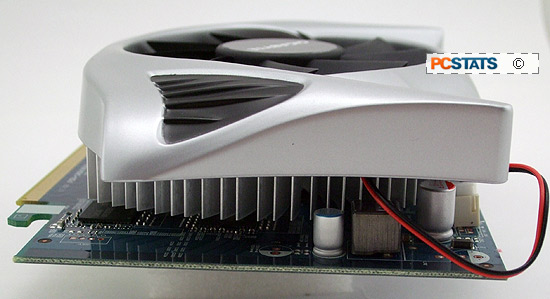 The Gigabyte GV-567OC-1GI is equipped with a large and fairly quiet aluminum heatsink, with a fan and plastic shroud on top. The additional height of the heatsink means the GV-567OC-1GI videocard will occupy two expansion slots instead of just one. Under testing the fan made an audible hum at full speed, but was practically silent when set to run automatically.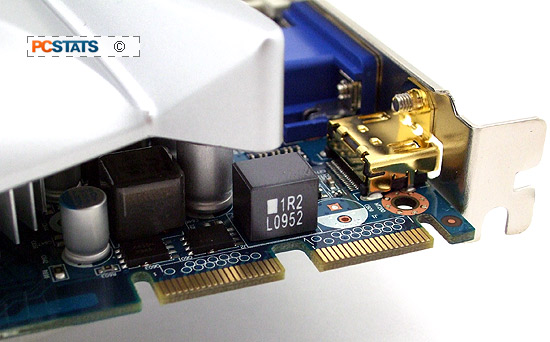 Like most ATI Radeon videocards, the Gigabyte GV-567OC-1GI videocard has a bi-directional Crossfire link for connecting to another Radeon HD 5670 VGA. Setting up and enabling Crossfire is as easy as installing the videocards into the PCI Express x16 motherboard slots and connecting them with Crossfire bridge connectors (usually included with the motherboard, check the box). Then all you have to do is install the AMD Catalyst control center, hit the 'enable Crossfire X' option and you should be able to enjoy dual-GPU processing - simple!
Now let's take a look at the technology inside the Radeon HD 5670...