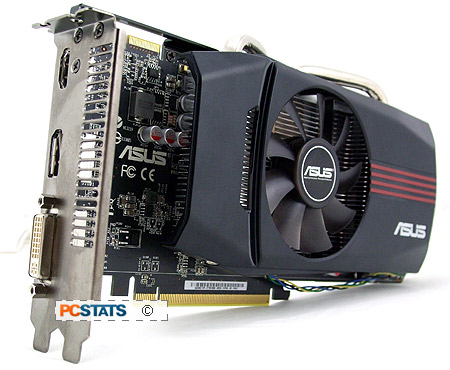 The Radeon HD 5850 is a winner for both ATI and enthusiasts. It's the rare videocard that manages to balance price, 3D performance, features and power usage, resulting in a total package that will satisfy almost any gaming enthusiast. ATI's RV870 GPU is powerful enough to play pretty much any game you throw at it without breaking a sweat. Even Crysis was smooth at 1920x1200 with detail settings turned up maximum and the anti-aliasing cranked up to 8xAA.
ASUS also deserves some credit for the EAH5850 DirectCU TOP's excellent benchmarking results. ASUS has factory overclocked the GPU and memory up to 765MHz/1125MHz, and if this particular sample is any indication the EAH5850 DirectCU TOP has a substantial amount of overclocking headroom. PCSTATS was able to push this particular videocard's GPU and memory to 945MHz/1315MHz, some 25% faster than a stock Radeon HD 5850. Overclocking using ASUS' SmartDoctor software went quickly and with minimum fuss, although ASUS really ought to invest some time making their overclocking software tools more user friendly and legible. Just look at the MSI Afterburner software!!
Even with the substantial increases in GPU performance the ASUS EAH5850 DirectCU TOP draws significantly less power than the Radeon HD 4890 and 4870 videocards it's designed to replace. Even with it's factory overclock, the EAH5850 DirectCU TOP's total system power draw never exceeded 200W. The Radeon HD 4870 X2 comes closest to the ASUS EAH5850 DirectCU TOP in terms of 3D performance; under load it consumes nearly twice as much power.
While even the entry-level videocards in the Radeon HD 5000-series support DirectX 11, it takes a card in the class of the Radeon HD 5850 to actually make good use of the new features. This videocard is powerful enough that you can activate features like tessellation and compute shading in DirectX 11-compatible games and still maintain a decent frame rate.
DisplayPort and EyeFinity support is another big draw of the EAH5850 DirectCU TOP and the Radeon HD 5800-series. DisplayPort makes it possible to hook up as many as three DisplayPort monitors at once using by daisy chaining them to one another. With compatible monitors you can also hook up three monitors at once in Eyefinity mode, letting you tile separate screens into one giant display for gaming.
With a street price of around $315 CDN ($315 USD, £210 GBP), the EAH5850 DirectCU TOP is an excellent value for the enthusiast. It has performance to spare for running today's games, and support for DirectX 11 features that will make it into tomorrow's titles. The only real difficulty will be finding one; Radeon HD 5850's are in such high demand that manufacturers and retailers have had difficult keeping them in supply, and with cards like the ASUS EAH5850 DirectCU TOP it's easy to see why.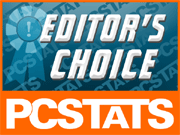 Find out about this and many other reviews by joining the Weekly PCstats.com Newsletter today! Catch all of PCSTATS latest reviews right here.

Related Articles
Here are a few other articles that you might enjoy as well...
- Gigabyte GV-N26OC896H-GA Geforce GTX260 Core 216 Videocard Review
- ASUS EN9400GT-1GB Geforce 9400GT Half-Height Videocard Review
- Gigabyte GV-R435OC-512I Radeon HD 4350 Half-Height Videocard Review
- ASUS EN9600GT DI/512MD3/A Geforce 9600GT Rev.B Videocard Review
- Sparkle GTX260 Core 216 GeForce GTX 260 Videocard Review
- Gigabyte GV-R477D5-512H-B Radeon HD 4770 Videocard Review
- ASUS EAH4770 HTDI/512MD5/A Radeon HD 4770 Videocard Review
- ASUS ENGTS250 DK Geforce GTS 250 Videocard Review
- ASUS EAH4890 HTDI/1GD5/A Radeon HD 4890 Videocard Review