All of ATI's Radeon 5000-series videocards draw from a family of GPUs called 'Evergreen', which is then divided into a smaller GPU lines based on performance. The fastest line is code named 'Cypress', and this is the GPU that's the heart of the ASUS' EAH5850 DirectCU TOP videocard PCSTATS is reviewing for you today.
The RV850 'Cypress' GPU is produced on a 40nm production process that ATI first introduced in the Radeon 4000-series. Getting down to a 40nm process was important because the Radeon HD 5850 has 2.15 billion transistors on a 334mm2 die, more than double that of last generation's RV770, which had 956 million transistors.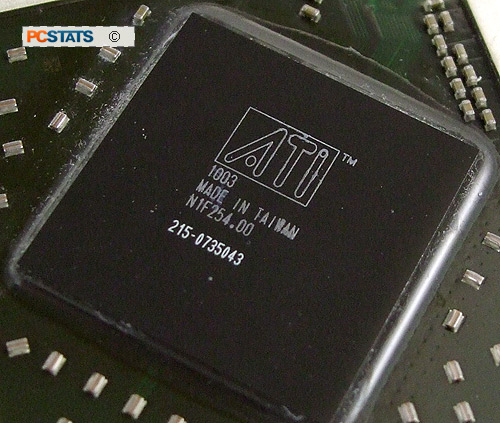 ATI Radeon HD 5850 'Cypress' Graphics Processor (GPU) exposed.
This wealth of transistors comprise the Radeon HD 5850's 1440 stream processors, 72 texture units, 32 raster operators and the 256-bit wide memory interface that connects the RV870 GPU to its GDDR5 memory. Stock Radeon HD 5850 videocards have 1GB of GDDR5 memory clocked at 1000MHz, however ASUS has factory overclocked the EAH5850 DirectCU TOP so that its 1GB of memory runs at 1125MHz, which is then GDDR5-quad-pumped up to 4500MHz.
ATI Radeon / GPU Comparisons
ATI Radeon 4870
ATI Radeon HD 5770
ATI Radeon HD 5830
ATI Radeon HD 5850
GPU Code Name:
RV770
RV840/Juniper
RV870/Cypress
RV870/Cypress
GPU Process:
55nm
40nm
40
40nm
GPU Transistors:
956 Million
1.04 Billion
2.15 Billion
2.15 Billion
TDP:
110W
108W
175W
151W
GPU Core Clock Speed:
750MHz
850Mhz
800Mhz
725Mhz
Memory Speed:
900MHz (3600MHz GDDR5)
1.2GHz(4.8Ghz GDDR5)
1GHz(4GHz GDDR5)
1GHz(4Ghz GDDR5)
Memory Capacity:
512MB/1GB
1GB
1GB

1GB

Memory Bus Width:
256-bit

128-bit

256-bit

256-bit
Stream Processors:
800
800
1120
1440
Texture units:
40
40
56
72
Raster Operators:
16
16
16
32
All of AMD's Radeon 5000-series of graphics cards share a number of new technologies, the most important of which is support for DirectX 11. This latest revision to Microsoft's graphics hardware standard brings two major additions to the DX11, tessellation and compute shaders. Tessellation is a method of adding density and complexity to a 3D mesh. It can take a simple, low-poly model and break up the geometry into more complex portions, adding another layer of detail on top of a mesh. The end result is better looking, more detailed graphics with a very low cost in performance.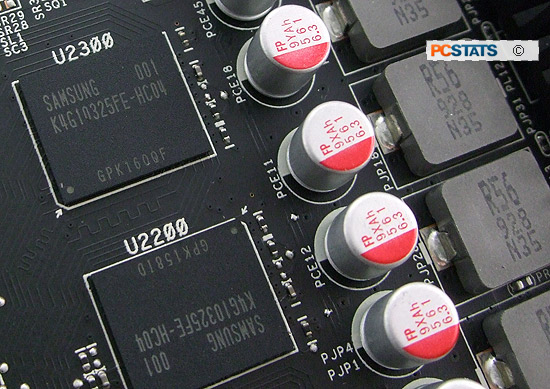 The videocard has 1GB of GDDR5 Samsung K4G10325FE-HC04 DRAM, running at 1125MHz (default is 1000MHz) which is quad-pumped to an effective 4GHz clock speed.
Compute shaders allow DirectX 11-based GPUs to do tasks normally reserved for CPUs. This will play a big role in desktop applications that harness the power of a PCs videocard, as well as enable games programmers use the GPU to compute things like physics and AI. Again, this opens up the possibility for more immersed gaming, but with a miniscule performance penalty when compared to using a CPU.
Now let's see just how well ASUS' EAH5850 DirectCU TOP stands up to a little overclocking... but first, power draw.