Overclocking Results:
The ASUS EAH5850 DirectCU TOP videocard ships pre-overclocked, but if you want things even quicker it's not very difficult to push the speeds up by a fair margin. By default the HD 5850 GPU has been raised from the stock 725MHz to 765MHz and the memory from 1000MHz up to 1125MHz (4500MHz GDDR5). That's a nice performance edge, but given that ASUS have selected the GPU and memory for this particular TOP series, specifically for overclockability, you can be assured that it will handle being overclocked much further.
PCSTATS is going to see just how much extra speed these cherry-picked parts can net you.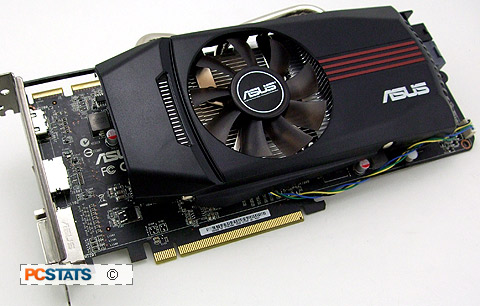 Using ASUS' included SmartDoctor software, the GPU's core engine clock was pushed from its default 765MHz clock up to 850MHz. After that the clockspeed was increased in 15MHz increments, passing easily through 895MHz and then up to 940MHz. Finally at 965MHz the system would hang and crash. Max overclock for the GPU alone was 955MHz - check.
Turning to the memory (GPU back at default speeds), the 1GB of GDDR5 was pushed from it's factory overclocked state of 1125MHz up to 1225MHz, and then it too was raised in 15MHz increments. The EAH5850 DirectCU TOP videocard played well enough, so we were able to overclock the Samsung GDDR5 from 1270MHz up to 1325MHz without breaking a sweat, before finally capping out at 1355MHz with a crash. Max overclock for the memory alone was 1345MHz - check.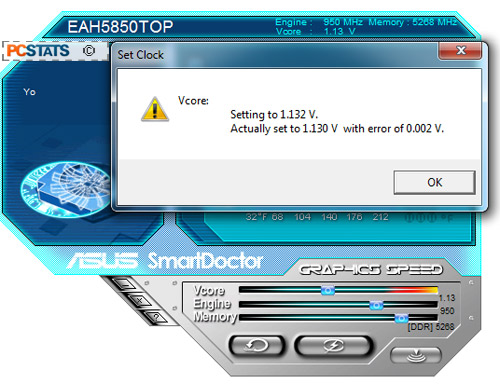 Getting both the core clock and the memory stable at top speeds proved to be a little trickier, with graphical corruption occuring if both were set to their max speeds. It was time to adjust the voltages and try a few different speed settings.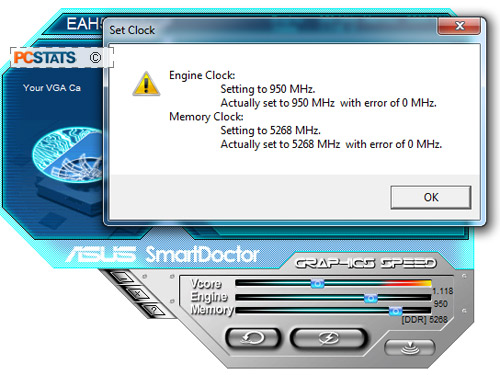 By raising the Vcore from 1.118V to 1.1136V and backing off a little on the speed, it was possible to get the EAH5850 DirectCU TOP videocard stable at 945MHz core clock speed with 1315MHz (5260Mhz) memory. Altogether PCSTATS was able to overclock ASUS' EAH5850 DirectCU TOP GPU and memory speeds by about 25% over the speeds of a generic Radeon HD 5850, not bad at all!
While these maximum overclocked speeds are good to know, you should keep in mind that with this generation of GPU from ATI, you DON'T actually want to run things this fast, or performance in benchmarks and games may be degraded. The memory in particular seems to give the best benchmark results at speeds of under 1300MHz, beyond that benchmark scores can actually begin to fall off quite significantly. PCSTATS ran a tone of 3DMark benchmarks and the results were all over the place... the best advice I can give you is overclock at the default settings, then modestly overclock the videocard and re-benchmark it. Finally, push things as far as they'll go, benchmark it and compare those results to the first two data points. There will a point between a modest overclock and maximum overclock that gets you the best results for the clock, and beyond that point benchmarks will start to run slower. Only trial and error will show you what's the best overclocked setting. Unfortunately this takes some fun out of the overclocking game. Oh well.
Prelude to Benchmarks
The details of how the ASUS EAH5850 DirectCU TOP videocard was configured for benchmarking; the specific hardware, software drivers, operating system and benchmark versions are indicated below. All benchmarks for the videocard were run in Windows 7 Ultimate, the reference video cards were tested in both Windows XP and Vista for the DX10 benchmarks. PCSTATS is in the process of making the transition to a Windows 7 and Intel CPU test platform, so keep this in mind as you scan the benchmark results. In the second column are the general specs this videocard is compared against.

PCSTATS Test System Configurations
Benchmark results are organized by GPU manufacturer first (AMD/ATI or nVidia), then by GPU generation, and then by GPU class (high end, mainstream, value). This approach provides a clearer view of how performance can differ from generation to generation, and class to previous generation. The product being tested is marked with the red colour bar.