The ASUS P7P55D-E Pro motherboard is among the first to embrace USB 3.0 and SATA 6Gb/s connectivity, two technologies that will become a huge part of computing in the coming months.
Right now the real need for both is in storage. SATA 6Gb/s is quickly becoming the best friend of high performance SSDs, which are already dangerously close to saturating the throughput of a SATA 3Gb/s connection. You'll also see a minor improvement in performance using conventional rotational hard drives if you match up a SATA 6Gb/s hard drive with a motherboard that supports SATA 6Gb/s connections.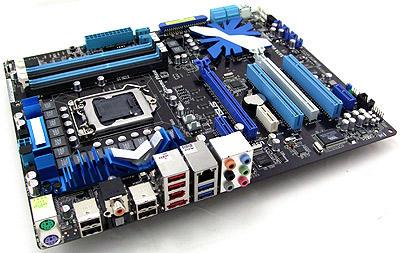 USB 3.0's SuperSpeed bus is even more desperately needed - if you've ever waited for a large USB thumb drive to fill up with information you'll know first hand the pain that narrow bandwidth can cause.
A USB 3.0 connection could transfer a 25GB Blu-ray rip in 70 seconds, if you were on a USB 2.0 connection be prepared to wait 14 minutes, and if you're still on USB 1.0 you'll be waiting some 9.3 hours. It's amazing what a few generations of hardware innovation can accomplish!
The rest of ASUS' P7P55D-E Pro motherboard doesn't disappoint, performance is on par with other Intel P55 Express based boards PCSTATS has tested. The P7P55D-E Pro will support dual videocards in NVIDIA SLI or ATI Crossfire modes with PCI Express 2.0 x8/x8 bandwidth. A single videocard runs in x16 mode.
Like all Intel P55 Express motherboards it has support for socket 1156 processors and DDR3 memory, both of which are at the beginning of their life span and will have several generations of upgrades available in the future.
Overclocking features are abundant, but if you don't want to rely on the auto-overclocking options the P7P55D-E Pro is a nice board to manually overclock. The auto-recover feature is particularly good, if you overclock too far the board recovers itself after a failed boot allowing you to seamlessly adjust OC settings without resetting the BIOS.
In PCSTATS overclocking tests we managed a good 210MHz BCLK without having to change any voltage settings or push settings very far. That means dedicated overclockers will probably be able to push this socket 1156 Intel Core i5 motherboard a lot further, but as always overclocking is luck of the draw.
Performance wise there aren't a whole lot of differences between any of the Intel P55 Express motherboards, so it's easy to base choices based on build quality, features, and price. The ASUS P7P55D-E Pro motherboard has the first two of these in spades, and its prices is a reasonable $200 CDN ($190 USD, £125 GBP), which makes it ideal for a mainstream Core i5 or Core i7 system. If you were waiting for a motherboard to compete directly with Gigabyte's GA-P55A-UD4P, you've found your match! Recommended.