Abstract: The latest round of Intel P55 Express motherboards brings with it new capabilities like SATA 6Gb/s and USB 3.0 support. The age of waiting for your computer to transfer large bittorrent MKV files is nearly over - this is the year of high bandwidth! The ASUS P7P55D-E Pro is an enticing motherboard; it comes with SATA 6Gb/s support and USB 3.0...


87% Rating:

Home > Reviews > Motherboards > ASUS P7P55D-E Pro
Overclocking For fun and Profit / BIOS Screenshots

Overclocking Results:
A lot has changed when it comes to overclocking Intel Core i5 motherboards, such as the ASUS P7P55D-E Pro PCSTATS has on the test bench today. You can take the easy route and use ASUS' included Auto Tuning or CPU Level Up options, or you can crack open the BIOS and manually adjust memory speeds, tweak the CPU multiplier and crank up the BCLK as high as it will go.
That's the path we'll be taking, as we're only interested in seeing how far the ASUS P7P55D-E Pro itself will overclock. Motherboard base clock (BCLK) is set by default at 133MHz, our goal is rasing that to at least 200MHz. Architectural CPU changes bring about many tweaking challenges, new possibilities through one button overclocking, but most of all fresh overclocking potential!
Before our overclocking session begins PCSTATS must set the stage. First we'll change the DDR3-1333 memory to run in DDR3-800 MHz mode (so it won't hold the CPU back) and then the Intel Core i5 750 processor will have its clock multiplier dropped from the default 20x to 12x.
With the ASUS P7P55D-E Pro's base clock (BCLK) at 133MHz, we set about overclocking the board in 25MHz jumps. From the get-go 150MHz, 175MHz, and 200MHz came and went without any difficulty. Beyond 200MHz BCLK we kept things conservative and overclocked in 5MHz leaps, in a matter of moments going from 205MHz to 215MHz which caused the system to black out.
Dropping the ASUS P7P55D-E Pro's BCLK back down to 210MHz allowed the PC to boot into Windows Vista, but I'm beginning to see this as chip limited since almost every Intel P55 motherboard PCSTATS as overclocked has been following in a similar path. As they say, overclocking is luck of the draw, and in this case our test Intel Core i5 750 is good to a BCLK of ~210MHz.
Inside the Motherboard BIOS
ASUS AI Tweaker page controls access to most of the performance related options of the ASUS P7P55D-E Pro motherboard.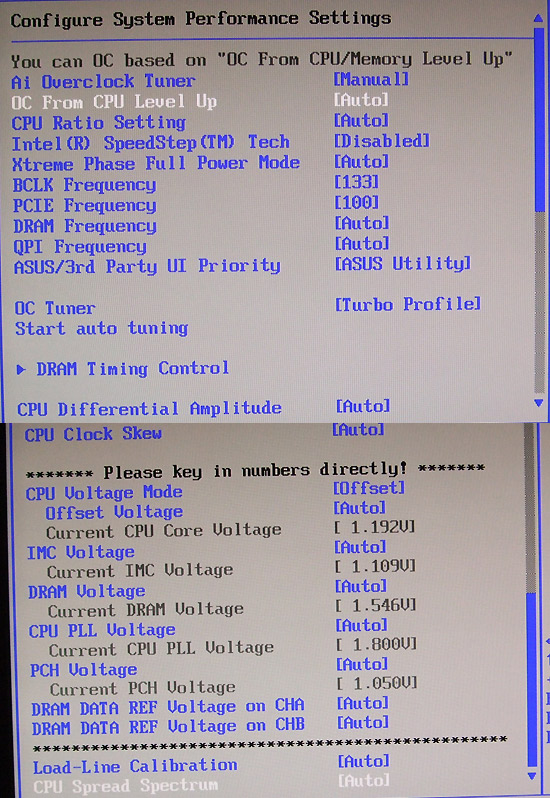 Overclocking can be done manually or through a number of pre set BIOS options, which actually makes for a fairly painless hardware tweaking experience.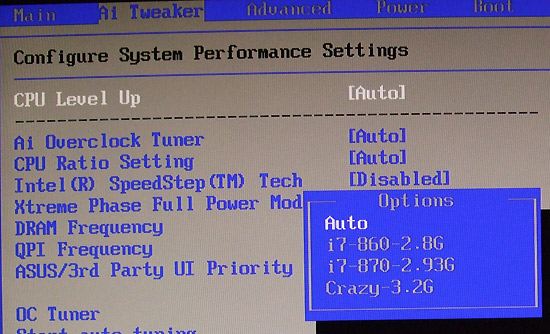 ASUS' CPU Level Up simply kicks up the operating frequency of your socket 1156 Core i3/i5/i7 processor up to a higher multiplier.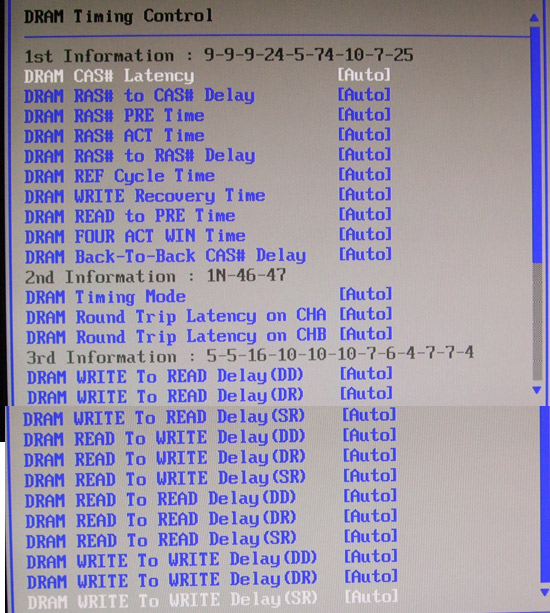 The timings of the DRR3 memory modules can be set down to the individual clock cycles, so if you're so inclined you can tune each stick of RAM as fast as it can go.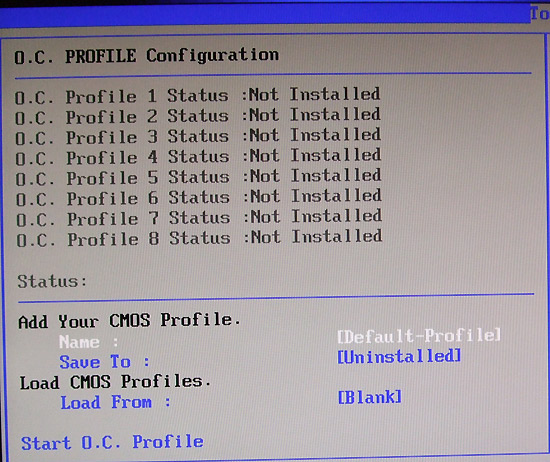 Finally once you get all of your overclocking done, you can save working configurations and settings into an OC profile, which saves a lot of tedious memorization.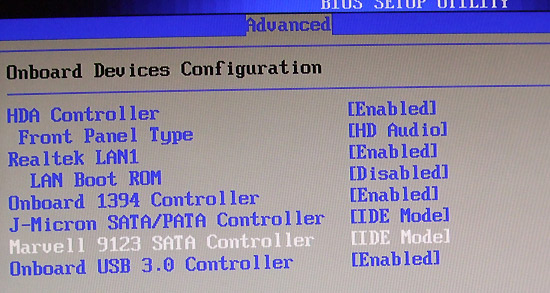 Finally, you can disable some of the ASUS P7P55D-E Pro motherboard's onboard controllers, including the new SATA 6Gb/s and USB 3.0 controllers.
Now let's get on with the benchmarks!