The latest round of Intel P55 Express motherboards brings with it new capabilities like SATA 6Gb/s and USB 3.0 support. The age of waiting for your computer to transfer large BitTorrent MKV files is nearly over - this is the year of high bandwidth! The ASUS P7P55D-E Pro is an enticing motherboard; it comes with Marvell PCI Express based SATA controller for SATA 6Gb/s support and an NEC USB 3.0 controller to provide bandwidth for two USB 3.0 ports. While portable USB 3.0 flash drives aren't out just yet, external hard drive boxes are, and USB 3.0 really redefines 'fast'.
However there's more to ASUS' P7P55D-E Pro motherboard than just high bandwidth connections. As a board based on Intel's P55 chipset, the P7P55D-E Pro has support for all of Intel's socket 1156 Core i5 700-series and Core i7 800-series processors, as well as compatibility with the Core i3 500-series and Core i5 600-series of graphics integrated processors.
The P7P55D-E Pro supports up to 16GB of DDR3 memory at speeds of 800/1066/1333/2200 in four DDR3 memory slots. ASUS uses its MemOk! feature to help ensure memory compatibility, it's a physical switch that will automatically tune memory to fail safe settings in the event of memory errors or corruption.
Gamers will be pleased to hear that the P7P55D-E Pro supports dual videocard SLI/Crossfire gaming configurations in a x8/x8 PCI Express 2.0 arrangement, or a single videocard in x16 mode. ATI and NVIDIA both have competing multi GPU videocards, so the P7P55D-E Pro's support for quad GPU gaming means this motherboard can be turned into a real graphics powerhouse. The ASUS P7P55D-E Pro motherboard can be found on retail shelves and online stores like Newegg for around $200 CDN ($190 USD, £125 GBP), which is a good deal for a featured motherboard with SATA 6Gb/s and USB 3.0.

ASUS P7P55D-E Pro Motherboard




INCLUDES: User's Manual, Driver CD, (4) SATA cables, I/O Shield, IDE cable, SLI bridge, USB/eSATA bracket.

Chipsets: Intel P55 Express
CPU Support: Intel Socket 1156
Memory Type: Dual Channel DDR3
Videocard Support: (1) PCI Express x16 2.0
Integrated Graphics: No
ASUS' P7P55D-E Pro has two 6GB/s SATA ports that support AHCI or IDE modes thanks to the Marvell SE9123 controller - RAID is not available via this controller for the SATA III ports however. The SATA III high-speed storage ports are designed for use for use with compliant hard drives like the Seagate Barracuda XT that have SATA 6Gb/s interfaces. However the real benefits of SATA 6Gb/s will be seen with Solid State Drives that can read and write huge quantities of data that would choke a standard SATA 3Gb/s connection.
In addition the Intel PCH offers up six 3Gb/s SATA connections (RAID 0, 1, 5, 10) and a JMicron JMB363 controller adds on one 3GB/s eSATA port (RAID 0, 1, JBOD) and an IDE controller for two PATA drives.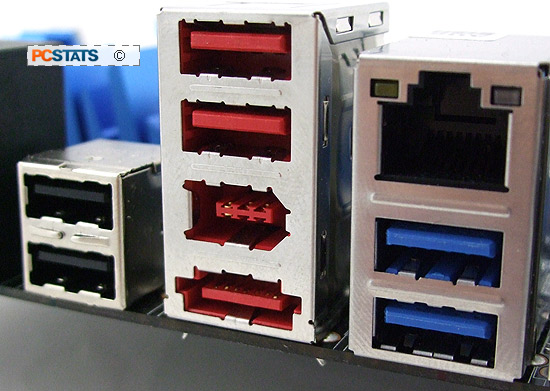 Care of NEC's D72002000FI USB 3.0 controller, the P7P55D-E Pro also sports two of the new USB 3.0 ports. USB 3.0 makes use of the SuperSpeed bus, which can handle up to 4800Mb/s of bandwidth. All of this extra connectivity makes USB 3.0 an excellent way to transfer large amount of data from peripherals like external USB 3.0 hard drive enclosures and USB 3.0 thumb drives to a PC, but even more exotic devices are on the way, like high-definition USB 3.0 webcams and USB 3.0 secondary displays.
Rounding out the P7P55D-E Pro feature set are a broad array of I/O ports on the back panel. Aside from the pair of aforementioned USB 3.0 ports, there's a powered eSATA port as well as six more USB 2.0 ports for standard peripherals. The P7P55D-E Pro motherboard also has a single gigabit network jack, a 1394a Firewire jack, optical and coaxial S/PDIF output for speakers, and 8-channel stereo surround audio outputs.
ASUS also packs the P7P55D-E Pro with some additional software for tuning and tweaking the P7P55D-E Pro motherboard. ASUS' PC Probe II utility provides a software interface for monitoring fan speeds, CPU temperature and system voltages. The Fan Xpert utility provides finer control over the fans and system cooling devices. ASUS EPU can adjust power draw performance and monitor electrical usage. Some of this functionality is also expanded on in the ASUS T.Probe utility, which monitors power phase usage and temperatures.
This motherboard also uses ASUS' Express Gate software, which proves an alternate, minimalist quick booting operating system. Express Gate gives you fast access to a web browser, Skype and a few other applications without having to boot all the way into Windows or Linux.
Overclocking Features from ASUS
Before we take a look at the standard technology on the ASUS P7P55D-E Pro motherboard, let's take a walk round its unique features. In addition to the NEC D7200200FI USB 3.0 controller and the Marvell SE9123 SATA 6Gb/s controller, ASUS has also included a number of hardware switches to give the P7P55D-E Pro that extra level of user control when overclocking.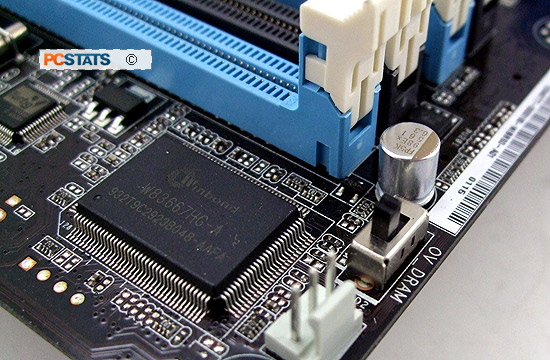 On the right you'll find the ASUS memory over-volting switch (labeled OV_DRAM), which can take the DDR3 memory voltage from 2.0v to 2.5V.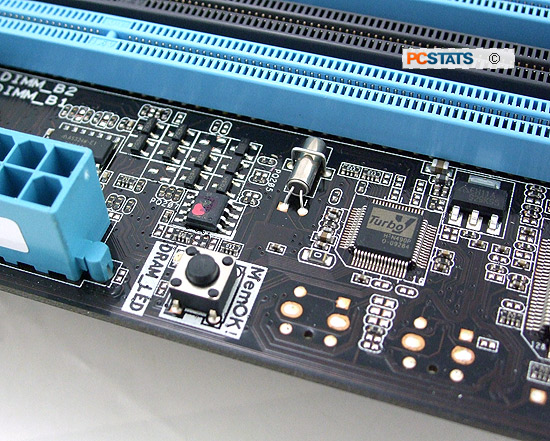 The ASUS MemOk! switch resets any seated DRAM back to fail-safe settings, should you try and aggressively push overclocking too far. It works in conjunction with the memory over-volting switch mentioned above.
ASUS' TurboV Evo processor can be seen to the right, it controls some of the motherboard's automatic performance tuning and overclocking features.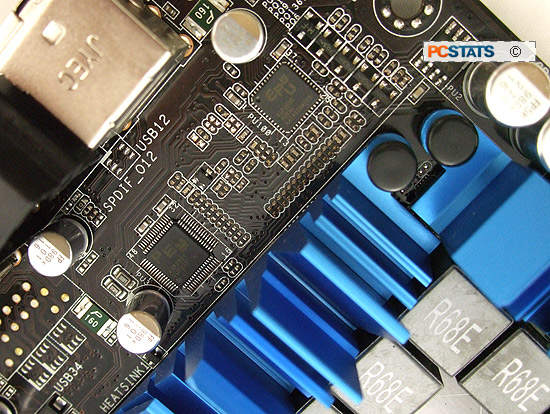 The ASUS EPU controller sits just off the MOSFET's around the CPU, and control the motherboard's power phases according to the amount of CPU load.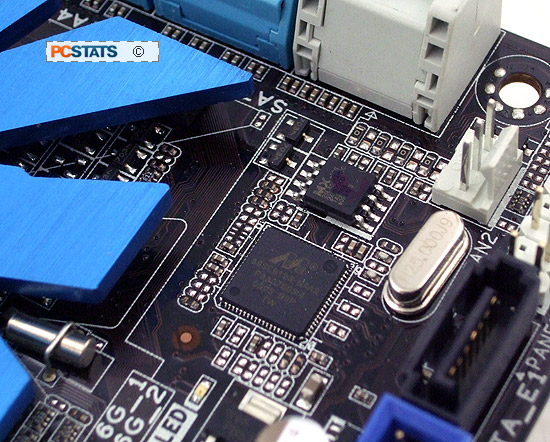 Right behind the white SATA 6Gb/s ports (seen from behind here) you'll find the Marvell SE9123 (non-RAID) controller, which communicates with those two ports and the ASUS P7P55D-E Pro motherboard's PLX bridge chip.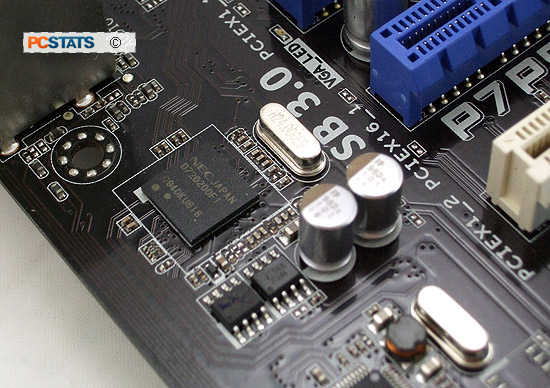 NEC's D720200FI controller manages the ASUS P7P55D-E Pro motherboard's two USB 3.0 ports. This controller also connects with the PLX PEX 8608 bridge chip, which also connects to the Intel P55 PCH.
Since the Intel P55 Express chipset doesn't have native support for USB 3.0 or SATA 6Gb/s, getting these technologies onto motherboards using the Intel P55 Platform Controller Hub (PCH) is actually a little trickier than you might think. ASUS uses a PLX PEX8608 chip, which bridges up to eight lanes of PCI Express 2.0 bandwidth from the Intel P55 platform controller hub to the ASUS P7P55D-E Pro's USB 3.0 and SATA 6Gb/s controllers.
The extra front-end bandwidth provided by a PLX bridge chip is a slightly more elegant solution, PCSTATS discusses that right after the jump...