Abstract: If you're a technology geek it's hard not to get excited the first time you hear about 3D HDTV. It's one of those amazing Jetsons-esque technologies that seems like we'd never quite get to, along with hover cars and robot butlers. PCSTATS cuts through the marketing hype and tells you if the 3D Samsung UN55C7000 55-inch HDTV is worth it.


90% Rating:

Home > Reviews > Home Theatre > Samsung UN55C7000
If you're a technology geek it's hard not to get excited the first time you hear about 3D TV. It's one of those amazing Jetsons-esque technologies that seems like we'd never quite get to, along with hover cars and robot butlers. While it's true that my car still can't fly and this is about as close we've gotten to robot butlers, watching TV in three dimensions has at last arrived in the living room, thanks to the Samsung UN55C7000 3D LCD HDTV.
Everyone's first question with this technology is "how does 3D TV look?" PCSTATS will be getting to that answer shortly, but first let's go over the important specs.
Samsung's UN55C7000 is a 55" HDTV, with native support for 1080p resolutions. 3D viewing on Samsung's latest display requires the use of Samsung's 3D active shutter glasses, which can be purchased separately but are typically included as a bundle with Samsung's high-end 3DTV offerings. The glasses are essentially electrically powered liquid crystal lenses that flutter in sync with the 3DTV at up to 240Hz, and are a far cry from the old red and blue disposable anaglyph 3D shades you played with as a kid.
Samsung's use of 3D on the UN55C7000 LCD HDTV also introduces 240Hz refresh rates, which increases overall fluidity for movies. The increased refresh rate enhances Samsung's Motion Plus interpolation technology, which can remove the appearance of jitter between frames of movies. Personally though, I don't like the effect Automotion has on movies when it operates at 120Hz or 240Hz and prefer to watch movies with this feature off. In most other respects the Samsung UN55C7000 inherits the standout features from previous Samsung LCD HDTVs, including the ability to play media off a simple USB storage device, over a home network, or in limited respects from the internet directly. It's internet connectivity allows it to stream Youtube videos, connect to Skype and download new Samsung web apps, all accessible through the UN55C7000's own built-in media player.

Samsung UN55C7000 55" 3D LCD HDTV

SPECIFICATIONS:

Screen size: 55"
Brightness: Unknown
Contrast Ratio: Unknown
(Dynamic Contrast Ratio: 6,000,000:1)
Viewing Angle: est.178°/178°
Interface: (4) HDMI, (1) Component, D-Sub, RF-coaxial, Optical, Ethernet
Resolution: 1920x1080
Response Time: Unknown
Power Draw: Unknown
Dimensions: 49.7 x 32.8 x 12.3"
Weight: 24.54kg
VESA Mount: 400x400mm

VIDEO/MEDIA:

Aspect Ratio: 16:9
HDCP: Yes
LCD 240Hz: Yes
USB 2.0 Ports: 2

Speakers: 15W


Backlight: LED Backlight


Includes: Remote control, Batteries, Cleaning cloth, owner's instructions, Quick setup guide, blanking bracket, TV holder, cable tie, holder wire, holder-wire stand, holder-ring, antenna adapter, AV adapter, component sound in adapter, LAN adapter, component adapter, PC adapter, optical adapter

There's also a number of options for connecting traditional home theatre video and audio sources. Samsung's UN55C7000 is equipped with four HDMI ports, a component (YPBPR) input, and a VGA input for connecting a PC, along with accompanying coaxial audio cables. You also get legacy inputs in the form of a composite and RCA audio adapter.
The massive 55" diagonal screen puts the UN55C7000 into Samsung's largest class of LCD HDTVs. The overall dimensions of the television with its stand attached is 32.9" tall by 50.5" inches wide. The screen itself is an astonishing 1" thin, making it ideal for a wall or arm mount. The entire HDTV weighs in at a hefty 54lbs (24.5) with stand, or 48.9bs (22.2kg) for just the screen, in case you want to mount it on your wall using the 400mm x 400mm VESA mounts.
Samsung's estimated retail price for the UN55C7000 is $3250 CDN ($3100 USD, or £2230 GBP), which makes it significantly less expensive than last year's top-end HDTV models, which don't support 3D viewing.

How does a 3D TV look?
3D viewing on the Samsung UN55C7000 can vary a lot depending on the video source and your home theatre setup. The optimal setup is to have a 3D-encoded Blu-ray disc (in PCSTATS' case Monsters vs. Aliens on Blu-ray 3D), 3D glasses calibrated properly and a dim room where you're sitting about nine feet away from the 3DTV.
If that's the case you're in for a treat. With a 3D Blu-ray disc the content will pop out of the screen at you, looking like it's extending into space. You'll also notice a significant amount of depth looking into the display, with foreground and backgrounds on different planes as you watch. When it all comes together it's an immersive experience that really shows how much the perception of depth can add to movie watching.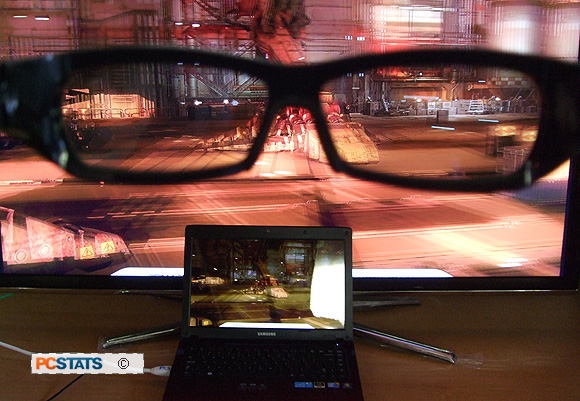 In my personal viewing experience, getting the most out of 3DTV definitely requires proper calibration and setup. Trying to watch the Samsung UN55C7000 in non-optimal conditions caused the picture to be afflicted with ghosting on foreground images and blurry backgrounds, which in turn led to eyestrain very quickly.
Fortunately, with some adjustment of the 3D optimization and Picture Correction settings it was possible to get a good 3D image going, although even at its best there was still some ghosting and flickering noticable on certain foreground elements, particularly on objects that looked like they were coming out of the 55" screen towards me.
Experience with 3D viewing can vary a lot depending on the viewer...