1) it writes to the remaining space of a recordable disk, so there must be space available for this. If the disk is full of data then LableTag may not have sufficient space to generate text characters in the recordable media surface. 2) The disk will be closed to further writing with LabelTag applied.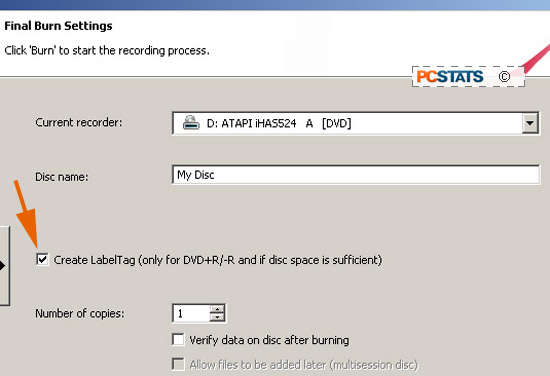 To use LabelTag, install the Nero 9 Express Essentials software bundled in with the LiteON iHAS524 ODD. Previous versions of Nero (ie. Nero 8) do not support LabelTag. Select the files to be burned, choose CD-R or DVD-R and when ready to burn check the "Create LabelTag" option and proceed to burning.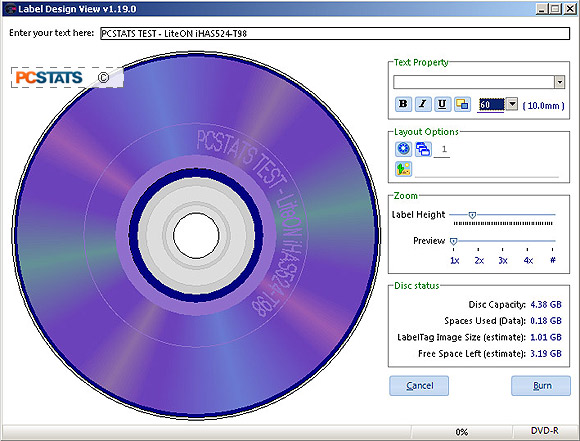 The Label Design V1.19.0 window will open so you may configure the label text, its font size/face/spacing, chose from one of several different pre-defined layouts, stretch or multiply the text (so you don't have to write the same words over and over to fill the entire circumference) and see what it will look like in real time. Small images can be inserted as well, but the software writes in a circle so rectangular images will be curved. It's best to choose high contrast, two-colour images since the "printing" is effectively black on white.
Once you've input the data the disk will go to burn mode, first the data, then the LabelTag. Since the program is burning data to the unused portion of the disk it will extend the total burn time by a some time. The larger the text the longer. Below are some examples of text LabelTag'd to two types of CD-R media. Note the more subtle appearance compared to DVD-R media and the differences between different CD-R media. We've used large text for the sake of clarity, the program is capable of writing text as small as 2.8mm high to as large as 30mm high.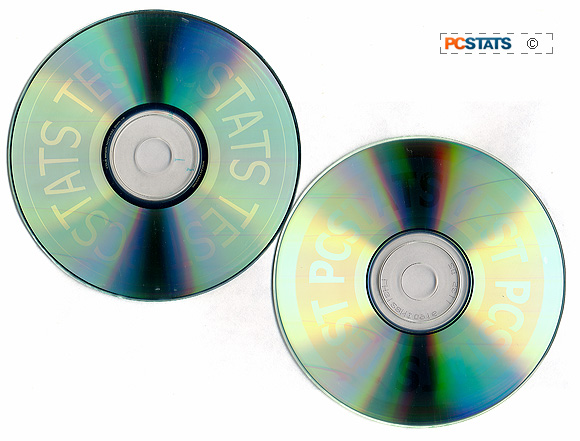 It's worthwhile noting that LiteON's LabelTag does not work like a printer that applies an image to the surface of the disk after burning, it works with the same laser that the drive regularly uses to read and write data. Given that, it can only write in circular patterns. That means text is written in a ring or circle and if the font is very large the letters will curve around. Similarly, if two-color images or logo's are written to the disk with LabelTag they will have a slight curve, depending on their size.
Next up, a full suite of drive speed benchmarks.