Advances are still happening in the world of optical drives believe it or not, and more than just boosts to DVD write speed! In this review PCSTATS is testing a particularly neat technology built into the LiteOn iHAS524 12x DVD-DL (24x DVD±R) recorder that may just convince you to spring for a sleek new SATA drive.... The iHAS524 can write text to the underside of any DVD-R or CD-R media, but this isn't LightScribe and it does not require specially coated disks. Interesting, yes?
LiteON's LabelTag technology allows you to write a text-based circular label into the data side of any DVD±R or CD-R disk. The text is created by 'burning' the un-used portion of the disk in a pattern that leaves legible text behind. Written bits are slightly darker by nature, these bits need only be arranged to 'write' text or even small two-colour images/logos to the recordable side of DVD±R or CD-R media. LabelTag gives the best results with DVD-R's because the darker purple colour has better contrast, but regardless of the media, non-removable labels are an enticing option for archival, promotional, presentation, photographic, recording software serial numbers or simply cataloging data stored to recordable optical media. The label will never come off, get lost or separated from the disk.
PCSTATS will dive into what LabelTag does and how it works in a moment, and we'll show you actual examples of lables written to DVD-R and CD-R media so you can judge it yourself. First let's cover the basics of the LiteOn iHAS524 12x DVD-DL (24x DVD±R) recorder.
For everyday DVD burning the SATA-based Lite-On iHAS524 DVD-DL burner has got everything you'd expect from a DVD-writer, including dual-layer DVD writing and reading at speeds of 12x, compatibility with both + and - formats, as well as CD-Rs and CD-RWs. It does not read nor write to Blu-Ray disks but does come with a 2MB cache buffer.
This SATA-based optical drive is one of the new generation of 24x DVD writers, so it's easily fast enough to handle both movie playback and 8.4GB DL DVD data discs at a quick pace. The drive comes with a manual, installation screws, SATA cabling and Nero 9 Express Essentials software. The LiteOn iHAS524 isn't expensive, you can find them in most stores for just $40 CDN ($40 US, £20 GBP)!

Lite-On iHAS524 Serial ATA DVD-DL Recorder

Includes:

User's Manual, SATA cable, Nero Express Essentials Software
Lite-On's iHAS524 is designed for use in standard sized computer towers and HTPC cases, so it'll fit into any free 5.25" PC expansion bay. The drive's specific measurements are 17 x 14.5 x 4.1cm, which make it about average for an optical drive. As long as your case isn't tiny you should be able to install it without an issue.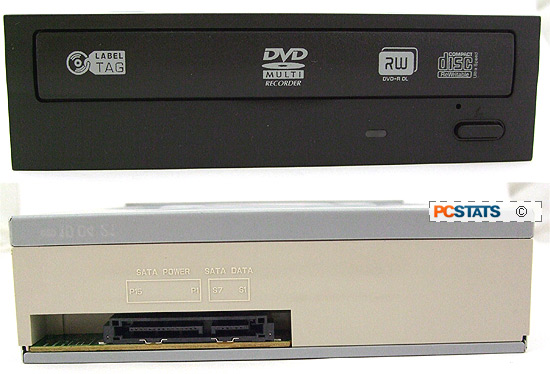 This DVD-DL drive comes in a stylish, slimming black... like pretty much ever computer peripheral these days. The only controls on its bezel are the eject button, a status LED and manual eject hole for removing stuck disks. Lite-on's iHAS524 drive uses SATA power and SATA data cable connections which provide greater bandwidth and lower latency, plus the ability to hot-swap optical drives. Serial ATA has essentially replaced IDE on all motherboards released in 2011 and forward.

Lite-on iHAS524 DVD±R/RW DL Recorder
Supported Media Read/Write Speeds


Read:

Re-Write:

Write:

Blu-Ray
NO
NO
NO
DVD
16x
-
-
CD
48x
-
-
DVD+RW/-RW
8x/6x
8x/6x
8x/6x
DVD-R/+R
24x
-
24x
DVD-R DL
12x
-
12x
DVD-RAM
12x
12x
12x
CD-R
48x
-
48x
CD-RW
32x
32x
32x
Writing modes for DVDs on the iHAS524 are indicated in the above chart. There are a lot of formats in this day and age and it supports most of them except the ill conceived HD-DVD and of course Blu-Ray which requires significantly more expensive hardware. The drive supports DAO (Disc-at-Once) and Incremental Recording, as well as restricted overwriting and sequential recording. CD writing can also support TAO (Track-at-Once) and SAO (Session-at-Once) recording, in additional to mutli-session recording.
LiteON LabelTag Tested with DVD-R and CD-R Media
LabelTag is a new technology offered by LiteON with its 24x DVD+R rated optical drives that allows you to write a text-based circular label on the data side of regular DVD±R or CD-R disk media. Unlike Lightscribe, special media is not required because LabelTag creates the label by writing to the un-used portion of the disk, assuming space remains. The technology works best with DVD-R's as the darker purple/blue of the writable side offers better contrast. CD-R media stands up well, but different brands can enhance the effect or diffuse it slightly depending on the intensity of disk colour. Below is an example written to a Maxell DVD-R.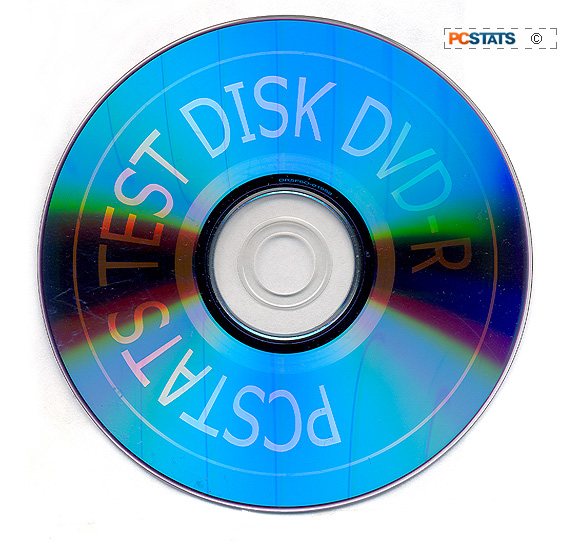 A simple text editor bundled in with the supplied Nero Express Essentials 9 software that lets you compose the LabelTag, select different fonts and change font side while a representative image displays exactly how the LabelTag will appear on the surface of the disk.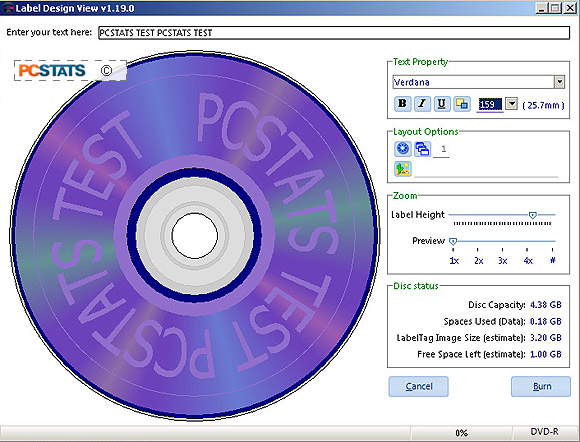 Label Design window for setting up the text on DVD-R media.
There are a couple caveats to be aware of when using LabelTag, we'll discuss that next...