Nero DiskSpeed 4 tests a DVD+R DL rated to 12x. The program emulates a burn that would fill the disc with 8.5GB of data. This test is done by simply placing blank recording media into the burner and running the application.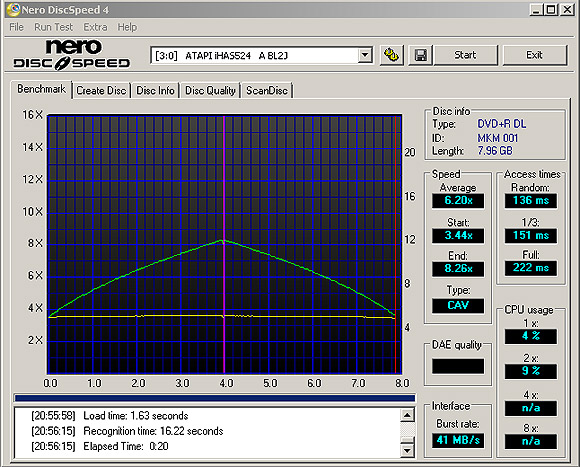 DVD+R DL

DVD+R DL Media Benchmark Results


Optical Drive

Lite-On iHAS524

Lite-On iHAS424

Media
DVD+R DL
DVD+R DL
Media Write Speed:
2.40x
2.4x
Avg Speed:
6.2x
6.20x
Start Speed:
3.44x
3.44x
End Speed:
8.26x
8.26x
Random Seek Time:
136ms
140ms
Interface Burst Rate:
41MB/s
41MB/s
Type
CAV
CAV
The iHAS524 is right on average when it comes to DVD media.
Speed Boost and Enhanced Features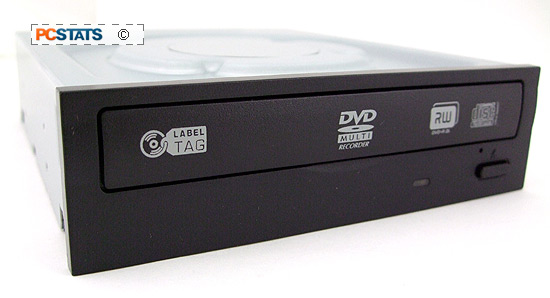 If you have an old IDE optical drive kicking around inside your PC system, it's time for an upgrade. Moving to an optical burner like the Lite-on iHAS524 means that you won't be left out in the cold when it's time to upgrade to a new PC, but even better it will also mean better performance from your optical media.
The Lite-on iHAS524 is a very fast DVD and CD rewriter and frequently topped the PCSTATS benchmark charts.
It also stayed nicely quiet even when it was spinning up, a noise that has been the bane of silent PC aficionados the world over. Being compatible with DVD-RWs, DVD +/-R, DVD +/-R DL, DVD-RAM and CD-R/CD-RW discs makes the iHAS524 capable of reading all of the most popular optical storage formats.
On top of that it offers the neat LabelTag technology which makes labeling regular DVD-R and CD-R media a breeze. I can think of several uses for this, say for labeling disks that are going off the printers, for promotional press kits, or recording serial numbers on backed up software... it's just down right handy.
With a price of just $40 CDN ($40 US, £20 GBP), it's easy to pen the LiteON iHAS524 onto the 'must upgrade' list. The added flexibility it offers with LabelTag and the quick read/write times are just icing on the cake.
Find out about this and many other reviews by joining the Weekly PCstats.com Newsletter today! Catch all of PCSTATS latest reviews right here.
Related Articles
Here are a few other articles that you might enjoy as well...
- LiteON eHAU424 External DVD/CD Writer Review
- LiteON iHAS424 Dual-Layer DVD Writer Review
- Plextor PX-B310U External PX-B310U Blu-Ray USB DVD Writer Review
- ASUS BC-1205PT-BD Blu-Ray Dual Layer SATA DVD Burner Review
- LG GSA-H62N SATA Dual Layer DVD-Writer Review
- AOpen DSW1812P 18x Triple Format DVD Rewriter Review
- Samsung WriteMaster SE-W164 16x16x External DVD Writer Review