For those that know what to look for, power efficiency and silent operation are chief considerations when it's time for a power supply upgrade. Since power issues are also the number one cause of dead PC's it pays not to cheap out on this critical but typically underestimated computer component. While it's tempting to pick any old metal box with a suitable Wattage figure, in the long run most users quickly discover that power efficiency and quiet operation are equally important. Where power efficiency is concerned, certifications like '80 Pl us' are a good place to start.
In this review PCSTATS is testing out an entirely fanless, silent 460W power supply from Seasonic's modular "X" series. There aren't very many fanless power supplies on the market so this is a bit of a treat. The Seasonic X-460 Fanless (SS-460FL) is an Active Power Factor Correction (A-PFC F3) class unit which boasts the exceedingly hard to come by 80 Plus Gold rating. A fanless 400W model (SS-400FLM) is also produced.
If you're planning on building 100% silent computer system the Seasonic X-460 Fanless is certainly tempting; it features a 460 Watt power level, modular cable system, matt black fingerprint resistant steel case, good EMI shielding and is able to sustain a peak load of 38A on the +12V rail. In other words, it can handle mainstream computer systems with discrete videocards requiring up to two 6/8-pin PCI Express power connections. There aren't many fanless videocards that require dual 6/8-pin power connections mind you... PCSTATS has tested several fanless videocards like the Gigabyte GV-N96TSL-1GI, and these from a few years back (here, here, here, here, here, here and here). A quick check on Frostytech.com reveals a few fanless coolers like the Scythe Orochi and Ninja Mini heatsinks.
Being a silent power supply the Seasonic X-460 Fanless is by necessity a bit more finicky about case ventilation and its own particular orientation in the case. Seasonic insist it be installed at the top or bottom of the computer case with its vents facing up. A warning label predominantly covers the unit to drive this point home. Suitable for home theatre PC cases with good ventilation, gaming cases like the Coolermaster HAF series or appropriate full tower cases, we'd suggest at the very least active case cooling or plenty of vents so hot air can easily escape.

Seasonic X-460 Fanless Power Supply

Includes:

Modular power cables, AC power cable, cable bag, zip ties, velco cable wraps, mounting screws, instruction manual.
Beyond being fanless, the Seasonic X-460 reveals some clever internal choices; a honeycomb ventilated chassis, the strategic use of conductive polymer aluminum solid electrolytic capacitors and a modular cable daughterboard that's actually a DC-to-DC converter rather than just wires soldered to jacks. In short, Seasonic bring build quality and high tolerance electrical components to the table. The X-460 Fanless is covered by a 5 year warranty and retails for about $160USD/CDN.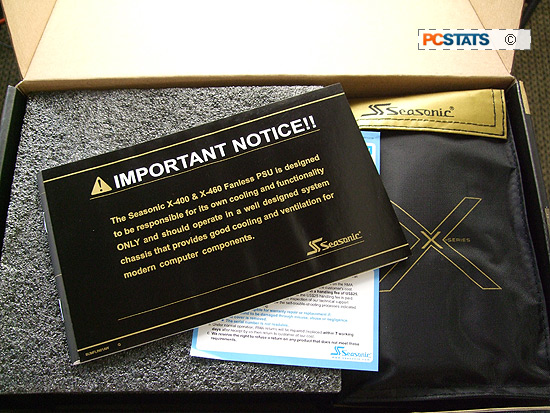 First round of Warning Labels
Seasonic's X-460 Fanless power supply is compatible with ATX 2.2 spec standard and supports 24/20 pin ATX power connectors. Seasonic rates the the +3.3V and +5V rails at 20 Amps each, for a total combined output of 100W. There is a single +12V rail that can output 38Amps (456W). The remaining -12V and +5Vsb rails account for 3A/18.5W.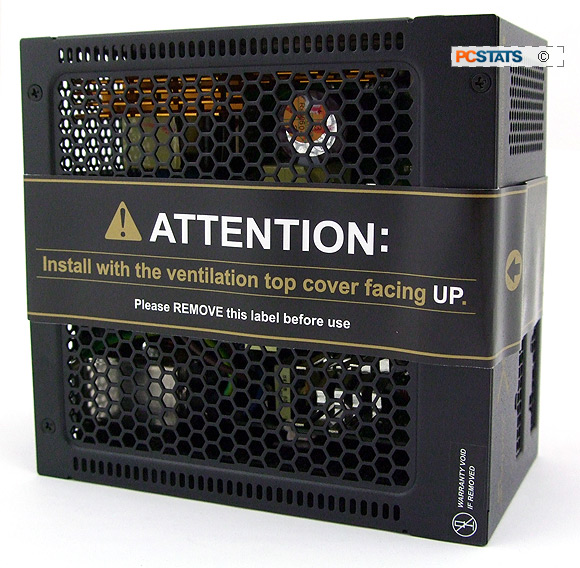 Second Warning Label


80 Plus Certification Explained

PCSTATS is often asked what 80 Plus certification means in the real sense. Quite simply, a power supply draws a certain amount of power itself to convert 120VAC into DC power. As an example, for a 120W load the Seasonic X-460 Fanless should theoretically be at least 87% efficient and thus draw no more than about 136W in total to get the job done. In other words, an 87% efficient power supply will waste 16W of power to supply 120W of power, so the total power draw is thus 16W + 120W = 136W.

The 80 Plus Gold rating is an industry certification for specific levels of power efficiency, and Gold is the highest level attainable. The certificates are verifiable at PlugLoadSolutions.com (the 80Plus Certification body). A quick check reveals the Seasonic X-460 Fanless is rated for 88.18% at 20% load, 91.52% at 50% load and 90.28% at 100% load.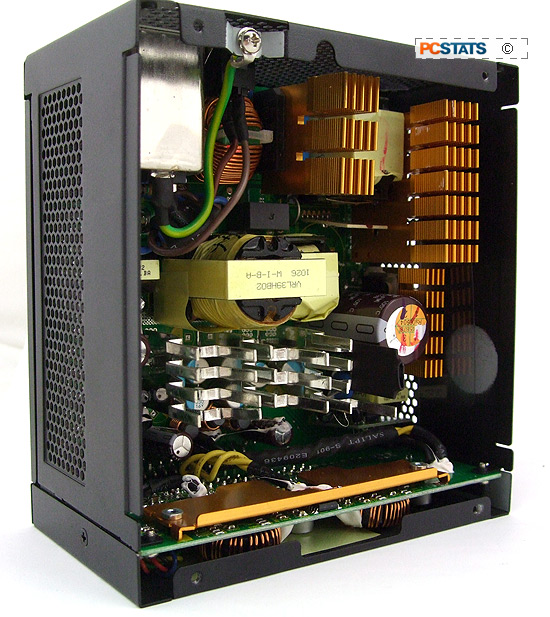 Every power supply on the market that is certified for 80 Plus Gold is at least 87% power efficiency at 20%, 50% and 100% power loads and has a power factor over 0.9PF. The Seasonic X-460 Fanless achieves a power factor of 0.98PF according to our power measurement equipment (PowerAngel meter). Consequently, the Seasonic X-460 Fanless ought to generates less heat from wasted electricity - a key point since it doesn't have a backup fan to keep internal components cooled.
Modular Cables included with the power supply
The modular cabling of the Seasonic X-460 Fanless makes it easy to access components, letting you build a cleaner PC that's less cluttered so airflow is improved all around. Naturally, it comes with all the cables necessary to hook it up a multi-videocard equipped system.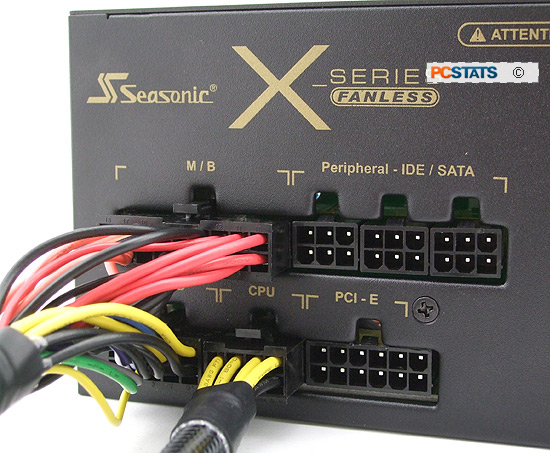 The PWU comes with with two 6/8-pin PCI Express power connectors, five SATA connectors for hard drives and optical drives, five 4-pin molex connectors, one 4/8-pin EPS12V cable for the CPU and a 24/20 pin convertible ATX main power cable. A pair of 4-pin floppy converter cables are also included. All the power cables feature gold-plated terminals (pins) to reduce transmission resistance.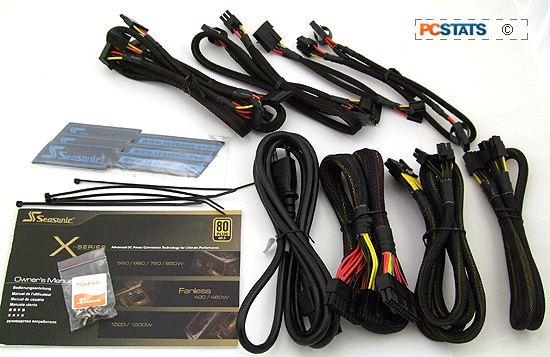 Rounding out the package contents we find mounting screws, zip ties, four velcro cable wraps and an 18AWG power cord. The Seasonic X-460 Fanless PSU measures is 160 x 150 x 86mm in size so it will fit into any ATX desktop case. The X-460 Fanless comes in an easy to grip matte black finish with gold accents, it looks pretty sharp. The unit is also impressively hefty, a testament to Seasonic's build quality and choice of materials.
Next, PCSTATS will take a quick look at the Seasonic X-460 Fanless before cracking open the box and going in for a closer look at the components....