This is a review of the Gigabyte GA-P67A-UD4-B3 motherboard which is equipped with a (new) 'B3'-stepping Intel P67 chipset. The Gigabyte GA-P67A-UD4-B3 motherboard replaces the original Gigabyte GA-P67A-UD4 model that was recalled due to the Intel 6-series chipset issue.


80% Rating:

Home > Reviews > Motherboards > Gigabyte GA-P67A-UD4-B3
System Power Draw and Final Conclusions
PCSTATS measures total system power draw (watts) with the aid of an Extech 380803 AC Power Analyzer and A-PFC compliant Seasonic SS-760KM power supply. The meter is placed between the 120V AC outlet and the PC power supply and the computer stressed. Total system power draw is recorded and compared to the PC's idle state.
Total System Power Draw
Idle

CPU Loaded

GFX Loaded

Intel Core i5 2500K
nVidia Geforce GTX470


82W
159W
246W

(Idel @ desktop)

(via Prime95)

(via 3DM06)
At idle the Gigabyte GA-P67A-UD4-B3 system draws 82W, under 100% CPU load conditions power draw jumps to 159W. 3DMark06 pushes power draw to a peak of 246W.
Gigabyte's GA-P67A-UD4-B3 motherboard uses a 12-phase power VRM design built around 'Driver MOSFETs' which combine the functions of a driver, high MOSFET and low MOSFET into one small power-efficient board mounted component. This integrated circuit improves power efficiency, reduces heat and has a smaller footprint than previous circuit designs.

Gigabyte VRM circuitry includes MOSFETS and LOW RDS Ferrite Chokes.
This mobo uses a 4-layer PCB with 2oz. copper substrate that pulls double-duty as a board level heatsink for surface mount devices.
Final Thoughts: Intel P67 vs Z68 Battle Royal
Gigabyte's GA-P67A-UD4-B3 motherboard holds up well in the benchmarks and achieves results on par with other Intel P67 and Intel Z68 boards. Feature wise, the Gigabyte GA-P67A-UD4-B3 is well equipped for a mainstream PC system and competitively priced.
Frankly speaking, the Intel P67 offers the same core features as the newer Intel Z68 chipset, minus a few things of debatable usefulness to enthusiasts (ie. onboard graphics, Intel SRT and Intel QuickSync). A board like the Gigabyte GA-P67A-UD4-B3 would be a fantastic deal... particularly if you're never going to use any of those things we just rattled off... if only it were just a few dollars less expensive than an equally outfitted Intel Z68 motherboard such as this. It's not. At $155CDN (Canada Computers) it's a bit tricky deciding between this platform or an almost identical Z68 board - so PCSTATS is going to have to sit on the fence on this one.
As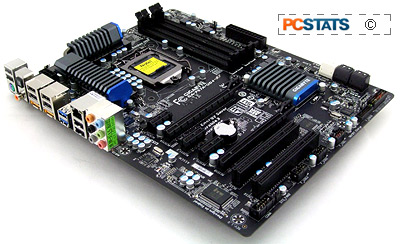 it stands the Gigabyte's GA-P67A-UD4-B3 is a good motherboard for a dual-videocard gaming system because it offers two-way SLI/Crossfire support, plenty of USB 3.0/2.0 and enough SATA II/III to satisfy most users. If you're never going to use the IGP-CPU in your Sandybridge processor, an Intel P67 board will get you in the game for less money without any performance hit relative to Z68 platforms.
If you're hell bent on sticking with mechanical SATA hard drives, the Intel Z68 platform and a little thing called Intel Smart Response Technology tips the scales heavily in its favour.
Bottom line, let the benchmark results serve as a reminder that newer model numbers don't always mean better performance figures. Features are easy to add, but raw performance is what a computer draws on every day of the week. While the Intel P67 chipset has been recalled, re-issued in a b3-stepping and out-modeled by the Intel Z68, it offers exactly the same benchmark performance to SSD-installed operating systems. In short, if you can find it cheap, snap it up and lock a couple graphics cards into the Gigabyte GA-P67A-UD4-B3 motherboard!
Find out about this and many other reviews by joining the Weekly PCstats.com Newsletter today! Catch all of PCSTATS latest reviews right here.
Related Articles
Here are a few other articles that you might enjoy as well...
- Gigabyte GA-Z68X-UD3H-B3 Intel Z68 Motherboard Review
- Gigabyte GA-P67A-UD4 Intel P67 Motherboard Review
- Gigabyte GA-Z68XP-UD3-iSSD Intel Z68 Motherboard & Intel 20GB SSD Review
- Gigabyte GA-Z68X-UD5-B3 Intel Z68 Motherboard Review
- Beginners Guide: Intel Smart Response Technology and Intel 311 Larson Creek SSD
- ASUS P7P55D Premium Intel P55 Express Motherboard Review
- Intel 6-Series Chipset Recall - Sandy Bridge Intel P67 & H67 (v2.2)