360-Degree Motherboard Gallery:
Time for an up close look at the layout of the Gigabyte GA-P67A-UD4-B3 motherboard. First up, two physical PCI Express 2.0 x16 slots. A single videocard will run in x16 mode while two-way nVidia SLI or ATI CrossfireX configurations will split the bandwidth equally and run both videocards in x8/x8 mode. Remaining expansion slots include three PCI Express 2.0 x1 slots and two legacy PCI slots.
Spacing between the two videocard PCI Express 2.0 x16 slots is good. Dual-slot videocards only block one PCIEx1 slot. If you opt for SLI or CrossFireX, that will cost you a PCI slot as well. With either videocard scenario there is lots of space for cooling and adding in extra PCIex1 cards.
The PCIe slots are clearly marked with bandwidth values. Along the bottom of the Gigabyte GA-P67A-UD4-B3 motherboard you'll find a COM port header, (3) USB 2.0 headers and (1) USB 3.0 header (no bracket included though). There's a good amount of connectivity on the GA-P67A-UD4-B3 motherboard, particularly given that the board has two eSATA III ports on the rear I/O.
Near the front panel IO header and clear CMOS jumper are the boards' dual BIOS's (backup and primary), four 3Gb/s SATA II ports (black) and two 6Gb/s SATA III jacks (white). RAID 0/1/5/10 can be configured across any of these ports.
The Intel P67 Express chipset doesn't produce that much heat so all it needs is a small, low profile passive aluminum heatsink for cooling.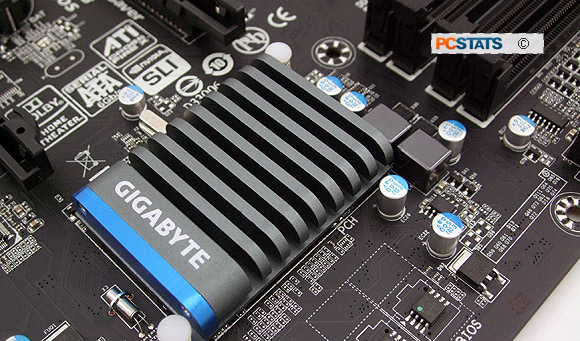 Silent passive heatsink for Intel P67 Chipset
Since all the duties of the Northbridge (memory controller, integrated graphics, PCI Express lanes) has been off loaded to the processor, the P67 is like a glorified ICH10R Southbridge.
Gigabyte's GA-P67A-UD4-B3 motherboard supports DDR3-1066/1333/1600/1866/2133 memory in a dual channel configuration. The largest memory density for 64-bit operating systems is 32GB, for Windows 32-bit you're capped at 4GB max. The four 1.5v DIMMs support Extreme Memory Profiles (XMP).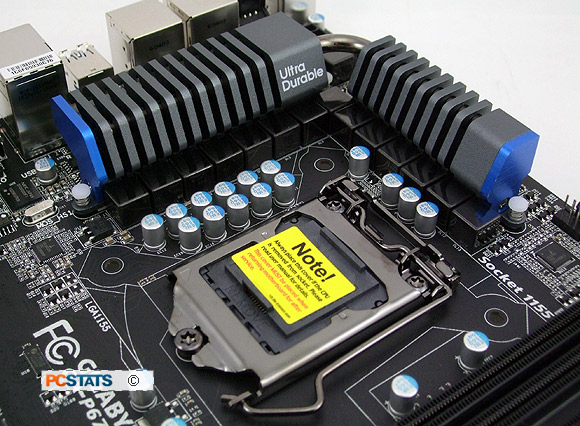 LGA1155 CPU socket
Like all Intel P67 platforms, the Gigabyte GA-P67A-UD4-B3 motherboard accommodates 32nm Intel socket LGA1155 2nd Generation 'Sandy Bridge' Core i3/i5/i7 2xxx-series processors and is not backwards compatible with socket LGA1156 Lynnfield chips.
The heatsink mounting holes are the same between LGA1156 and LGA1155 heatsinks. As long as aftermarket CPU coolers support one of those CPUs, it will install on both. If in doubt, have a peek at Frostytech's excellent Top 5 Heatsink chart.
The P67A-UD4 board has a power VRM design built around 'Driver MOSFETs' which combines the functions of a driver, high MOSFET and low MOSFET into one small power-efficient board mounted component (hidden below the passive heatpipe heatsinks that surround the LGA1155 CPU socket).
Here we have the NEC USB 3.0 controller. While USB 2.0's 480Mb/s maximum bandwidth was enough for many years, USB 3.0 expands the bandwidth to a whopping 4.8Gb/s (4800Mb/s) which is more appropriate for today's large mass storage devices.
Gigabyte boosts the power capabilities of it's USB ports; USB2.0 from 500mA to 1500mA, and USB 3.0 from 900mA to a maximum 2700mA. Each USB port on this motherboard is protected from damaging the rest of the system in the event of a short by a high tolerance solid-state fuse.
Next up PCSTATS dives into Overclocking, then it's time to hit the Benchmarks!