This is a review of the Gigabyte GA-P67A-UD4-B3 motherboard which is equipped with a (new) 'B3'-stepping Intel P67 chipset. The Gigabyte GA-P67A-UD4-B3 motherboard replaces the original Gigabyte GA-P67A-UD4 model that was recalled due to the Intel 6-series chipset issue. The recall happened because a silicon-level flaw was discovered with the original 'B2' stepping Intel P67 & H67 chipsets which may have resulted in 3Gb/s Serial-ATA II (SATA II) ports degrading over time; "potentially impacting the performance or functionality of SATA-linked devices such as hard disk drives and DVD-drives." According to Intel, the issue was specific to SATA II ports hosted by the Intel P67 & H67 chipsets, SATA III 6Gb/s ports were never affected.

Each motherboard manufacturer initiated steps to recall the original batch of motherboards with 'b2'-stepping P67 chipsets and swap them out for fully functional boards with 'b3' stepping P67 chipsets. Incidently, 'b2'-stepping and 'b3'-stepping is just another way of saying revision 1 or revision 2 - it's the same chipset. The 'B3'-stepping revision of the P67 has the silicon level bugs corrected. Gigabyte updated the affected Intel P67 models by tacking on a "-B3" to the end of the name. The model number amendment helps to clearly differentiate pre-recall boards from new boards with the corrected chipset.

As the Gigabyte GA-P67A-UD4-B3 and GA-P67A-UD4 motherboards are identical in every way, this review will mostly differ with regards to updated benchmark results. Without further adieu... In this review PCSTATS is testing the Intel P67-based Gigabyte GA-P67A-UD4-B3 motherboard. This is a mainstream ATX motherboard with a great set of workstation features and connectivity, all on a sleek matt-black PCB that looks fantastic in black computer chassis. The board supports 32nm socket LGA1155 2nd Generation Intel Core i3/i5/i7 2xxx-series 'SandyBridge' processors, such as the Core i5 2500K, and can handle dual graphics cards.

The Gigabyte GA-P67A-UD4-B3 motherboard is equipped with four 1.5v DDR-3 memory slots that accommodate up to 32GB of dual channel DDR3-1066/1333/1600/1866/2133 memory (4GB for 32-bit operating systems). Extreme Memory Profile (XMP) RAM such as Crucial's Ballistix memory modules are supported.

On the graphics card front, the P67A-UD4-B3 runs a single PCI Express 2.0 videocard on 16 full lanes of PCIe bandwidth. Need more pixel cracking speed? Slap in a pair of nVidia Geforce or ATI Radeon videocards and configure two-way SLI/Crossfire in x8/x8 mode. Three PCI Express x1 slots and two legacy PCI slots round out the expansion options available from this Intel P67 motherboard. Expect to pay about $155CDN/USD for the Gigabyte GA-P67A-UD4-B3 motherboard at online shops like Canada Computers , NCIX and Newegg.

Gigabyte GA-P67A-UD4-B3 Motherboard




INCLUDES: User's Manual, Driver DVD, (4) SATA cables, 2-way SLI bridge, I/O Shield.

Chipsets: Intel P67 Express (B3 stepping)
CPU Support: Intel Socket LGA1155
Memory Type: Dual Channel DDR3
Videocard Support: (2) PCI Express x16 2.0 (x16 or x8/x8)


Average Price at time of review: $155
Moving on to storage; the GA-P67A-UD4-B3 dishes out four 3Gb/s SATA II ports and two 6Gb/s SATA III ports via the Intel P67 chipset (RAID 0/1/5/10). An extra pair of 6Gb/s eSATA III ports are positioned at the rear I/O for external hard drives. These eSATA ports come care of a Marvell SE9128 SATA III controller and support RAID 0/1.
The Gigabyte GA-P67A-UD4-B3 is not short on USB ports by any stretch of the imagination - it has four USB3.0 ports (two at the rear I/O, two via header) from a pair of NEC D720200's and no less than eight USB 2.0 ports at the rear I/O!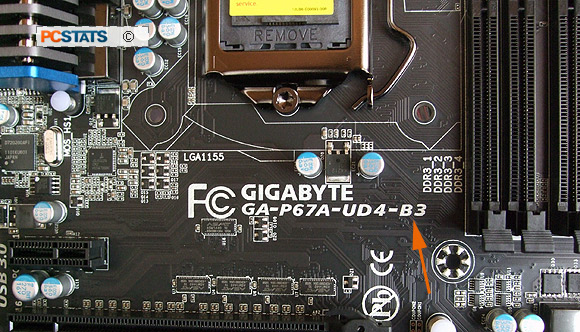 Other features include; 3x USB power boost, dual BIOS's, On/Off Charge for recharging devices like the Apple iPhone and a whack of board level components to ensure the stability and longevity of this motherboard like solid state capacitors, low RDS MOSFETS and so forth.
At the back of the Gigabyte GA-P67A-UD4-B3 motherboard you'll find (2) SuperSpeed USB 3.0 ports, a gigabit Ethernet jack, an optical and coaxial S/PDIF out, (2) eSATA III ports and the 7.1-channel audio-out headphone jacks. The audio system is based off a Realtek ACL892 codec and is Dolby Home Theatre compliant.
As with most Intel P67 platforms, there is no support for legacy IDE hard drives or FDD devices. The box contents are pretty slim too; you get four SATA cables, an I/O shield and a SLI bridge connector. The board's warranty is three years from the date of manufacture for US/Canadian consumers.
LGA1155 Heat Sink / Thermal Solutions
While Intel has created several different heatsink sizes in recent years, the socket LGA1155 'SandyBridge' CPU cooler is thankfully interchangeable with previous socket LGA1156 heatsinks. The stock 'SandyBridge' heatsink is decent, but better aftermarket CPU coolers are easy enough to find so there's no good reason not to upgrade. PCSTATS likes the low noise Noctua coolers and tower-style Xigmatek's, but really just about anything from Zalman to Scythe will cool quieter than a stock Intel HSF.
Clearance around the GA-P67A-UD4-B3's CPU socket is average, some low overhanging thermal solutions may interfere with the VRM heatsinks or memory modules if fins extend much beyond the Intel heatsink retention holes.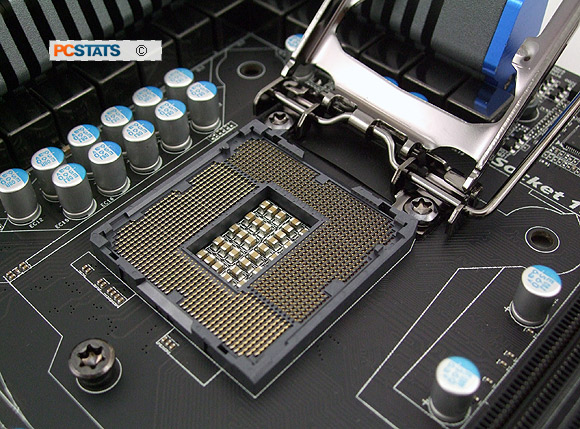 LGA1155 CPU socket for 32nm SandyBridge Processors. Principles of installing an LGA processor are covered in this Beginners Guide.
In case you want to install additional fans for dual videocard set ups, this Gigabyte motherboard has two PWM and two 3-pin fan headers ready for use.
Intel P67 Express Chipset

With graphics and memory now handled by the CPU, the Intel P67 chipset doesn't need a very fast link to the processor. Thus, instead of complex and expensive-to-produce QPI link, Intel uses a 20Gb/s DMI link between the Intel P67 chipset and LGA1155 processors. The roles of the Northbridge and Southbridge chipsets have been merged into what Intel calls a PCH, or Platform Controller Hub.
Intel's P67 PCH supplies eight PCI Express lanes to the computer system for devices like the SATA ports, LAN, USB and PCIex1 slots. The 16 PCIe lanes for graphics cards are drawn directly from the 'SandyBridge' CPU, this has a nice side benefit of helping to cut down on system latency.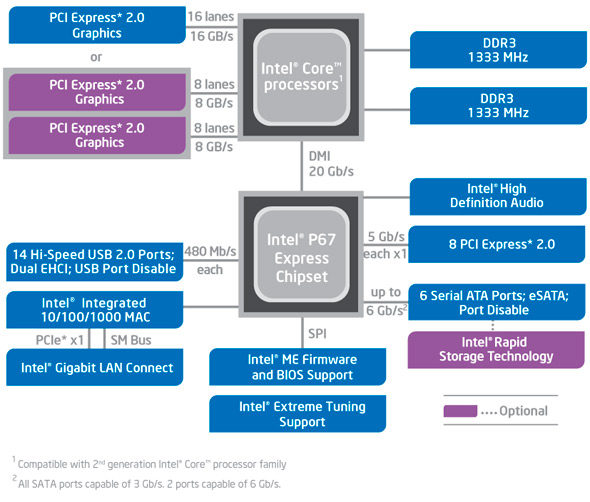 The Intel P67 Express Chipset block diagram
Enthusiasts familiar with the storage and media capabilities of Intel's ICH10R southbridge will find a lot in common with the P67 chipset. It provides 14 USB 2.0 ports, four SATA 3Gb/s and two SATA 6Gb/s ports with support for RAID 0/1/5/10 modes, audio and gigabit Ethernet.
Intel Chipset Feature Comparison
Intel Z68 Express
Intel P67 Express
Intel H67 Express
Intel X58 Express
CPU
LGA 1155
Core i5/i7 2nd Gen.
LGA 1155
Core i5/i7 2nd Gen.
LGA 1155
Core i5/i7 2nd Gen.
LGA 1366
Core i7
Chipset Code Name
Couger Point (65nm)
Couger Point (65nm)
Couger Point (65nm)
Tylersburg (65nm)
Bus Interface / Speed
DMI 20Gb/s
DMI 20Gb/s
DMI 20Gb/s
QPI 25.6Gb/s
Memory Support
DDR3-1333, dual channel
DDR3-1333, dual channel
DDR3-1333, dual channel
DDR3 1066, triple channel
Maximum Memory Capacity
32GB (64-bit)
32GB (64-bit)
32GB (64-bit)
24GB (64-bit)
Integrated Graphics
Yes. via CPU
-
Yes. via CPU
-
Integrated Graphics Ports
HDMI, DVI, DP, VGA
-
HDMI, DVI, DP, VGA
-
PCI Express 2.0 Lanes
8
8
8
36
PCI Express x1 Lanes
0
0
0
6
Intel Rapid Storage Technology
Yes
Yes
Yes
Yes
Intel Smart Response Technology
Yes
-
-
-
SATA 6Gb/s | SATA 3Gb/s | IDE Ports
2/4/0
2/4/0
2/4/0
0/6/0
RAID
0, 1, 5, 10
0, 1, 5, 10
0, 1, 5, 10
0, 1, 5, 10 (via ICH10R)
Intelgrated LAN
10/100/1000 MAC
10/100/1000 MAC
10/100/1000 MAC
-
USB 3.0 Ports
0
0
0
0
USB 2.0 Ports
14
14
14
12
PCI Masters
0
0
0
6
Intel High Definition Audio
Yes
Yes
Yes
Yes
Next up, a close up look at all the Gigabyte GA-P67A-UD4-B3 motherboard has to offer.