We're going to assume you have a socket FM1 motherboard and socket FM1 AMD processor at hand, both still in their boxes. For this DIY Guide PCSTATS demonstrating the steps with an AMD A8-3850 'Llano' processor and a Gigabyte GA-A75M-UD2H motherboard.
Step 1: Remove the motherboard from its box and protective packaging. Place the anti-static bag or foam mat under the motherboard to protect it, then lay the board down on a flat space like a table.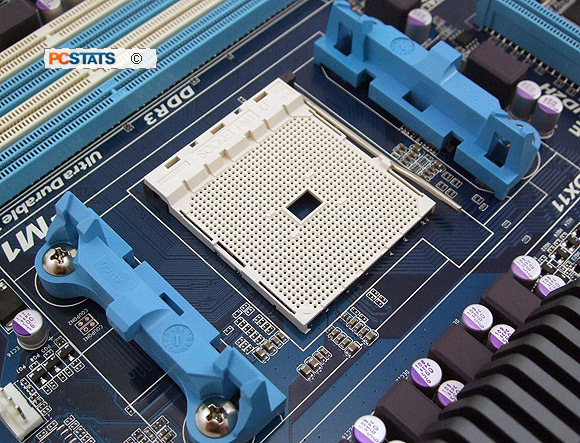 Step 2: Gently but firmly lift the sockets' metal lever up to prepare the socket to receive a processor. This unlocks the FM1 socket and make it possible to insert a processor. Note the location of the small triangle molded into one corner of the socket (below, by red arrow), this is the processor alignment symbol.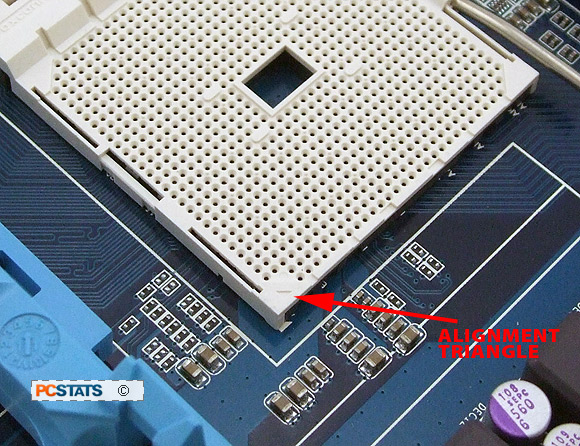 On a side note, this type of socket is technically known as a Zero Insertion Force (ZIF) socket. If you think about the force needed to insert a simple two-prong wall plug it doesn't seem that hard, but multiply that to 905-pins and you'd need a truck behind you to get the plug in!! ZIF sockets alleviate this problem with microprocessors that contain hundreds or thousands of contacts. The open ZIP socket doesn't make electrical contact until the metal cam arm is closed and in that sweeping motion every pin is slid latterly a millimeter or so into a V-shaped electrical groove, making contact and locking the CPU in place. In the old days you'd need a screwdriver to pry an Intel 486 chip out of its socket... which lead to damaged chips with predictable regularity. Geek history lesson over. Moving along...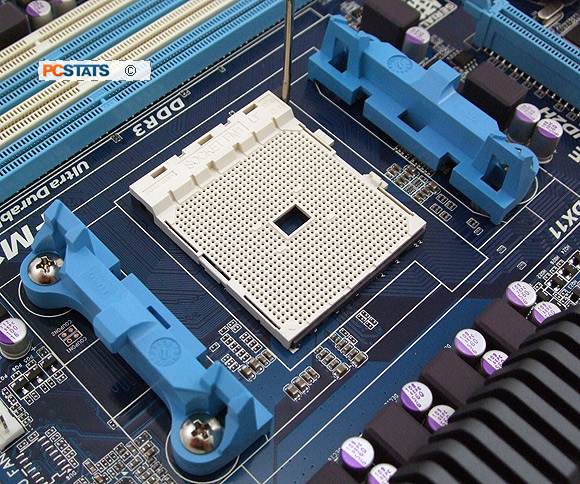 Remove the AMD processor from its box and plastic clam shell packaging. Take off the protective plastic chip carrier cover (if any) and hold the processor by its corners. Now while holding the chip by its sides or corners, take a moment to examine the underside of the AMD socket FM1 processor and inspect the gold pins to ensure none are bent and that no foreign material is present. If you see anything slightly out of position, the processor may be damaged.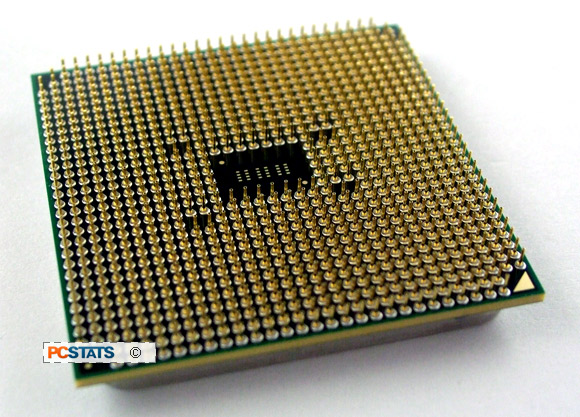 If a pin is out of place it may be possible to very gently bend it back into alignment with the tip of a pencil or other suitably clean and small implement. Note the location of the little gold triangle in one corner of the processor (it's printed on both sides of the chip). This is your processor alignment symbol.