BUG NOTICE: Be aware there are problems getting LSI RAID SAS/SATA cards like the LSI SAS3041E-R to work with this motherboard. Read about PCSTATS issues with the GA-Z77X-UD4H model here.

There's nothing finer than a new chipset to kick the summer off, this year it's the Intel Z77 Express. In this review PCSTATS will put the performance oriented Gigabyte GA-Z77X-UD3H motherboard, which is built on Intel's shiny new Z77 Express chipset, through its paces with the exceptionally popular 32nm 2nd Gen. Intel Core i3/i5/i7 'Sandy Bridge' processor. The main difference between the Intel Z77 chipset and the previous Intel Z68 is the addition of native USB 3.0.

Intel staggered the release of its Z77 chipset and upcoming 22nm 3rd Gen. Intel Core i3/i5/i7 'Ivy Bridge' socket LGA1155 processors to let each technology stand on its own two feet, but in reality the two are so complimentary you can't have one without the other. Furthermore, the chipset and CPU are backwards compatible with previous LGA1155 CPUs/motherboards so actual upgrading is a possibility for Intel users! While we can't say too much about the upcoming 'Ivy Bridge' CPU in this article, we can tell you it brings DX11 integrated graphics to the table via the Intel HD2500/4000 IGP. In any event, either SNB or IVB CPU architecture is well placed for mainstream and workstation PC systems in 2012/2013, so let's begin!

Gigabyte's GA-Z77X-UD3H is an all-black ATX sized motherboard for socket LGA1155 processors that features assorted integrated graphics outputs, an mSATA SSD slot and supports two-way graphics card set ups. The board is equipped with four 1.5v DDR-3 memory slots which accommodate up to 32GB of dual channel DDR3-1600/1333/1066 memory, 4GB for 32-bit operating systems. DDR3-1600 memory is only supported with 22nm Ivy Bridge CPUs. Extreme Memory Profile (XMP) compliant enthusiast memory is supported, of course.

On the videocard front you have a couple options with this board - integrated graphics via the onboard HDMI/Display Port/DVI-D/Analog video outputs, or one or two discrete graphics cards. In terms of videocards, the GA-Z77X-UD3H can handle a single PCI Express Gen 3.0 x16 videocard (x16 mode), a PCI Express 2.0 x16 videocard or a two-way pair of nVidia SLI / AMD Crossfire cards (x8/x8 mode). Add LucidLogix VirtuMVP into the mix and things get interesting, but more on that in a moment.

Whether the graphics cards run on the PCIe 2.0 or 3.0 standard depends in part on the CPU. If an Intel 'Sandy Bridge' CPU is installed it's the PCIe 2.0 standard, if an 'Ivy Bridge' CPU is installed that changes to the PCIe 3.0 standard. The Intel Z77 chipset supplies a further eight PCIe lanes for system devices.

Gigabyte's GA-Z77X-UD3H motherboard retails for $170CDN / $179USD at Canada Computers, NCIX or Newegg.

Gigabyte GA-Z77X-UD3H Motherboard




INCLUDES: User's Manual, Driver DVD, (4) SATA cables, 2-way SLI bridge, I/O Shield.




Chipset: Intel Z77 Express
CPU Support: Intel Socket 1155
Memory Type: Dual Channel DDR3
Videocard Support: (2) PCI Express x16 2.0/3.0 (x16 or x8/x8)
Multi-Graphics: 2-way nVidia SLI + AMD CrossfireX
IGP Video Ports: HDMI, Display Port, Analog VGA, DVI-D

Estimated Price: $170 USD/CDN
(Canada Computers, NCIX or Newegg)
Integrated graphics are underpowered for 3D gaming (see: IGP-vs-IGP Benchmarks later in ths review) but well suited to regular office-type desktop work with one or more monitors (see: IGP-PCMark Vantage Benchmarks). The integrated graphics outputs on the Gigabyte GA-Z77X-UD3H support HDMI at 1920x1200 pixels, DisplayPort at resolutions up to 2560x1600, DVI-D at 1920x1200 and Analog VGA. This board can handle dual digital displays with Sandy Bridge CPUs or triple displays for Ivy Bridge CPUs.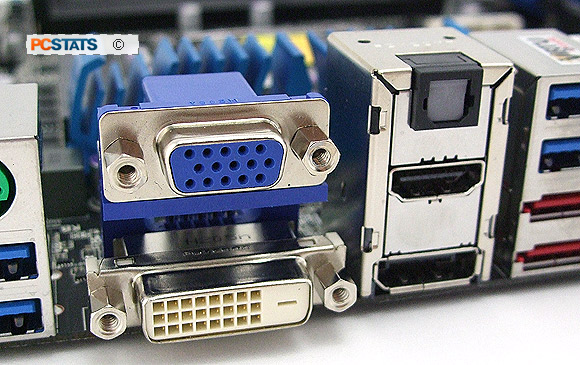 Gigabyte GA-Z77X-UD3H onboard video outputs: DVI-D, Analog VGA, Display Port and HDMI. Dual and triple monitors are supported depending on SNB or IVB CPU.
Intel's integrated graphics excel at media transcoding via QuickSync technology, but most users prefer discrete videocards over integrated graphics so a company called LucidLogix developed a software tool called Virtu that permits dynamic switching between discrete and IGP graphics. Essentially, with Virtu you get the best of graphics cards for 3D games and the power saving and hardware encoding benefits of the IGP for desktop work. With the Intel Z77 chipset Lucid rolled out an upgrade called VirtuMVP that has two new 3D tools; HyperFormance which increases frame rates by eliminating redundant rendering tasks and Virtual Vsync which reduces screen tearing.
Further peripheral expansion options include (3) PCI Express x1 slots a PCI Express x4 and legacy PCI slot. On the storage front, the GA-Z77X-UD3H serves up four 3Gb/s SATA II and two 6Gb/s SATA III ports via the Intel Z77 chipset which support RAID 0/1/5/10 modes. One of the SATA II ports is shared with the onboard mSATA socket so if you install an mSATA SSD and enable Intel Smart Response Technology you effectively lose one SATA port. Configuring a PC with Intel SRT can be well worth it though. Take a moment to check out PCSTATS test report on Intel SRT here and here.
At the rear I/O the Gigabyte GA-Z77X-UD3H has two 6Gb/s eSATA III ports care of a Marvell 88SE9172 controller (RAID 0/1). These eSATA ports are handy for hooking up external drive arrays.
PCSTATS takes a look at the GA-Z77X-UD3H's overclocking tools next, then it's onto the Intel Z77 chipset.