There comes a point in every notebooks' lifespan when it's time to upgrade the memory. However, the more compact the notebook, the more challenging it becomes for manufacturers to place every expansion slot on the bottom of computer where they are easily accessible. With sub-notebooks in particular, this leads to expansion ports getting tucked away in areas the end user is never meant to see...
With a little guidance from a Service Manual and equal measure of care, it's possible to perform notebook surgery and upgrade, the inaccessible!
The focus of today's PCSTATS DIY Guide is the Fujitsu Lifebook P770; a performance notebook built around the Intel Core i7-640UM processor, Intel QS57 Express chipset and anywhere between 2GB to 8GB of DDR3 memory. Depending on the OS (32-bit or 64-bit), this versatile magnesium chassis notebook might need a little more RAM to really get by. PCSTATS is going to outline the steps to upgrade the P770's memory and tell you how to access its hidden memory slot.
The Fujitsu Lifebook P770 notebook has two 204-pin SODIMM memory slots (full specs: Fujitsu's website ), one user accessible slot at the base of the computer and a second slot hidden behind the keyboard. Depending on the initial memory configuration, you might want to move memory models around or populate both SODIMM slots with higher density RAM. Getting at the hidden memory slot is not covered by the User Manual, but the process isn't too difficult.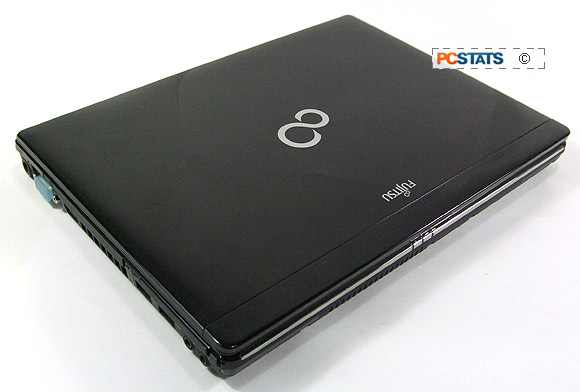 Fujitsu Lifebook P770 notebook
TIP - The basic steps outlined in this DIY Guide are applicable to upgrading memory on just about any notebook.

Step 1.) Find the Service Manual
The easiest way to upgrade the memory in a laptop is via the SODIMM memory slot located on the bottom of the computer, behind two screws and a small aluminum panel. The Fujitsu P770 spec sheet lists two DIMM slots, but only one is talked about in the User Manual. The trick to finding the other memory slot is locating a "Service Manual".
Service Manuals exist for most major computer devices, from notebooks to office level printers and such. These documents are typically not available to the public on the manufacturers website, so finding the PDF can be a bit of a challenge. The best advice we can offer is to search Google: query "brand" + "model-number" + "service manual" and see if that returns any hits. Obviously, replace "brand" and "model number" with the correct info, in this example; "Fujitsu P770 Service Manual".
PCSTATS was able to track down the Service Manual for the Fujistu P770 notebook online, using that document we found the second memory slot's location behind the keyboard. It provided only a rough idea of how to get at the slot, so we'll break down those steps in a moment.
Step 2.) What kind of memory do you need?
The next step is to figure out how much memory is installed, how much more you'll be adding and of what type / speed is required.
In this example, the Fujitsu P770 is equipped with two, 204-pin SODIMM DDR3 memory slots that can accommodate up to 4GB density modules. One memory slot is populated with a stick of 2GB DDR3-1333 Samsung memory.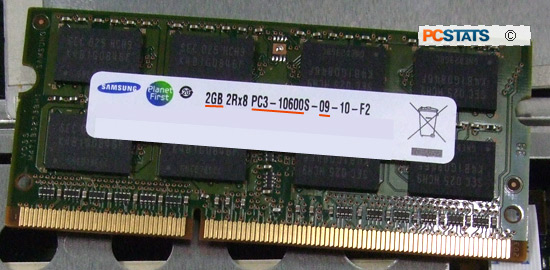 Reading the label on the installed Samsung memory tells us that this is a 2GB module of PC3-10600 (DDR3-1333), at CAS9.
A quick check of the Memory Advisor tool on Crucial.com is the easiest way to reveal what memory options are available to your notebook. In our case, the P770 can handle up to 2x4GB DDR3-1333 (8GB at a cost of $45), but since the notebook is installed with a 32-bit OS, we opted for an additional 2GB DDR3-1333 module to bring total system memory to 4GB.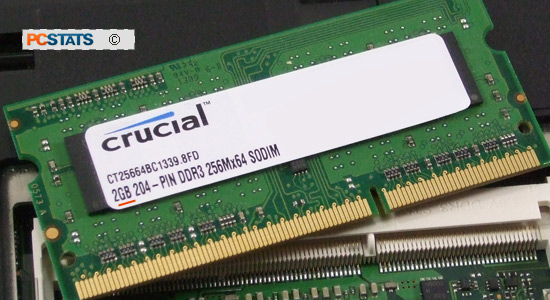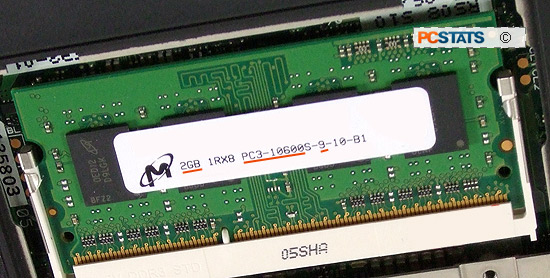 The upgrade memory from Crucial.com has identical specs; 2GB, PC3-10600 ( DDR3-1333), CAS9.
Fujitsu shipped this particular notebook with a 2GB PC3-10600 CAS9 module installed. Because we decided to add memory we have to purchase a memory module with matching speed and CAS values. This was easily done on Crucial.com's website since all these details are listed. It shouldn't matter that one module is made by Samsung, the other by Crucial/Micron.
Generally speaking, it's always best with notebook memory to match the modules exactly... a different CAS timing can cause havoc as can mis-matched DDR3 speeds or densities. Next up, a step by step guide to installing memory in the hidden memory slot.