System Power Draw
PCSTATS measures total system power draw (watts) with the aid of an Extech 380803 AC Power Analyzer and A-PFC compliant Seasonic SS-760KM power supply. The meter is placed between the 120V AC outlet and the PC power supply and the computer stressed. Total system power draw is recorded and compared to the PC's idle state.
Total System Power Draw - GA-Z77X-UD5H-WB
Idle

CPU Loaded

GFX Loaded

On nVidia Geforce GTX470
graphics.

87W
159W
225W

On SandyBridge integrated graphics

36W
105W
79W

(Idel @ desktop)

(via Prime95)

(via 3DM06)
Total System Power Draw - GA-Z77X-UD5H-WB
Idle

CPU Loaded

GFX Loaded

On nVidia Geforce GTX470
graphics.

88W
150W
270W

On IvyBridge integrated graphics

36W
150W
118W

(Idel @ desktop)

(via Prime95)

(via 3DM06)
Gigabyte's GA-Z77X-UD5H-WB motherboard uses 'Driver MOSFETs' which combine the functions of a driver, high MOSFET and low MOSFET into one small power-efficient board mounted component. The power draw for each test system, the first with a 32nm Sandybridge CPU in the drivers seat and the second with a 22nm IvyBridge chip, are shown above for comparative purposes. Not that the IVB graphics core seems to draw more power than the SNB IGP.
King of the Intel Z77 Platforms?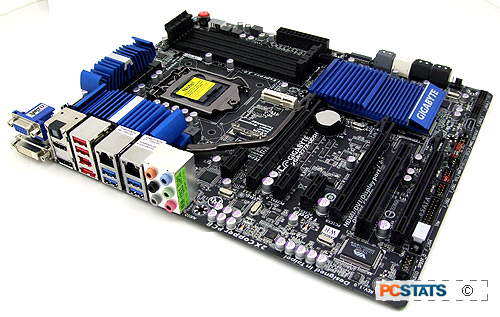 When it's all said and done, Gigabyte's GA-Z77X-UD5H-WB mobo manages to tick off every single check box for what a workstation PC should have -- CrossfireX/SLI, 802.11bgn wireless networking, VirtuMVP to leverage the IGP and discreet graphics, abundant PCI Express expansion slots for future upgradeability, PCI Express 3.0 compliance for killer gaming cards, a whack of SATAIII and USB 3.0 ports, support for memory that can be overclocked to DDR3-2000 speeds, an mSATA slot for configuring Intel SRT with a small SSD, and on and on...
About all this board lacks is an economical sticker price; retailing for ~$200USD puts the Gigabyte GA-Z77X-UD5H-WB motherboard in the higher end of the Intel Z77 spectrum. A good deal if features are your main concern, but as all Intel Z77 boards perform pretty much the same, less of one if pure performance figures are driving your purchasing decisions.
Overclockers get a comprehensive set of tweaks and settings in the 'UD5H-WB's UEFI BIOS, including voltage read points for the multimeter crowd and pretty much everything the occasional overclocker will actually use. Hardcore overclockers will undoubtedly turn their noses up in favour of some $400 beastie from the expensive folks at ASUS to use with LN2, but that's to be expected from frequency snobs.
As you've seen in PCSTATS benchmark set, general system performance does not waver too much on an Intel Z77 platform between SandyBridge and IvyBridge processors; this isn't too surprising given the main difference between each chip is the 32nm to 22nm die shrink.
To sum up, Gigabyte's GA-Z77X-UD5H-WB motherboard is a well featured mainstream board, the inclusion of an mSATA port is particularly handy for building a compact computer system installed to a 128GB or 240GB mSATA SSD - like most Ultrabook notebooks use. The GA-Z77X-UD5H-WB is another in a great series of Intel Z77 motherboards from Gigabyte, so if you have a little more cash to invest in your motherboard, the 'UD5H-WB will get you in the game with a nice 802.11bgn wireless card. Grab this board while you can and don't get stuck waiting for the next processor and chipset to drop from Intel.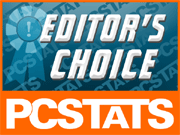 Find out about this and many other reviews by joining the Weekly PCstats.com Newsletter today! Catch all of PCSTATS latest reviews right here.
Related Articles
Here are a few other articles that you might enjoy as well...
- Gigabyte GA-Z77X-UD4H Intel Z77 Motherboard Review
- Gigabyte GA-E350N-USB3 mini-ITX 1.6GHz AMD E-350 APU Motherboard Review
- Gigabyte GA-A75-UD4H AMD A75 Socket FM1 Motherboard Review
- Gigabyte GA-X79-UD5 Intel X79 LGA2011 Motherboard In-Depth Review
- Gigabyte GA-A75M-UD2H AMD A75 Socket FM1 Motherboard Review
- Biostar TA75M+ AMD A75 socket FM1 Motherboard Review