BUG NOTICE: Be aware there are problems getting LSI RAID SAS/SATA cards like the LSI SAS3041E-R to work with this motherboard. Read about PCSTATS issues with the GA-Z77X-UD4H model here.

The Gigabyte GA-Z77X-UD5H-WB motherboard is a fully featured mainstream-gaming platform based around the Intel Z77 chipset and bundled with a Wireless 802.11bgn + Bluetooth 4.0 PCI Express x1 card, not to mention all the bells and whistles of a highly expandable workstation platform and a good set of overclocking tools. Retail price for Gigabyte's GA-Z77X-UD5H-WB motherboard is around $200CDN/USD.

Gigabyte's GA-Z77X-UD5H-WB board supports socket LGA1155 22nm 3rd Gen. Intel Core i3/i5/i7 'IvyBridge' (IVB) and 32nm 2nd Gen. Intel Core i3/i5/i7 'SandyBridge' (SNB) processors. In this review PCSTATS will benchmark the GA-Z77X-UD5H-WB with both processor families - just so you can see what kind of performance difference really exists. With Intel's socket LGA1150 'Haswell' dropping shortly, it's a good time to reflect on the "latest and greatest treadmill" before adopting yet another new CPU socket form factor.

In any event, IvyBridge does brings with it basic DX11 integrated graphics gaming capabilities via the Intel HD4000 IGP while SandyBridge is similarly anaemic, but limited to DX10.1 graphics. On the graphics card front, the all black ATX-sized Gigabyte GA-Z77X-UD5H-WB motherboard offers up three PCI Express x16 slots. Two of these videocard slots support two-way graphics cards in x8/x8 mode, if all three are populated three-way SLI/CrossfireX will run in X4/X4/x8 mode. A single graphics card run at x16 mode with PCI Express Gen 3.0 or PCI Express Gen 2.0 depending on the CPU architecture and videocard - the platform is PCI-E 3.0 compliant. Further peripheral expansion slots include (3) PCI Express x1 and a legacy PCI slot.

As IVB and SNB processors feature integrated graphics cores, the board supports dual monitors via the onboard HDMI/Display Port/DVI-D/Analog video outputs, or one or two discrete videocards in SLI/CrossfireX, or a mix of discrete and integrated graphics care of LucidLogix VirtuMVP.

Gigabyte GA-Z77X-UD5H-WB Motherboard




INCLUDES: User's Manual, Driver DVD, (4) SATA cables, 2-way SLI bridge, I/O Shield, 802.11bgn Wifi card, USB jumper cable, (2) dipole antenna.

Chipset: Intel Z77 Express
CPU Support: Intel Socket 1155
Memory Type: Dual Channel DDR3
Videocard Support: (3) PCI Express x16 2.0/3.0 (x16, x8/x8 or x8/x4/x4)
Multi-Graphics: nVidia SLI / AMD CrossfireX
IGP Video Ports: HDMI, Display Port, Analog VGA, DVI-D

Estimated Price: $200 USD/CDN
The GA-Z77X-UD5H-WB is equipped with four 1.5v DDR-3 memory slots which accommodate up to 32GB of dual channel DDR3-1600/1333/1066 memory and Extreme Memory Profiles.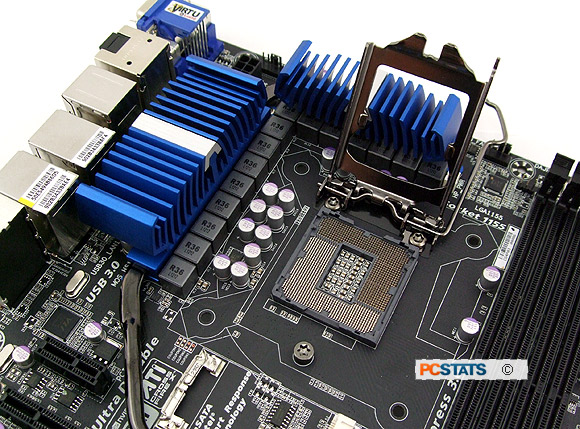 At the rear I/O of the GA-Z77X-UD5H-WB we find HDMI, DisplayPort, DVI-D and Analog VGA integrated graphics video outputs, a pair of gigabit Ethernet LAN jacks, (4) SuperSpeed USB 3.0 ports, (2) USB 2.0 ports, (1) eSATA II port, (1) Firewire port, an optical S/PDIF out and 7.1-channel audio headphone jacks. The audio system is based off a Realtek ALC898C controller. The mouse/keyboard PS/2 jacks have been dropped entirely from this board in favour of an extra Ethernet and USB 3.0 ports.
Connectivity, Storage and Ports
As PCSTATS mentioned, the Gigabyte GA-Z77X-UD5H-WB motherboard offers up no fewer than (10) USB 3.0 ports and (6) USB 2.0 ports care of the Intel Z77 chipset and a set of VIA VL810 hubs. Six of the USB 3.0 ports come off headers, but as only one USB 3.0 bracket is included, the remaining will need to be connected to chassis front panel ports. Oh well, at least there is no shortage of USB 3.0 on this board!
Internally, you'll find USB 2.0 headers, an IEEE1394 Firewire header, a TPM module port, dual BIOS', a PORT 80 card for troubleshooting overclocking errors and seven voltage read points. Motherboard reviews don't usually require a look at the board level block diagram, but in this case there's so much going on with the 'UD5H-WB you might want a quick look.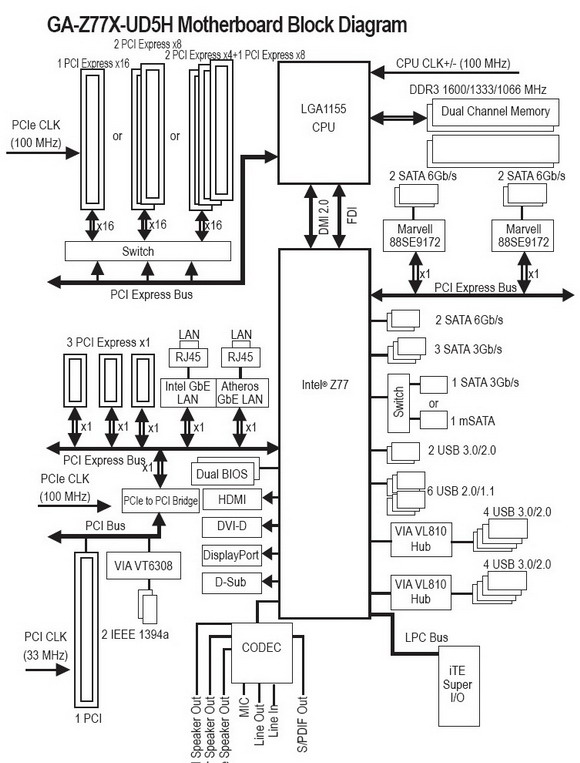 Gigabyte GA-Z77X-UD5H-WB block diagram.
On the storage front the GA-Z77X-UD5H-WB motherboard is extremely well equipped. The board offers up ten SATA devices across an assortment of SATAIII, SATAII, mSATA and eSATA jacks. Starting with the (2) 6Gb/s SATA III and (4) 3Gb/s SATA II ports that support RAID 0/1/5/10 from the Intel Z77 chipset, users also get one SATAII port split between a regular connector and the mSATA socket. The idea is, if you aren't using the mSATA slot for an SSD the port remains available for regular hard drives. Lastly, a pair of Marvell 88SE9172 controllers add four extra 6Gb/s SATA III ports with RAID 0/1 support - these are split into three internal jacks and one eSATA port at the rear I/O.
Since this is an Intel Z77 board, Intel SRT can be configured via a dedicated mSATA SSD if you wish. PCSTATS has already tested Intel SRT at length, see this test report on Intel SRT here and here.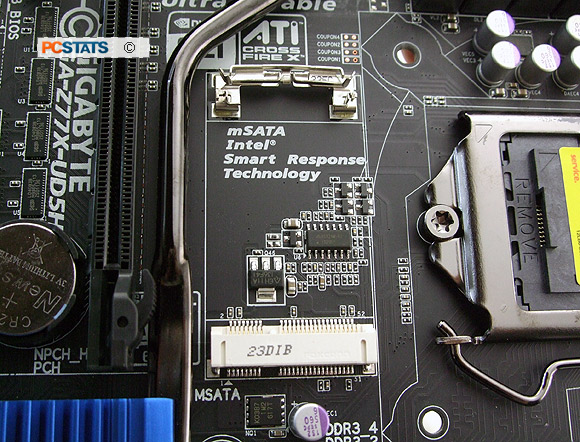 mSATA port for SSD drives used with Intel Smart Response Technology
Integrated Graphics / LucidLogic VirtuMVP
As you're aware, despite what Intel likes to say about it's HD 3000/4000 integrated graphics cores the truth is these IGPs are woefully underpowered for the majority of 3D games. The benchmark section includes a full set of Intel HD3000/HD4000 benchmarks against competing AMD IGPs, so you can see just how anemic the Intel IGP cores really are.
Integrated graphics are however, very well suited to regular office-type desktop work with one or two monitors (see: IGP-PCMark Vantage Benchmarks). The integrated graphics outputs on the Gigabyte GA-Z77X-UD5H-WB support HDMI resolutions of 1920x1200 pixels, DisplayPort at 2560x1600, DVI-D at 1920x1200 and Analog VGA. This board supports dual monitors off the IGP (one analog, one digital), which is very useful for improving productivity without the expense of a discrete graphics card. Intel claims triple monitor support, but this is technically only possible via nested DisplayPort monitors and the result is iffy at best.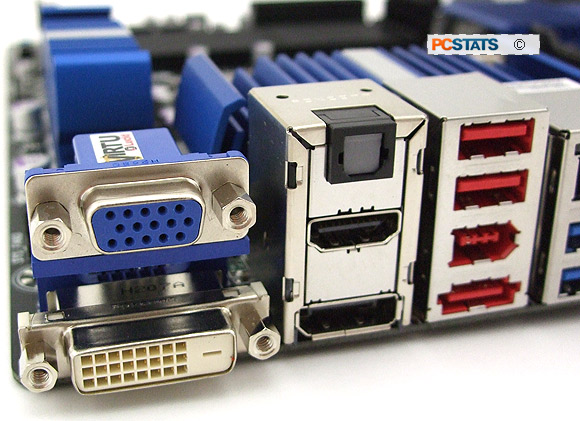 Gigabyte GA-Z77X-UD5H-WB onboard video outputs: DVI-D, Analog VGA, Display Port and HDMI. Dual and triple monitors are supported depending on SNB or IVB CPU.
Most users prefer discrete videocards over integrated graphics, but there are times when the IGP's ability to accelerate transcoding tasks via Intel QuickSync comes in handy. To that end, the GA-Z77X-UD5H-WB incorporates a software tool called LucidLogix VirtuMVP which permits dynamic switching between discrete videocards and IGP-based graphics.
VirtuMVP serves up the best of a discrete graphics card for 3D games and the power saving and hardware transcoding benefits of the IGP for desktop work. Lucid's VirtuMVP incorporates HyperFormance which increases frame rates by eliminating redundant rendering tasks and Virtual Vsync which reduces screen tearing.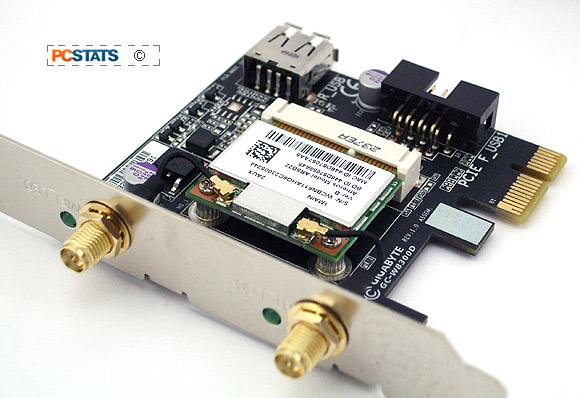 The Gigabyte GA-Z77X-UD5H-WB also comes with a nice wireless card that supports 802.11bgn Wi-fi and Bluetooth Smart 4.0 connectivity. PCSTATS takes a look at this device and the boards' overclocking options, next.