Beginners Guides: Repairing a Cracked / Broken Notebook LCD Screen
---
A broken or cracked LCD screen makes a laptop utterly useless, good thing PCSTATS can show you how to replace that busted laptop screen with a minimum of fuss and for less money than a service center charges. PCSTATS will be fixing a cracked LCD screen on a Lenovo T530 ThinkPad notebook, the general procedures outlined here work for any notebook though. - Version 1.0.0
Just shattered the screen on your laptop?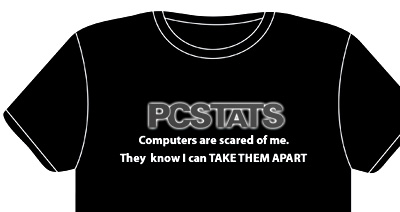 Take a deep breath, the screen may display gibberish now, but you can still access computer files and programs by connecting the notebook to an external monitor. Use the notebooks' VGA or HDMI video output on the side of the computer. This will allow you to move files off the busted notebook.
The next step is getting your broken notebook screen fixed.
Let's begin.
To fix a cracked laptop screen you will need to open up the screen assembly, locate and purchase a compatible replacement LCD panel, swap the damaged screen out and put everything back together without inadvertently causing more damage.
You can do this repair work yourself if you're moderately handy, send the notebook back to the manufacturer for repair or drop it off at a local computer store which specializes in fixing laptops. If the notebook is really old, you may want to consider replacing it altogether with a new laptop.
In this Beginners Guide, PCSTATS will show you how we repaired a Lenovo T530 ThinkPad notebook with a cracked LCD screen (see the damage below). We'll address laptop screens that "go dark" or "flicker on and off randomly", later in the guide.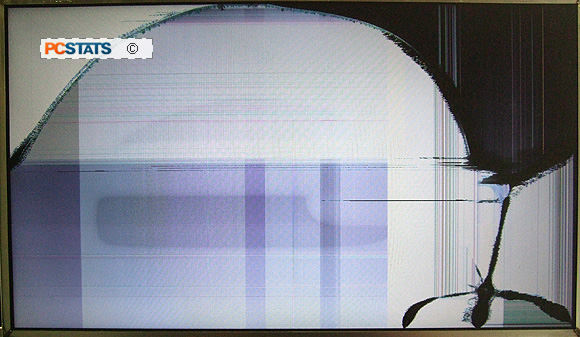 |
The cracked LCD screen... oh my!
Considering Repair Costs
I'm betting we can repair this Lenovo T530's smashed LCD screen ourselves, for less than $100 bucks. This includes parts, express shipping and customs fees/tariffs. If we were in the U.S., it could probably be done for closer to $60.
In the past, fixing a broken notebook screen cost us roughly $300-$350 at our local Toronto computer repair shop: Computer Systems Center . Most of this cost is an exorbitant hourly labour rate.
If we sent the Lenovo T530 ThinkPad back to the manufacturer, I'd estimate the repair bill to be closer to $400. In this case we'd be paying for parts, labour and shipping both ways. Doing the repair yourself is not impossible and it will save a lot of expense.
Do you have the skills?
This PCSTATS Beginners Guide will require a bit of computer disassembly and some elementary knowledge about how to safely handle sensitive electronic components. The best advice I can give is to read through the Beginners Guide first, if by the time you reach the end you don't feel confident in conducting the repair yourself contact the manufacturer and send your broken notebook back to them.
Be aware that most manufacturer warranties don't cover cracked laptop screens... If you purchased insurance from the store where you bought your laptop you may be covered for accidental damage.
Disclaimer - Starting off with a working laptop that has a broken screen is one thing, we don't want you end up broken screen on a dead notebook! Access your skills and proceed at your own risk.
Tools Required for this Beginners Guide
To open a notebook screen and swap out components, you'll need a small phillips screwdriver (ie. Wiha #0 or #1 ), a small knife, a small flat blade screwdriver (ie. Wiha 1.5mm or 2.0mm ), the edge of a credit card or a long fingernail, a clean surface on which to work with good lighting, a container to store tiny screws in while you work and a digital camera to record wire placements as you progress through the notebook screen disassembly.
Step One: Find Replacement Laptop Parts
The best resource for laptop replacement parts we've found is Ebay.com , there may be others but that's what we'll be using in this Guide. Before we can start searching for a replacement LCD screen on Ebay, we need to figure out what, exactly, to search for.
After a bit of trial and error PCSTATS came up with this four-point Technical Detail Checklist. These details will allow you to quickly and accurately find a replacement LCD on Ebay.

1) What is the make and model number of the notebook?

2) What is the LCD panel size in inches & resolution of the screen in pixels?

3)What type of backlight does the LCD panel use? This will be either LED or CCFL.

4) Physical aspects like the screen's data cable pin count, connector placement and number of cable connections need to be determined. These questions can be answered with a quick look at the rear of the LCD panel once it is removed.