Evergreen 20Gig HotDrive Review
---
Right out of the big blue box came what looked like an iMac accessory. It was sleek, it was translucent, and part of it was blue. "Oh no!" I thought,  Mac hardware... Luckily, the styling 'good' looks of the fireLine HotDrive hide some pretty damn fast performance beneath.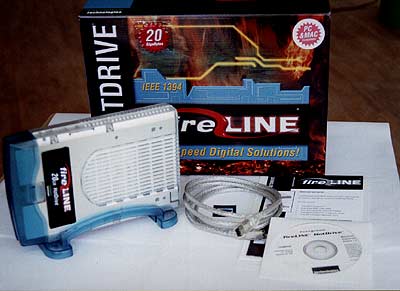 The 20gig Hot Drive comes with a funky blue translucent stand, 4 feet of clear coated FireWire cable, instructions, and a driver disc for Mac applications. No driver disc is necessary for Win98 SE. The hot swappable unit measures only 1.5"x.5.5"x8.5",  and costs $249US
| | |
| --- | --- |
| | What is 'IEEE1394' a.k.a. Fire Wire? |
Fire Wire is the name Apple coined for the much more acronymic IEEE1394 standard. Essentially what IEEE1394 does is allow the fast transfer of data between computers, cameras, and other external devices at transmission speeds of up to 400Mbits/s.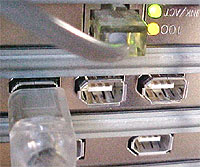 The IEEE1394 interface is similar to that of USB, but contains six wires instead of four, and has faster data transfer rates. As with Universal Serial Bus (USB), IEEE1394 easily connects peripherals without having to turn off the computer. While USB sits at 12Mbits/s, IEEE1394 handles much more data making it ideal for high speed video or audio transfers.
Additionally, IEEE1394 is capable of connecting up to 63 devices in a daisy chain fashion with 16 hops of up to 4.5 meters between each device. That kind of scalability is one of the reasons a lot of interest is developing around IEEE1394.
With support from Apple, Compaq, Matsushita (think keyboards, CDROMs, and just about everything else), Philips, Sony and Toshiba, IEEE1394 is here to stay. It may soon be the default choice for peripheral connectivity.
Onto the world's easiest installation...