The card comes with four IEEE1394 jacks, the most we've seen on any IEEE1394 card thus far, three on the outside, and one internal one. I especially like how the internal IEEE1394 socket has been angled back. For tight case designs this will help to ensure an easy fit. The card is based on a two chip design, and sports some mysterious jumpers shown in white.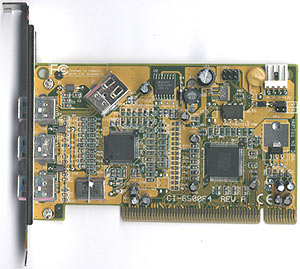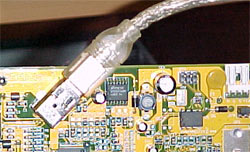 The IEEE1394 card contains one connection for the inside of the computer. Angled back to make things easier to connect, and put less stress on the socket.
Installation of the PCI card
Installation was simple, we inserted the card into an empty PCI slot, and turned the computer on. Win98SE quickly recognized the device and the drivers were loaded off of the diskette. Win2000 had an even better installation, the IEEE1394/PCI adapter card was inserted into an empty slot, a Fire Wire device plugged in, and the computer turned on. As soon windows had booted, not only was the card installed, but we were using the Fire Wire device without delay. All without even being asked to supply drivers!
Now let's get to some benchmarks and see how this bad little guy performs in the real world.