Evergreen Fire Line IEEE1394 Adapter Card Review
---
Evergreen ships out their own feature packed Fire Wire (a.k.a. IEEE1394) adapter card to complement their 20Gig HotDrive. IEEE1394 is a type of peripheral connection which has similarities to that of USB, but with substantially higher data transfer capabilities. Where USB can transfer up to 12Mbits/s, IEEE1394 can handle a whapping 400MBits/s. This large pipeline has made Fire Wire an ideal choice for fast data transfer from digital cameras or other multimedia devices. It is with a digital video crowd in mind that Evergree brought out this adapter card to appease and complement their other IEEE1394 based products, such as the HotDrive.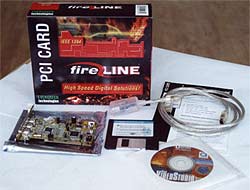 The Fire Line IEEE1394/PCI adapter card comes with 4" Fire Wire cable, digital device adapter, driver diskette, illustrated instructions, and a copy of ULead's Video Studio Base SE 4.0 Software. All for about $60 US.
What you get for your money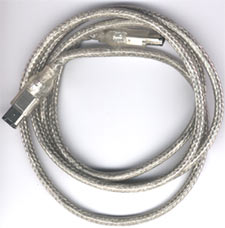 Once we got into the box, the focus on digital transfers became obvious. Included along with the PCI card and translucent length of Fire Wire cable is a small digital device adapter. The adapter allows the full size Fire Wire cable to connect on one end, and allow a micro-IEEE1394 socket to connect to a digital video camera or other Fire Wire compatible device. Video junkies with brand new digital cameras also take note in the $60US price tag and complementary copy of Ulead Video Studio Basic 4.0. There is no argument that this IEEE1394 card should be high on your list of things to get - unless of course you have a Mac :)
A recent trip to a camera store has made one thing clear, if you are about to get a digital still or video camera that is Fire Wire capable, chances are you going to have to get some accessories as well. Those parts are going to be fairly expensive. Better deals will be had by going through regular computer retail channels.
| | |
| --- | --- |
| Yes that's right, not only do you get the IEEE1394/PCI adapter card but you also get your very own copy of ULead's Video Studio basic 4.0 - runs on Win98SE, and Win2000. The software lets you take an input from a video camera and do basic capture, and editing techniques to the feed. | |

This little translucent adapter cable allows the big IEEE1394 jack to plug into a mico-IEEE1394 jack. These connectors are commonly found on today's high end digital video cameras, or similar multimedia devices.
Onto the nitty gritty!