To test the card we compared it with the Advansys IEEE1394/PCI adapter card. While running benchmarks for data transfer on a device hooked up to each of these IEEE1394 adapter cards we were able to gauge how well they performed. Also, timed data transfer tests were performed with ~2.0GB files being transferred from an internal drive through the PCI cards to the test device, and  external hard drive.
Advansys
Evergreen
Test
Slot 2
Slot 1
Slot 1
Slot 3
Slot 2
Drive Index
5721
5420
2764
2678
2729
Min Disk Cache
8MB
8MB
8Mb
8Mb
8MB
Buffered Read
221Mb/s
357Mb/s
160Mb/s
160Mb/s
463MB/s
Sequential Read
6Mb/s
6Mb/s
2764Kb/s
2700Kb/s
2736Kb/s
Random Read
4Mb/s
4Mb/s
2347Kb/s
2176Kb/s
2308KB/s
Buffered Write
12Mb/s
13Mb/s
31Mb/s
152MB/s
32Mb/s
Sequential Write
5Mb/s
6Mb/s
3000Kb/s
2949Kb/s
2934Kb/s
Random Write
9Mb/s
7Mb/s
4Mb/s
4Mb/s
4066Kb/s
Avg. Access Time
4ms
4ms
4ms
6ms
4ms

The Drive Index rating for the Hot Drive while connected through the Advansys IEEE1394 card posted about twice as well as with the adapter card Evergreen ships. The value of 5700 lies way below the actual representation of this drive however.

Sandra benchmarks with the Evergreen IEEE1394 card posted lower values than with the Advansys Card, but both values were still substantially out of step with the actual performance of the Hot Drive.
The timed trials show that the Evergreen IEEE1394 adapter card performed slightly lower than that of the reference Advansys IEEE1394 card. A time of about 10.5min was the average for it to transfer the ~2.0Gb file. The reference card posted times a few minutes faster, but the Evergreen still performed slightly better than that of an internal drive to internal drive transfer.
IEEE1394 card
Evergreen
Advansys
Internal
Test
fujitsu-HotDrive
Maxtor-HotDrive
Maxtor-HotDrive
Fuji-HotDrive
Maxtor-Fujitsu
time
10min
11min
6min
9.5min
12min
Size
1.9Gb
1.9GB
1.9Gb
1.9GB
1.9GB
Rate
3.2Mb/s
~3Mb/s
5.2Mb/s
3.3Mb/s
2.6Mb/s
While the Evergreen IEEE1394 adapter card didn't quite fair as well as the reference system in Sandra, or in the timed trials, it still posted better values than the comparative internal drive to internal drive data transfer.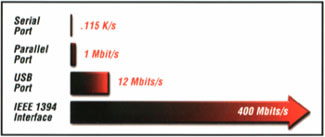 The Evergreen IEEE1394 PCI adapter card is based on a dual Texas Instruments chipset supporting 100Mbit/s, 200Mbit/s, and 400Mbit/s data transfer. One chip handles the 1394 OHCI and the other handles the dataflow through the cable ports. In comparison the reference IEEE1394 adapter card integrated all procedures into a single chip design.
Dual chip or single chip design, what is the difference?