Before we begin cloing your operating system hard disk to another disk in the same computer, we'll need install the new hard drive. If you have already done this, you can skip ahead to the next section that covers the different cloning software programs.
To install a new hard drive in your computer, first turn off the power and open up your computer. If you are using an IDE hard drive, we'll be installing the new hard disk as a secondary hard drive in the PC.
Most motherboards will have at least two IDE connectors. Each of these can accept two hard disks or CD drives using a single 80-pin IDE cable with two connectors. Examine your computer's current configuration by taking the side panel off.
For reference, IDE ports look like this: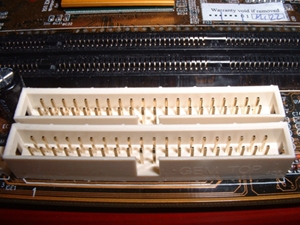 Examine the top of your hard-drive. There should be a chart depicting the necessary jumper settings to make the drive a master or slave device. Otherwise, the chart will be somewhere on the body of the drive.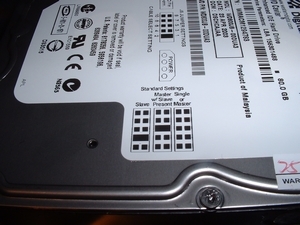 If you are plugging the new hard drive into an IDE cable which has no other drives connected to it, you need set the jumpers to the 'master' setting. If there is already a single CD drive or hard disk connected to the IDE port you wish to use, set the 'slave' jumper setting on your drive. It's also a good idea at this point to look at any devices already connected to the same cable and make sure they are not also set to the same master or slave setting as the new drive.
The jumpers which need to be adjusted are on the back end of the drive as pictured below.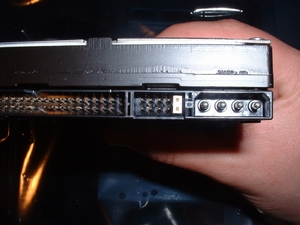 Ensure that they are set correctly to enable the drive as a master or slave drive as necessary. Insert the drive into the drive-tray and screw it in securely on both sides. Attach the power cable to the drive, and then the IDE cable. The IDE cable is keyed to only fit in one way, but to make sure, the red or blue line on the cable should be facing toward the hard drive power cable.
Reboot the computer and press (del) at the POST screen to enter BIOS configuration. Depending on your motherboard, either go to basic CMOS setup or auto-detect IDE devices if this option is available. With either option, your new drive should be visible in the slot you installed it (i.e. Primary master/slave, secondary master/slave) and should show the full available size of the drive.
Newer SATA (Serial ATA) drives will auto configure themselves once installed. If your motherboard can accept these drives, your manual will say so. Once the new hard disk is successfully installed as a slave drive on the primary channel, it's time to run the disk cloning software.