This set of instructions assumes that you already have a second hard drive correctly installed in your computer. For instructions on how to do this, see the section earlier in this guide about installing a hard drive in the same computer, or a new computer, as appropriate.
After downloading HDclone, extract the 'Hdclone20fe' compressed file to a directory.
To run Hdclone, you need to create either a bootable floppy disk or a bootable CD. A floppy is probably the easiest option, so let's cover that first.
Run the 'install' executable from the directory you just created.
Insert a blank formatted 1.44 floppy disk into your drive and hit the 'start installation' button. This will create a blank floppy with the required files.
To create a bootable CD, use a CD burning program such as Nero. Select 'CD-ROM (boot)' as the type of disk you wish to create (note that this command will differ in other programs like Roxio, but you are looking for the option to make a bootable CD). Use the 'hdclone.img' file from the Hdclone directory to create the CD.
Boot your system from the floppy or CD you have created.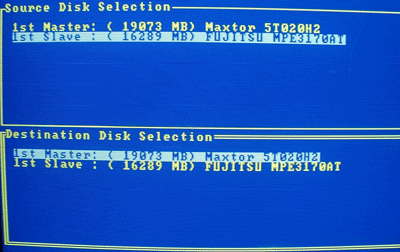 Select the drive you wish to use as the source, then the drive you wish to use as the target.
Please pay attention and make certain you select the right hard drive! If you don't you may erase all of your information. If the target drive has data on it, you will be warned and required to enter a key combination before cloning can start. Begin the process. This will take a considerable amount of time, so find something else to do.
Once the process has completed, exit Hdclone.
Your new drive will now contain an exact copy of your old drive, and a portion of unpartitioned space making up the difference between the sizes of the two drives. This can be partitioned and formatted using disk manager (right click 'my computer' and choose 'manage' then 'disk management') or appended to the rest of the drive using a program like Partition Magic.