Abstract: A common problem is how to clone your installed WindowsXP and move it to a new hard drive on the same computer. Upgrading your OS hard drive can be a real pain, but we'll walk you through an easy process to simplify your life, so you can get back to work.

Home > Reviews > Beginners Guides > PCstats
Part2: Using Norton Ghost
Software Specific Cloning Software Instructions
This is Part 2 of the Beginners Guide, where we cover in detail how to use Norton Ghost, HDclone, or Ranish Partition manager to do the cloning procedure.
NOTE: This set of instructions assumes that you already have a second hard drive correctly installed in your computer. For instructions on how to do this, see the section earlier in this guide about installing a hard drive in the same computer, or a new computer, as appropriate.
Start Norton Ghost and select 'ghost advanced' from the menu on the side.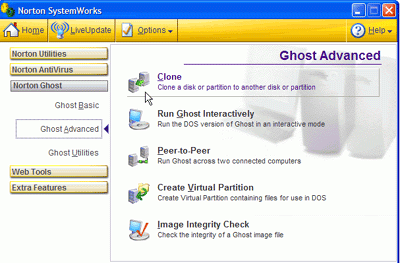 Choose the 'clone' option and click 'next.'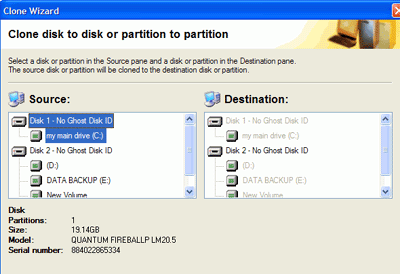 Select the source you wish to copy from in the left pane. Note that if your old drive contains only a single partition (only the C: drive) it's best to choose that partition only, so highlight the 'c:' partition.
If you have multiple partitions (c:, d:, etc.) then highlight the whole disk (disk1, disk2). Ensure that you have selected the correct disk by examining the disk size and manufacturer information below.
Select the destination you will copy to from the right pane. Whole disks must be copied onto whole disks, and partitions must be copied onto other partitions or unused space. Invalid options are grayed out.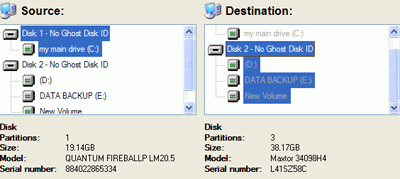 Once you are sure that you have selected the correct options, click 'next' until you arrive at the Norton Ghost task summary window.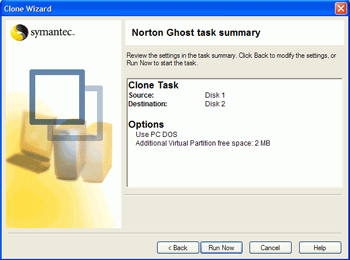 Verify your settings again, then click 'run now.' Your system will reboot and load up Ghost's DOS environment and the cloning will be performed. This could take a while. Once the process is complete, your system will reboot again and load Windows back up.
Verify that the operation was successful by going to 'my computer' and examining the contents of both drives, or by starting the computer management window (right click 'my computer' and choose 'manage') and going to 'disk management.'
< Previous Page
© 2020 PCSTATS.com

Please respect the time and effort that went into creating each PCSTATS Beginners Guide, do not illegally copy. Thank you.

Next Page >
SEARCH PCSTATS

---

Use the power of Google to search all of PCSTATS and the PCSTATS Forums. Tell us what you think of this new feature - FEEDBACK?