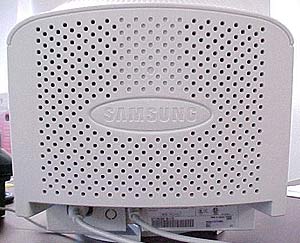 As 17" monitors go, the 750s ranks in at the high to middle ground. It is by no means the best monitor out there because, well it is only a 17", but pushing that aside for the moment it is damn fine for its' size. Additionally the anti-reflective coating is not too visible in reflected light which is good to see.
As far as the Samsung brand name goes they are well known for producing high quality products. Some 17" monitors are produced from assembled components with only the bezel being manufactured by the company. While Samsung might not have the clout of a Sony nameplate, the Samsung brand appears to be quite long lived and durable.
Lastly, and most importantly is that the screen sharpness holds true through a variety of settings, to provide a clear and accurate picture. So all in all the Samsung 750s is a very fine monitor in its own right. Definitely worth getting if you are in the market for a new 17" screen to play Quake III on or just use for work or surfing.