Abstract: The 17" monitor is the workhorse of the display industry. Despite the recent advancements in flat screen technology, 19" monitors becoming more affordable...


82% Rating:

Home > Reviews > Monitors > Samsung 750s
Samsung 750s 17" Monitor Review
---
The 17" monitor is the workhorse of the display industry. Despite the recent advancements in flat screen technology, 19" monitors becoming more affordable, and the like, the dollar reins supreme with the 17". And why not? Some 17" monitors can be had for as little as $200! Image quality may be a little suspect, but still, it's better then any 15" screen!

Of course everyone would rather have a 19" monitor, but there's nothing wrong, nothing embarrassing, nothing to be ashamed of, with owning a 17" screen. They are extremely cost effective and more than adequate for general surfing, coding, and fraggaing. What more do you really need? With resolutions sitting at 1024x768 there's plenty of pixel power to go along with most average performance video cards.

Previously we've reviewed bigger 19" beasts like the Acer 99SL and ADI Microscan E66, both of which are targeted at the high end graphics and workstation market. On the opposite hand there is the Samsung 750s, a 17", 0.24(H)mm dot pitch monitor utilizing a full square type CRT tube. The 750s is on the higher end of the line in terms of Samsung's 17" monitors.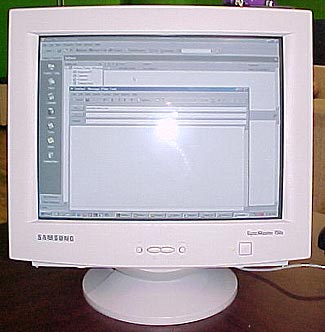 The Samsung 750s monitor, a 17" 0.25(H)mm dot pitch monitor. The 750s comes with warranty, instructions, driver diskette and power cord. Cost is ~$260 CDN.