Ligitech SoundMan Xtrusio DSR-100
---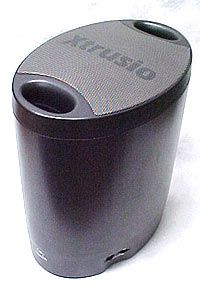 What could be better than a sleek, powerful pair of speakers for your system? Apart from a slick sound card to match, I'd suspect not much!
When it comes to gaming, watching a favorite DVD or listening to a collection of MP3's it's the sound that counts. A little white pair of 5watt computer speakers just doesn't cut it. No, we demand superb quality sound an earth rattling Bass! For too long the computer has been straddled by tiny ineffective $10 computer speakers that sound about as good as an alarm clock.
One such solution to this vexing sonic problem may just well be Logitech's SoundMan Xtrusio - so called because of its extruded aluminum construction. The Xtrusio is the one sound system we've tested which can compete with a full sized stereo system, both in bass and in volume. For a set of computer speakers that says a lot.
To accomplish this Herculean task the Xtrusio has some special features up its aluminum sleeves. A 100W RMS subwoofer, Dolby Digital Surround sound, Linear Magnet Drive Audio Technology and the all important remote control.
Logitech Soundman Xtrusio DSR-100

LIMAD technology with 100W power output
52W Xtrusio"! aluminum subwoofer
Digital and analog 4-channel audio input
Dolby Digital certified PowerDVD"! software
SoundTouch"! remote control
4-channel master volume, fade, power and EQ controls
Headphone jack on remote control
Excellent magnetic shielding
2-year product warranty
Made By: Logitech
Price: $179.00 USD
Specifications
Total power output: 100 watts RMS @<10% THD
Satellite power output: 12 watts RMS per channel
Subwoofer power output: 52 watts RMS
System frequency response: 28 Hz - 20 kHz
Crossover frequency: 160 Hz
Signal-to-noise ratio: > 80 dB
Input sensitivity: 130 mV max.
Input impedance: > 10 kW
Power supply: AC 90V-240V (built-in auto-switching transformer)
Setting up the Xtusio DSR-100
With the many components of this surround sound system out of the box, the set-up can begin. All satellites, audio inputs, and controls plug into to the back of the woofer which also has the system power button. Each of the connections is colour coded so the setup process is incredibly easy and quick. If you can match colours you can set up the Xtrusio in a few seconds.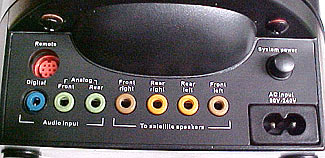 Apart from the power button and universal power input (90-240V AC) there are also jacks for the remote, digital audio input, analog front & rear audio input, and outputs for the front-right, front-left, rear-right, rear-left satellite speakers.
Each of the magnetically shielded satellite speakers is about the size of a can of coke, and two of them can be attached to a wall with a couple of included metal brackets. The satellite speakers are not made of extruded aluminum, but rather dense plastic. They are dark Grey in colour and have a dark silver metal grill.
Sound quality is very good, but distortion will start to kick in when the volume is completely maxed out. Each of the satellite speakers receives the power it need to operate from the audio cable. This keeps the setup very clean, with only one wire going to each of the satellite speakers.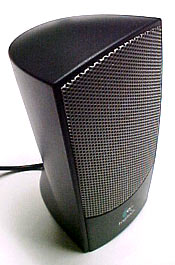 The suggested configuration has the subwoofer on the floor, with two satellite speakers on either side of the display. The two remaining rear satellite speaks would then be mounted on adjacent walls at a slightly different angle, or positioned back from the computer to give the set up some depth.
The rear speakers have slightly longer 150" cables so they can be positioned further away.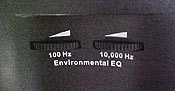 There are only two controls on the subwoofer which allow you to adjust the sound characteristics for your particular environment. For instance, if the room is large and uncarpeted you might want the sound a little deeper to compensate for the space. Conversely, if the room is carpeted with sound absorbing materials it might be better to adjust the woofer so the sound is more high pitched.